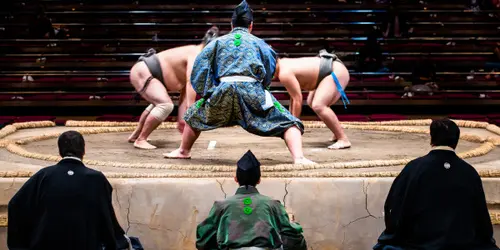 Nagoya Sumo Tournament (July)
Sumo, that sacred sport, which seems to come straight out of the ancient Japanese legends. What if you could see a tournament in the city of Nagoya?
The Sumotori, Japanese Stadium Gods
Amusing or terrifying, but always mysterious, sumo wrestling is fascinating. Japanese wrestling, or sumotori, is a sport that has its roots in religion, but is still very much alive today, watched on TV and in stadiums, and followed closely by male and female fans alike. What one goes to see at a sumo tournament is not only these giants clashing on their earthen arena, but one also goes for the atmosphere of the place, the shouts of encouragement from the audience, the referee's costume, the rituals of the rikishi (another name for Sumo) who are focusing before the fight, etc...
Attend a Sumo tournament in Nagoya
Nagoya is the fourth-largest city in Japan and sits in the Aichi region. It is best known perhaps for being the center of the automotive industry in Japan and you will find all the big name factories here such as Toyota, Honda and Mitsubishi. 
The DOLPHINS ARENA (Aichi Prefectural Gymnasium) is the venue for the annual Sumo tournaments in July.
Cannot be cancelled.
※ The tickets we sell are for standard balcony seats with chairs. If you prefer to sit on cushions on the floor or have seats closer to the stage, please contact us to let us know.
※ The stadium opens at 8:30am, except on the last day when it opens at 10am. Fights take place all day until 6pm, but the highest level sumos fight in the late afternoon.
As the number of tickets available is limited, we reserve the right to offer you an alternative date if the date you request is not available. If we are unable to accommodate your request, we will cancel your order and issue a full refund.
Location
---
Nagoya Sumo Tournament (July)
598 kr per person