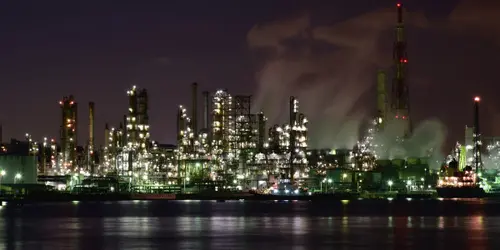 Night cruise through the industrial zone
Meander through the night on a boat amidst the illuminated factories. For lovers of night photography and dystopian settings.
Japan's energy landscape
At night, when the activity stops, these quiet factories light up for the pleasure of visitors. On board a small boat, sail across the sea and then through the canals between the steel towers, chimneys and labyrinths of pipes, weaving in and out of the huge tankers and liquefied natural gas tankers, arriving from China, Korea or the Philippines, to unload their contents for refinement and redistribution in the capital. The industrial zone of Keihin is thus a representative sample to help you understand the energy situation in Japan.
The Kawasaki industrial zone, the economic pillar of Tokyo
Kawasaki City is known as Tokyo's industrial zone. It is notable for its many heavy industry complexes, which cover a total of almost 5 million square kilometres, including those on the seven artificial islands on the shore of Tokyo Bay, south of Haneda Airport. In fact, after the Second World War, when Tokyo was experiencing exceptional economic growth, it was necessary to position the industries necessary for its growth nearby. Due to a lack of space, these artificial islands in Kawasaki, now known as the Keihin Industrial Zone, were born.
A unique atmosphere for photo enthusiasts
This fantastical landscape at rest is ideal for unique photos. In this beautiful, threatening and strangely romantic atmosphere, you will feel like a science fiction character. Metropolis or Blade Runner, the choice is yours.
A new type of tourism: industrial tourism
It will also be an opportunity for you to experience the new form of tourism in which Japan has excelled since the 2010s: industrial tourism. With the designation of a number of sites (Tomioka silk mills, Meiji industrial revolution sites, etc.) as UNESCO World Heritage sites and the visits to factories (automotive, food, etc.) that Japanese people enjoy so much, discovering the other side of industry is the new fashion.
The commentary on the boat will be in Japanese. We suggest that you enjoy the view above all.
Cancellation policy:
Until 7 days before: 0%.
Between 7 days before and 17:00 the day before: 50%.
After 17:00 the previous day or the same day: 100%.
Location
---
Night cruise through the industrial zone
$31 per person