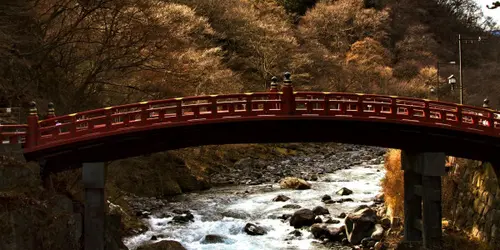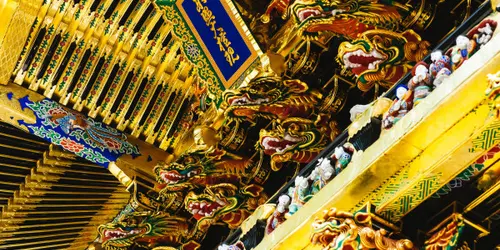 Nikko Exclusive
Discover Nikko with an English-speaking guide
UNESCO World Heritage Site
The discovery of the historical sites set on the slopes of the mountain, combined with the rustic charm of the village, will surely make you adopt the famous adage "Don't say wonderful until you see Nikko!". Closely associated with the history of the Tokugawa Shogun, Nikko is a jewel of art and architecture in a magnificent natural setting.
Nikko's most beautiful attractions
Upon arrival in Nikko, your guide will show you one by one the jewels of this spiritual city, notably the Toshogu Shrine, the mausoleum of the famous shogun Ieyasu Tokugawa and a symbol of the city. The site, a UNESCO heritage site, dates from the early 17th century. Your guide will show you its richly decorated doors, the wood carving of the three monkeys of wisdom, the sleeping cat, the groaning dragon room, Ieyasu's tomb on the upper level at the back of the shrine...
Another must-see site is the Taiyu-in Buddhist temple, the mausoleum of Shogun Iemitsu, grandson of Ieyasu who died in 1648. The monument also has architectural treasures to offer. A little further on, the Futarasan Shrine is smaller, but is the origin of the major religious role Nikko plays today.
Your guide will explain the history of this shrine built in the 8th century at the foot of a sacred mountain - Mount Nantai - which is still the object of popular devotion. The magnificent Shinkyô Bridge, which marks the entrance to Nikko, is left from that time and will be another highlight of your day.
An unforgettable visit with a specialist English-speaking guide
You will have the opportunity to discover this wonderful place with a private guide who will accompany you from Tokyo.
As part of our discovery days, your guide will prepare the best itinerary for you, although we also offer the possibility of contacting your guide beforehand if you have specific requests (dietary restrictions, parts of the programme you would like to discuss, etc.).
At lunchtime, your guide will take you to a typical restaurant to sample the local cuisine, before continuing with your city tours in the afternoon.
Please let us know where you are staying so that your guide can meet you there.
Included in the offer
- Transport from Tokyo to Nikko - Temple Admissions
Not included in the offer
- Lunch 
Cancellation policy
Up to 7 days before: 0%
Between 7 days before and 5:00 p.m.the previous day: 50%
After 5:00 p.m.the previous day and same day: 100%
Location
---