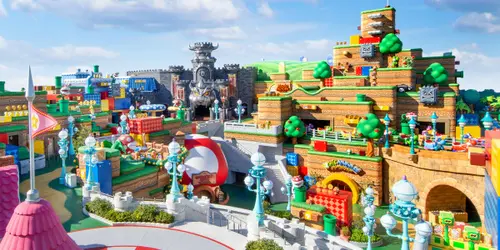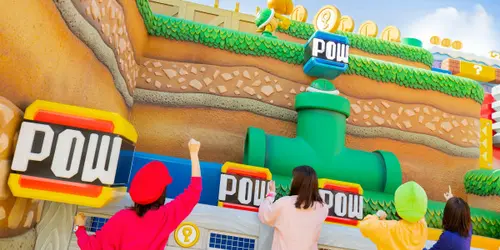 Universal Studio Japan (Super Nintendo World)
Everyone is familiar with Disney parks, but perhaps less so with Universal Studios. Take advantage of your trip to Japan to discover them. This is the number one attraction in Osaka.
One of the top theme parks in Japan
Universal Studios Japan (more commonly known as USJ) was the first Universal Studio branded park to be built outside the United States, and was an instant hit with theme park fans. Opened close to Osaka in 2001, it has since held the position of the most visited park after Tokyo Disney Resort. Its also the fifth most visited theme park in the world.
Film-themed for young and old alike
The theme: movies, blockbusters, cartoon characters that everyone loves, and more recently, retro Japanese video games with Super Nintendo World. There are 10 districts at USJ: Hollywood, New York, San Francisco, Jurassic Park, Waterworld, Amity Village, Universal Wonderland, Minion Park, The Wizarding World of Harry Potter, and lastly, opening in 2021, Super Nintendo World.Visitors can enjoy the rides and attractions, but also have their photo taken in the setting of their favourite film (Spiderman, Back to the Future, Terminator 2, Jurassic Park or Harry Potter) or chat to a Minion (you'll have to brush up on your Minionese basics first). Don't miss The Amazing Adventures of Spider-Man, as it is one of the top 10 attractions in the world. At certain times, visitors also have access to temporary attractions, which are usually related to popular manga such as One Piece or Attack of the Titans.
The grand addition: Super Nintendo World
USJ's latest addition is of course Super Nintendo World. There, you can take part in a virtual Mario Kart race, go on a treasure hunt riding on Yoshi's back, visit Princess Peach's castle, or simply immerse yourself in a perfect Mario Kart recreation.
Some practical tips
We advise you to avoid weekends and public holidays to enjoy a more relaxed atmosphere. Also, it's recommended to arrive at least 30 minutes before the park opens so you don't have to wait at the entrance. To visit Super Nintendo World, collect your timed pass at the entrance. In order to avoid a large influx of visitors, the entrance hours for this section are regulated.
Location
---
Universal Studio Japan (Super Nintendo World)