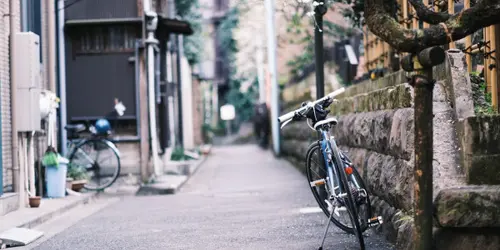 Tokyo by bike
Leave the underground and lively districts behind for a day on your bike, and explore Tokyo from a new perspective.
Cycling in Tokyo
At your own pace, you can discover a quieter, more antique Tokyo, off the beaten track. Enjoy the atmosphere of a more traditional Japan in the heart of Tokyo. Akiko will help you discover her personal, authentic Tokyo, and share her passion for her country with you. 
Visit Tokyo in a different way
Learn more about Tokyo's history and the lives of its inhabitants by pedalling through the old quarters of the Japanese capital. As you cycle around the streets, stop for a moment and get off your bike to discover typical places and great local spots: neighbourhood temples, lively streets, restaurants, craft shops... and then ride away with a head full of memories and discoveries.
A flexible, personalised tour
Your guide will prepare the best itinerary for you, although we also offer the possibility of contacting your guide beforehand if you have specific requests (dietary restrictions, parts of the programme you would like to discuss, etc.).
Location
---
Tokyo by bike
From
203,61 €
per group of 1 to 4 people