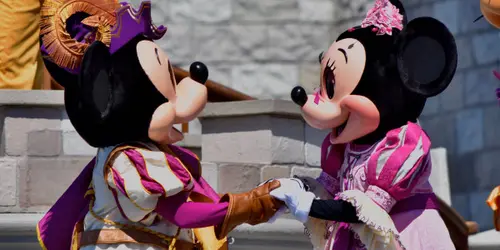 Tokyo Disneyland
The Japanese don't do things in half measures. Sometimes they even make them double! In Tokyo, there are two Disney parks: Tokyo Disneyland and Tokyo DisneySea, considered the best of the Disney parks. For a day of family fun, or to investigate the reasons for this popularity.
<H2> Tokyo Disney Sea, considered by many to be the best Disney park</H2>
Tokyo Disney Sea, which is a dedication to the marine world and nautical exploration, is often considered <strong> the best Disney theme park</strong> for its beauty and originality. With seven different ports: Mediterranean Harbour, Mysterious Island, Mermaid Lagoon, Arabian Coast, Lost River Delta, Port Discovery, and American Waterfront, there's plenty of transportation to get you from one to the other and into a fantasy world. Another advantage of DisneySea is that it's also a park <strong> designed for adults to enjoy</strong> . The restaurants are of high quality, and during the day there are several excellent musical performances.Of course the attractions are also worth a visit, in particular Indiana Jones Adventure and Tower of Terror, and Journey to the Center of the Earth, voted the 3rd best attraction in the world.
<H2> Tokyo Disneyland, the Japanese Disney world</H2>
For those who prefer the traditional Mickey Mouse universe, there is of course Tokyo Disneyland. Here you will find <strong> new attractions and original features that can only be found in Japan</strong> . We recommend a ride on Pooh's Hunny Hunt or Monster's Inc. Ride & Go Seek. Also unmatched at Disneyland is the quality of service. The staff (in the classic Japanese way) are attentive, polite and helpful, and just like at Disney Sea, the food is second to none. You can enjoy Mickey waffles at the Great American Waffle Co. or try the wide range of popcorn flavours, from honey to black pepper to soy sauce.
<H2> For a family day out</H2>
The two parks are located <strong> about 1 hour from Tokyo by train</strong> , in the town of Urayasu in Chiba, and are an opportunity for a magical family day out. We advise you to avoid weekends and public holidays to avoid crowds. It is recommended to choose one of the parks instead of trying to do both, as there is no combined ticket, and half a day for each will not be enough and may leave you hungry for more. As the two parks are next to each other, once you arrive at Maihama Station, simply take the Disney "Tokyo Resort Line" shuttle to either park.
Location
---