Usuki Stone Buddhas
The Usuki Stone Buddhas (magaibutsu) are a collection of ancient Buddhist statues that are carved directly into exposed rock, in Usuki, Oita Prefecture, Kyushu.
Usuki Stone Buddhas, Oita Prefecture 臼杵石仏
Jake Davies
Magaibutsu are Buddhist statues that are carved directly into exposed rock, often cliff faces. Technically they are relief carvings and so cannot be moved or seen from behind, as opposed to Sekibutsu, which are fully three dimensional statues and can be moved.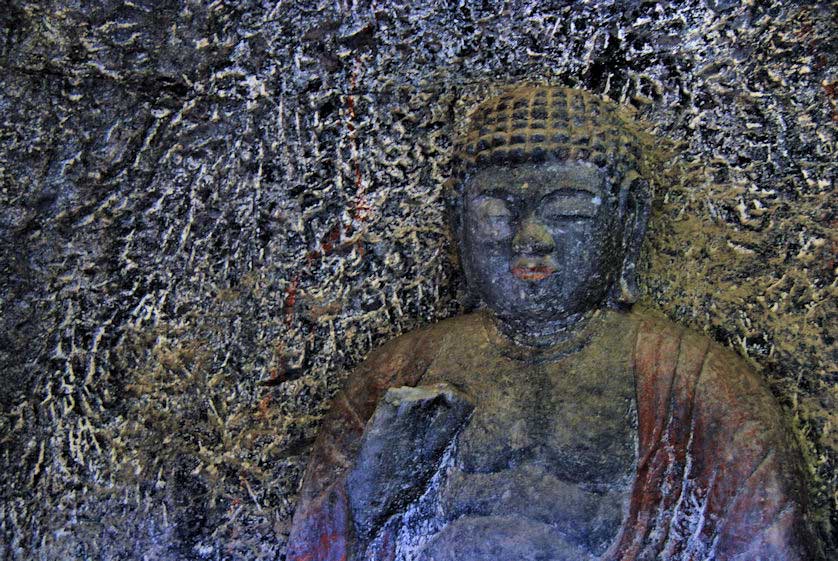 Usuki Stone Buddhas, Oita Prefecture
Both types can be found all over Japan, but the highest concentration of magaibutsu are found in Oita Prefecture in northern Kyushu.
The Kunisaki Peninsula in the northern part of the prefecture is where most can be found, including what are believed to be the oldest and biggest magaibutsu in Japan, but another big cluster are found in the south of the prefecture near the town of Usuki.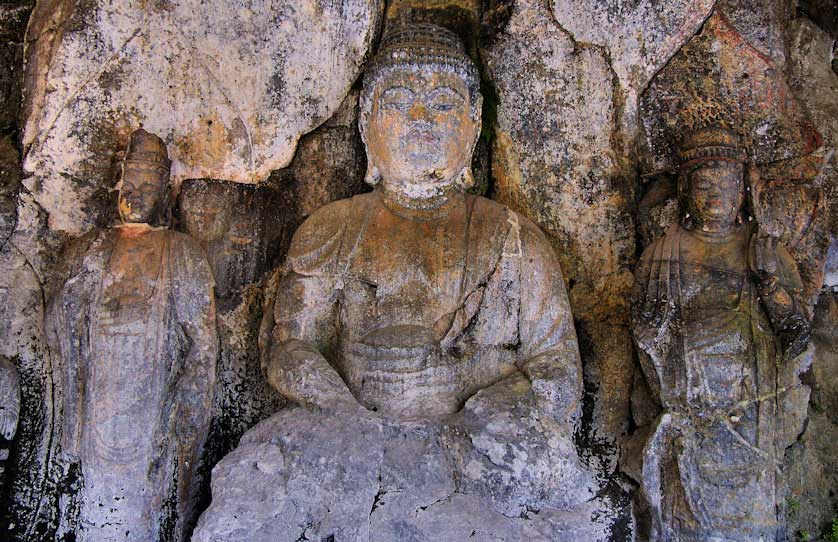 Usuki Stone Buddhas, Oita Prefecture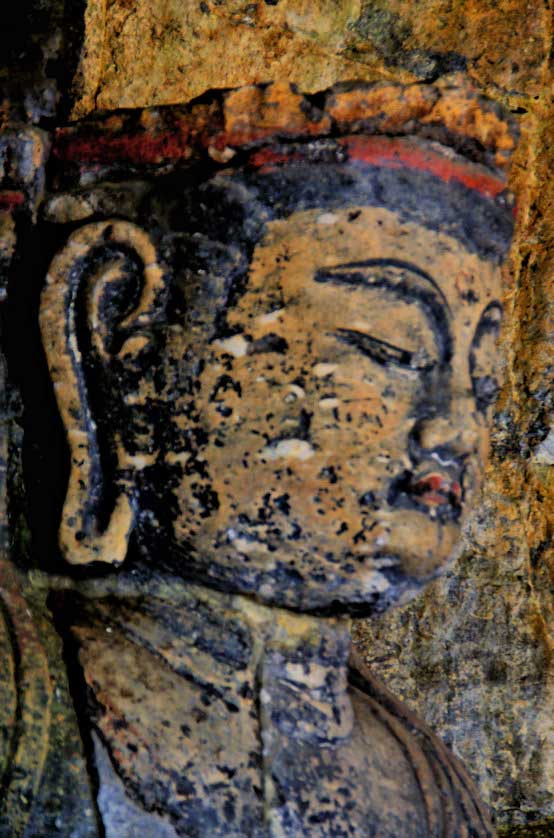 Usuki Stone Buddha, Oita Prefecture
Usuki Magaibutsu
About five kilometers from Usuki town about 60 statues can be found in four groups close to each other. Believed to have been carved somewhere around the end of the Heian Period (794-1185).
It is not known exactly who carved them although experts believe that due to their high quality they were made by, or under the direction of, a master carver. The rock in which the carvings are made is mostly tuff and lava from nearby Mount Aso, and is therefore relatively soft and hence easily workable, which is why the statues have such a fine level of detail, it also means that the ravages of time and weather have damaged them over the centuries. However, after decades of restoration work, including constructing roofs to protect them from further weather erosion, 59 of the 60 statues here were designated as National Treasures, the first stone statues in Japan to be so designated.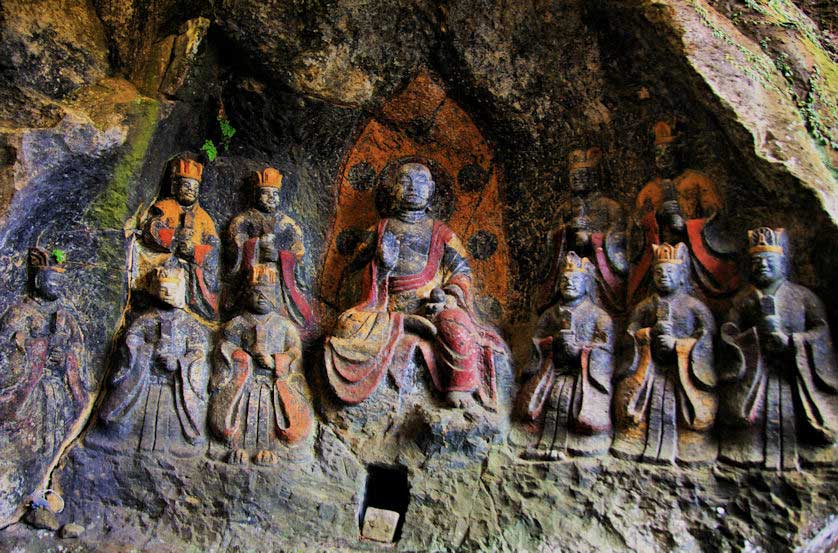 Usuki Stone Buddhas, Oita Prefecture
The four groups of statues are situated in the hillsides among trees and bamboo groves and are reached by following connecting pathways.
The Hoki First Cluster is comprised of four galleries with a total of more than 20 statues, including numerous seated Buddhas, some standing Bodhisattvas, and a Yakushi, a Jizo, and ten "Heavenly Kings."
The Hoki Second Cluster has two galleries, one with a rather nice trinity of Amida flanked by two attendants, and the second with nine statues of Amida.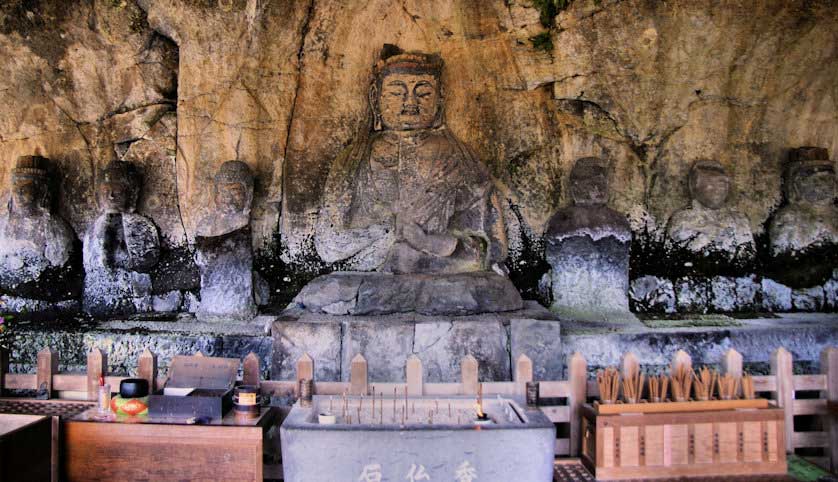 Usuki Stone Buddhas, Oita Prefecture
The Sannosan Cluster is just three statues, a huge five meter Buddha flanked by two attendants. All three have rather child-like faces and known collectively as the Hidden Jizo.
The Furuzono Cluster consists of a line of 13 figures with a large central carving of  Dainichi Nyorai that is generally considered to be the finest stone Buddhist statue in Japan. In 1993 when renovations began it was decided to place the head back on the figure rather than leave it on the floor where it had lain for centuries.
One thing noticeable when examining these fine statues are the traces of paint still left on the carvings. When they were originally made and fully painted they must have been a remarkable and powerful sight.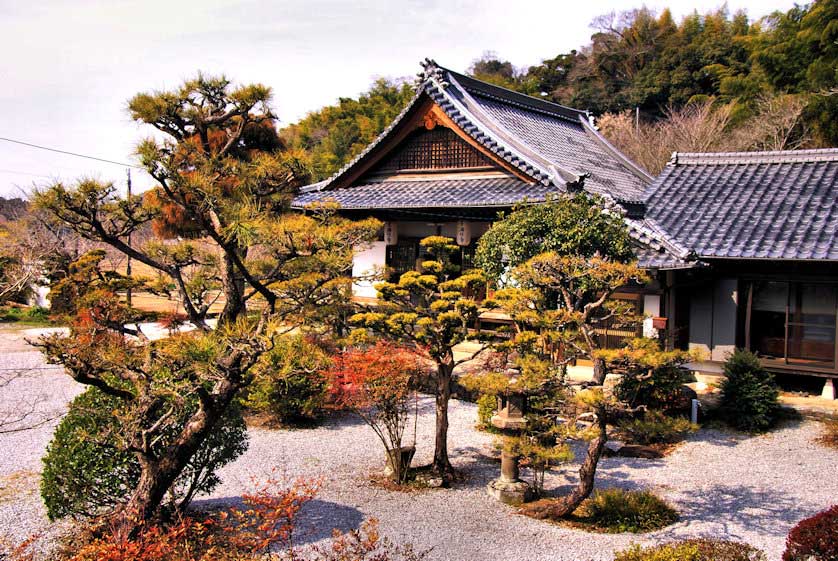 Mangetsu Temple, Oita Prefecture
Partway along the path a secondary path leads up the hill to a small shrine which has some quite nice wooden reliefs. Down below the Buddha statues is a small temple, Mangetsu Temple, with very pleasant grounds and a large lotus pond. There are a few ancient statues including one of Renjo-hoshi, the legendary creator of the stone Buddhas, and Ma'na'no Choja and his wife, the legendary sponsors of the stone Buddhas.
The two stone Nio guardians are quite curious being buried up to their knees, due to the repeated flooding of the nearby river. On the drive up to the entrance there is also a semi-buried stone torii.
Usuki Stone Buddhas Access
Usuki Stone Buddhas804-1 Fukata, Usuki, Oita 875-0064Tel: 0972 65 3300Open every day from 6am to 7pm (6pm during the winter months)540 yen entrance.
The Usuki Stone Buddhas are about 5km from Kami-Usuki Station or 7km from Usuki Station on the Nippo Main Line. A twenty minute bus ride costs 320 yen, and taxi about 2,000 yen.
Right next to the entrance to the Stone Buddhas is the Yamako Usuki Art Museum, containing lots of archeological artifacts from the area as well as materials from the Edo Period belonging to the ruling Inaba Clan.
Yamako Usuki Art Museum793 Fukata, Usuki, Oita 875-0064Tel: 0972 65 3080
Open every day from 8:30 to 5. Entrance 400 yen or 710 yen including entrance to the Stone Buddhas.
Further up the coast in Oita City are a few further examples of magaibutsu, and inland between Usuki and Oita are a couple of further sites that are difficult to reach without a hire car, but are free to view.
In the village of Tonase, about 3km south of Inukai Station is a triptych of Fudo Myo-O and two attendants, and a little further south, about 2km north of Sugao Station is a particularly fine set of carvings that have a lot of the paint work still remaining. Hard to reach without a car, but worth a visit if you are particularly interested in magaibutsu or if you are driving nearby.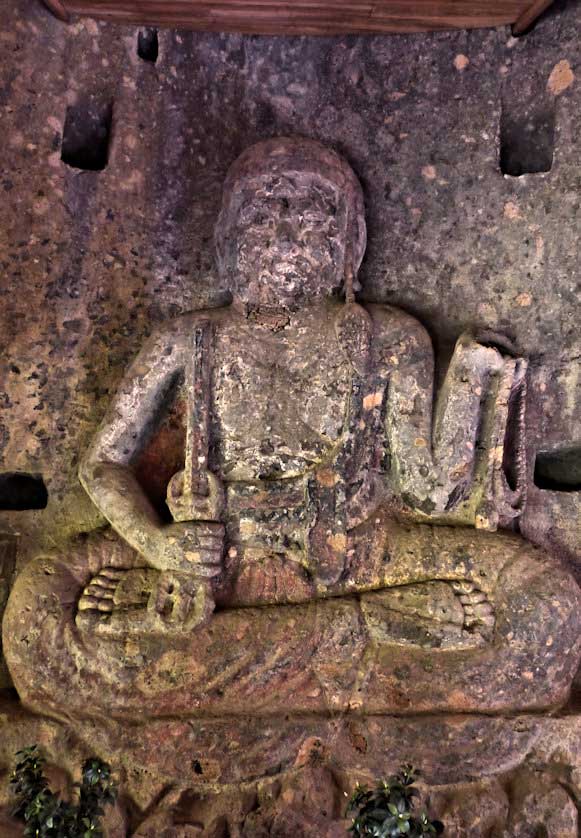 Inukai Magaibutsu, Oita Prefecture
Inukai MagaibutsuTonase, Tahara, Inukai, Bungo-ono, Oita Prefecture, 879-7305
Sugao MagaibutsuAsase, Mie-machi, Bungo, Ono, Oita Prefecture, 879-7100
Read more about Oita's other megaibutsu here.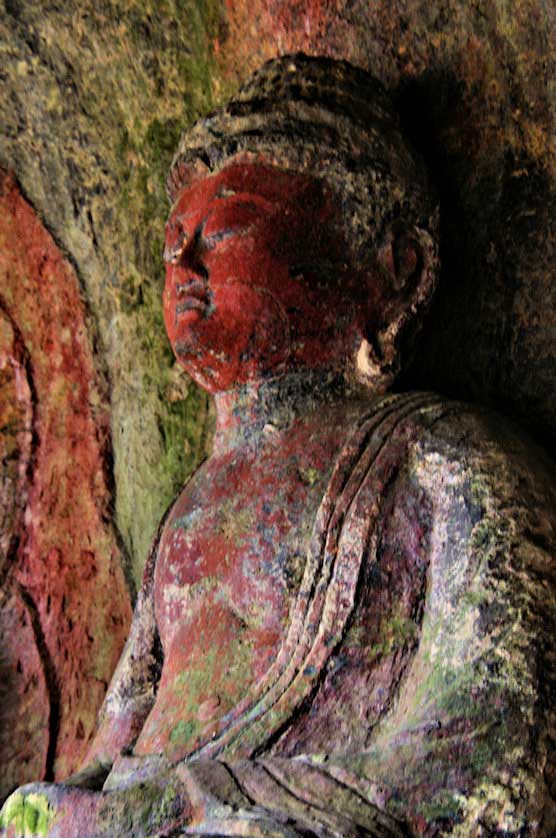 Sugao Magaibutsu, Oita Prefecture

Related Usuki Articles
Eating fugu in Usuki
Usuki Castle
Book Hotel & Hostel Accommodation in Japan
All the themes of the city