Yuki no Otani, the snow canyon of Tateyama
雪の大谷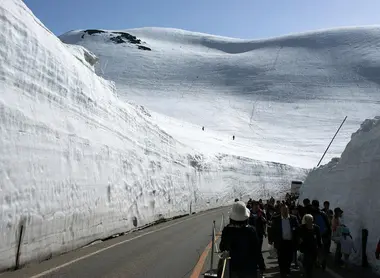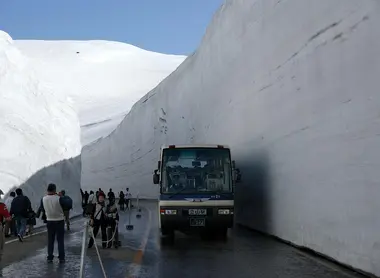 ice walls
Located on a portion of the famous Tateyama Kurobe Alpine Road, the snow canyon offers travelers a grandiose spectacle: walking between two snow walls over 20 meters high.
The scene, like the landscape, looks surreal. In the middle of the Japanese alpine road, called Tateyama Kurobe, stands a snow canyon, enclosing buses and pedestrians in an icy path .
Every year, it is the crowd on this highest point of the road. Japanese and travelers rush to be able, in turn, to take a few steps in this virginal setting. Especially since the road is only open from April to June , the places not being passable before because of snowfall, and once the month of June has passed, there are only too few snow, causing the canyon to lose its disproportionate proportions.
THE FAMOUS ALPINE ROAD
To get there, you have to take the 37 kilometer long alpine road , which is a tourist route linking the towns of Tateyama and Omachi . Open to traffic since 1971 , it attracts an increasing number of tourists every year. And if the snow canyon is only visible two months of the year, the road is open from April to November, before the snowfall resumes. This area is also one of the areas that receives the most snow in the world !
To read: 6 excursions around Takayama
A CROSSING BY BUS OR ON FOOT
The canyon is located at Murodo station , meaning "the great valley of snow", at 2,450 meters above sea level . To get there, you must take a bus , passing by private car is not allowed. It is therefore by bus that you cross this snow canyon, whose walls can reach up to 20 meters high . Once the canyon has been crossed, it is quite possible to retrace your steps on foot, and walk in the canyon for a distance of about 500 meters .
Until the end of May, hikes entitled "Yuki-no-otani Walk" are organized to cross the valley on foot and, among other things, discover the canyon.
See also: 5 hikes in Takayama
PREPARE YOUR VISIT WELL
Even if the canyon is open in the spring, it is strongly advised to bring warm clothes because the road is at altitude and the temperatures are very low. Also, don't forget sunglasses and sunscreen . And, for those wishing to start hiking, appropriate shoes.
If you plan to visit Shirakawa-go or Kanazawa during your next stay, do not hesitate to extend your visit a little to discover this impressive canyon where a very special atmosphere reigns. However, prefer to visit the canyon early in the morning , before too many visitors are there, which makes the visit a little less fascinating.
---
Address, timetable & access
Address

Timetable

From Toyama Station: From Dentetsu Toyama Station take the Toyama Chiho Railway to Tateyama Station. Fare 1,200 yen. From Shinano Omachi Station: Take the Ogizawa-Omachi Bus to Ogizawa Station. Price 1,360 yen.

Access

9:30 a.m. to 3:30 p.m.
All the themes of the city