Hatsumode
初詣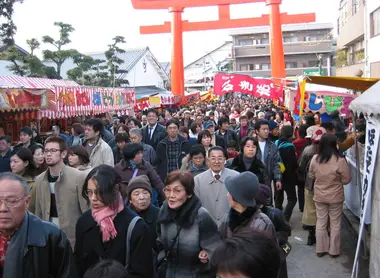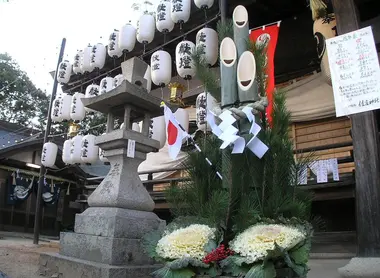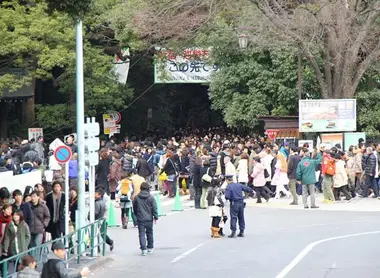 The obligatory passage of the new year
The Hatsumode is the very first visit to the temple in the New Year. The Japanese are very attached to this tradition, bringing crowds to the largest shrines in Tokyo on the first three days of January, as they do throughout the land.
Hatsumode fashion
The hatsumode tradition dates back to the Edo period (1603-1868), during which it was already very important. The Japanese travel to thank the gods for the year that has just ended and to ask for their protection for the one that is beginning. Indeed, the hatsumôde is practiced from midnight on January 1st. For the occasion, in Tokyo, trains run all night from December 31 to January 1. And there are also special trains that take the bravest to the seaside where they can admire the first sunrise of the year.
To help visitors endure the long wait in the cold, food and drink stalls are set up at the entrance to temples and shrines. In Tokyo, the Yasukuni-Jinja and Kanda-Myojin shrines even offer sake and Tokyo Daijingu, a red bean soup, to share all and more pleasantly, this important moment.
Here is the list of the most visited places for the hatsumode (of the first three days of the year):
Meiji-Jingu (Harajuku, Tokyo): the most visited Shinto shrine each year for hatsumode, with nearly 3,200,000 people visiting this green oasis in the heart of Tokyo.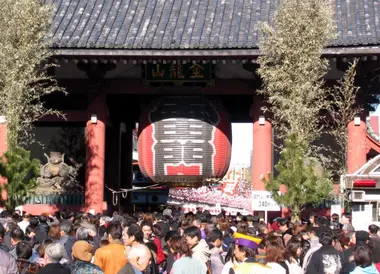 Buddhist temple or Shinto shrine?
A particular phenomenon happened in Japan, syncretism. The gods of Shintoism and those of Buddhism, "Shinbutsu Shugo", merged for more than a thousand years and until the Meiji era (1668-1912). So that, for the Japanese, it is quite natural not to differentiate between them and to live in harmony with both. Nevertheless, there are some differences in how to honor them.
In a Shinto shrine: 1. Bow, 2. Ring the bell to announce your arrival, 3. Put a coin in the trunk, 4. Bow twice, clap your hands twice, and again bow once, 5. Bow one last time before leaving the temple.
In a Buddhist temple: 1. Bow, 2. Ring the bell, 3. Put a coin in the trunk, 4. Pray with both hands joined in front of the chest, 5. Bow.
Putting a coin or a note in the trunk is called Saisen. It corresponds on the one hand to a kind of purification of the soul, contact with money being considered impure, and on the other hand to a thank you to the gods for their benevolence.
No matter how much you donate, even 5 yen can be enough. A pun is known about this since 5 yen, Goen in Japanese means to have a good relationship.
All the themes of the city