Book your Regional Japan Rail Pass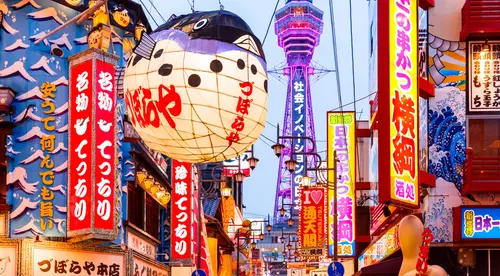 Order your Regional Pass
Edit
Kansai Pass
KANSAI THRU PASS 3 DAYS
---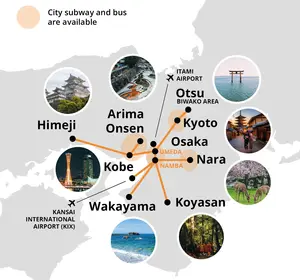 Why should you buy Kansai Thru Pass?
●Unlimited rides in the Kansai area for non consecutive 3 days
●Cover Kyoto, Osaka, Nara, Koya-san and Kobe-Himeji areas with this one pass!
●Valid for all regional transportation services in Kyoto, Osaka and Nara.(non-valid for JR)
●No need to be exchanged in Japan, we will send your address the physical pass!
Purchase and Delivery
Delivered to your home before your departure from Japan.
Delivery will be made within 5 business days.
If you wish to have your order delivered to a hotel in Japan, please send an e-mail to contact@japan-experience.com. You will need to provide your hotel reservation number. Please make sure that you will be staying at the hotel within a few days so that the front desk of the hotel will not refuse to receive your package.
You can purchase and pick up your Kansai Thru Pass directly at our branches in Paris, Madrid, London, and Berlin without making an online reservation.
Kansai Through Passes currently being shipped have an expiration date of March 31, 2024.
Terms of use
Kansai Through Pass can be used directly at train, subway and bus ticket gates. There is no need to redeem the coupon in advance.
Kansai Thru Pass has no designated first date of use and is valid for 3 consecutive days from the first postmark. Each time the first postmark is applied, the pass is counted as used on that day (until the end of the day, not 24 hours from getting stamped).
Once a pass is used up, it cannot be recharged again like Suica. Therefore, if you intend to use the pass for more than three days, you must purchase two or more passes and use them consecutively. 3 passes may be purchased per person.
This pass cannot be used on JR lines. Although JR does not cover the majority of rail lines in this area, the Kansai Area Pass and the Kansai Wide-area Pass from this page are more appropriate. Also you cannot take Shinkansen lines with this pass. If you are planning to travel to the Hiroshima area by Sanyo-Shinkansen, have a look at our Kansai Hiroshima JR pass on this page!
On Nankai and Kintetsu limited express trains and Keihan premium cars, passengers must pay a surcharge on board. On the other hand, other companies' limited express trains (Hankyu, Keihan...) on the other hand, do not require a surcharge for other companies' limited express trains (Hankyu, Keihan...).
For travel to Koyasan, the Kansai Through Pass is more convenient than the Koyasan World Heritage Pass. The reason is explained in the FAQ.
For travel between Osaka and Kansai International Airport (KIX), please refer to the "Frequently Asked Questions" below.
Eligibility 
This pass is for tourists from outside of Japan.
Japanese residents are not allowed to purchase this pass.
There is a Kansai Thru Pass for children from 6 to 11 years old but Japan Experience does not sell it. The only alternative is to buy an adult Kansai Thru Pass for your kids.
Cancellation policy
Once sent to the address you provided when you purchased it, if you decide not to use it, you can return it to us. We will refund 85% of the purchase price. Shipping costs cannot be refunded.