The KaiKai Kiki Gallery
カイカイキキギャラリー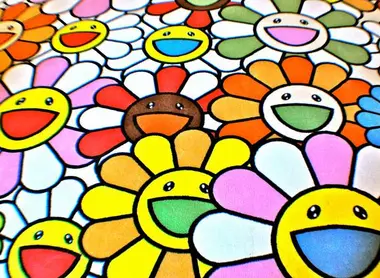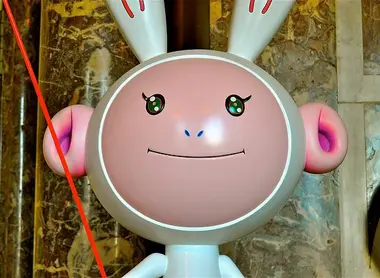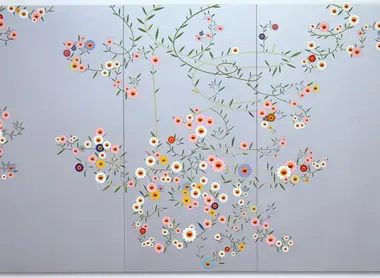 Planète néo-pop
C'est un lieu emblématique de la scène artistique tokyoïte. Takashi Murakami a choisi le quartier de Motoazabu, près de Roppongi, le quartier des musées, pour implanter sa galerie KaiKai Kiki.
The Murakami Factory
Before being a gallery, Kaikai Kiki is the name of the company founded in 1996 by Japanese artist Takashi Murakami under the name Hiropon Factory.
"At that time", says the artist, "the 'factory' was nothing more than a small group of people who helped me create my sculptures and paintings."
It was in 2001 that this production workshop, largely inspired by Andy Warhol, became a real company, under the name of "Kaikai Kiki Co. Ltd ".
From the production of large-scale works of art to the management of artists to the sale of derivatives, the company today employs a hundred people in Tokyo and New York.
Kaikai & Kiki
One is white with big ears, the other is pink with three eyes. Kaikai and Kiki are also the names of two kawaii monsters - which exist in the form of sculptures as well as starring in animated films - which became real emblems of the Superflat movement created by Takashi Murakami in the 1990s. A movement inspired by Pop art as well as manga and cartoons.
Read also: Pop culture in Japan
"Neo-pop artists such as Takashi Murakami or Yoshitomo Nara reflect the anxiety that followed the end of the economic bubble of the 1980s," said Yuko Hasegawa, Artistic Director of the Tokyo Museum of Contemporary Art and curator of the Japanorama exhibition at the Center Pompidou-Metz.
"They deliver a speech that, beyond the apparent didactic clarity of their works, challenges the socio-political and ecological model of Japan."
A new generation of artists
The Kaikai Kiki Gallery, located in the basement of a building in the Motoazabu district, is far from being devoted solely to the work of Takashi Murakami. One of his main goals is, he says, " to encourage and highlight the next generation of artists " by pushing them to do their best, but also by offering them the opportunity to make themselves known.
You will be able to see exhibitions at the gallery - the program of which is provided by Takashi Murakami himself - Japanese and international artists such as his protégé Mr., the Tokyoite Chiho Aoshima or the young Chinese artist He Xiangyu.
---
Address, timetable & access
All the themes of the city