Chichibu Saitama Prefecture
Chichibu, Saitama Prefecture: read a guide to Chichibu city in Saitama Prefecture just over an hour from Tokyo and with much to see and do.
Chichibu, Saitama Prefecture 秩父市
by Johannes Schonherr
Chichibu is a city in the center of mountainous western Saitama Prefecture. Today, the administrative area of Chichibu city stretches out all the way to the borders of western Tokyo (Okutama) and Yamanashi, Nagano and Gunma prefectures. Thus a large part of the Saitama side of the Chichibu-Tama-Kai National Park is located within the official city limits.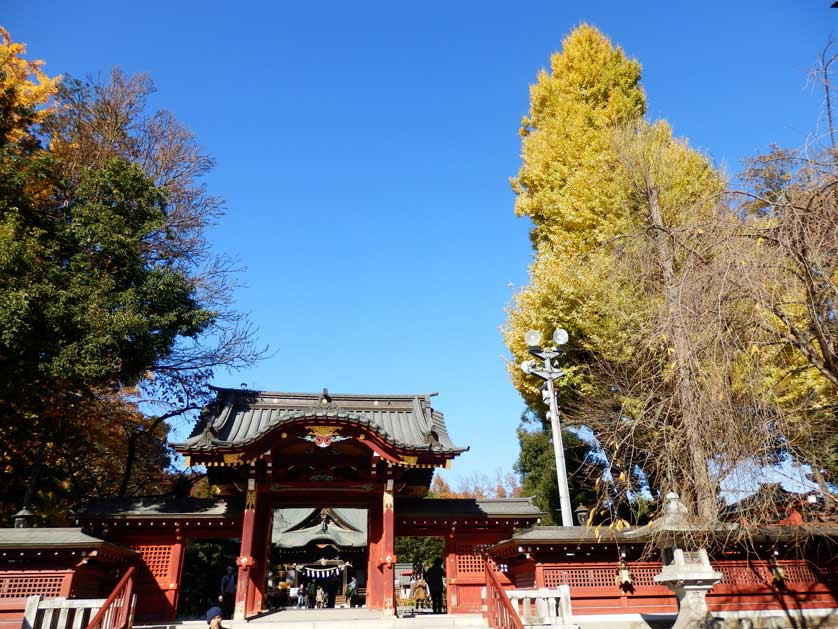 Chichibu Shrine, Chichibu, Saitama Prefecture
The majority of the population (about 70,000) however lives in the urban area of the old industrial town of Chichibu, down in the Chichibu Basin along the Arakawa River and towered over by the strangely gnawed-on looking Mount Buko.
Mount Buko is part of the industrial past and present of Chichibu. The gray terraces hacked into the mountain front facing Chichibu are the result of limestone quarrying.
Cement made from Buko limestone helped build much of modern Tokyo and has been essential to the economy of Chichibu for decades.
Only in recent years has Chichibu started to promote itself as a tourist destination. Easy access to the surrounding mountains and a rich heritage of ancient shrines and temples makes tourism an obvious choice in a time when much of the industry is slowly going downhill.
Today's Chichibu is partly crowded by Tokyo weekenders coming for the local attractions or using the town as a gateway for trips further up in the mountains, partly it is a somewhat run-down town with lots of cement trucks passing through, still adjusting to the decline of its former industrial status.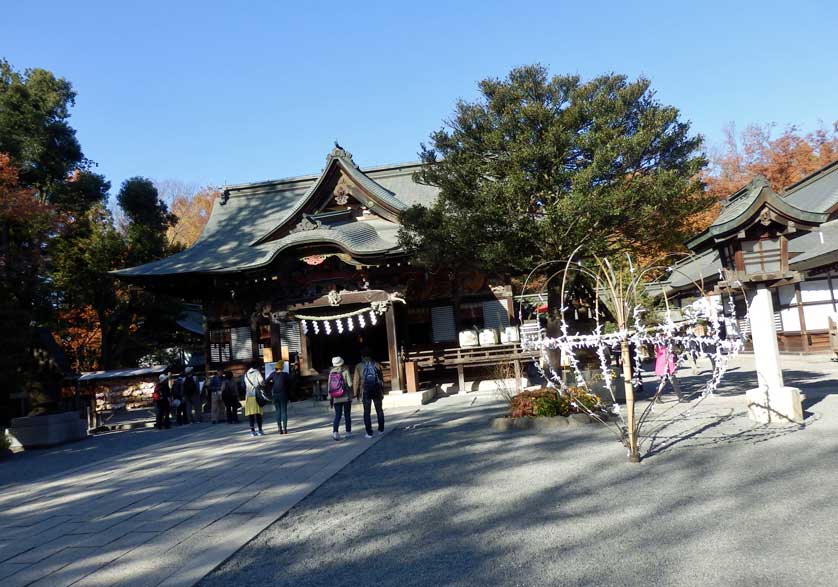 Chichibu Shrine, Chichibu, Saitama Prefecture
Chichibu Shrine
Only a short walk from Seibu Chichibu Station, the train station connecting Chichibu to Tokyo, is Chichibu Shrine. Here, the history of Chichibu began. It is said that Chichibu Shrine was founded in the first century B.C. thus making the shrine about 2,100 years old.
Early markets outside the shrine are said to have been the start of today's city of Chichibu.
The Chichibu Shrine buildings that can be visited today are of much more recent vintage, of course, dating back to Edo times.
The main Chichibu Shrine hall features many elaborate carvings. To the right and left of the entrance you can see colorful tigers up on the wall. There are several tiger carvings on display but one shows a mother with her three cubs. The "tiger" mother's fur pattern is however that of a leopard.
To mix a tiger with leopard fur design into groups of tigers was a mark of distinction employed by the early Edo era painting / carving school to which the legendary wood carver Jingoro Hidari belonged.
Hidari was active from about 1596 to 1644. Many carvings throughout Japan are attributed to him, most famously the Three Wise Monkeys at Nikko Shrine in Nikko.
The leopard-style tiger mother displayed here is said to be one of Jingoro Hidari's works. The blue dragon prominent on the shrine hall wall once you turn the corner to the right is also said to be a work by Hidari. It's named the Tied Dragon and if you look closely you will see a real iron chain wrapped around the carved dragon.
This is the most famous artwork at the shrine and it refers to a local myth about a dragon that lived in a nearby pond and terrorized the neighborhood. Since some clever folks at the time found a way to chain the beast, the area around the shrine has been peaceful.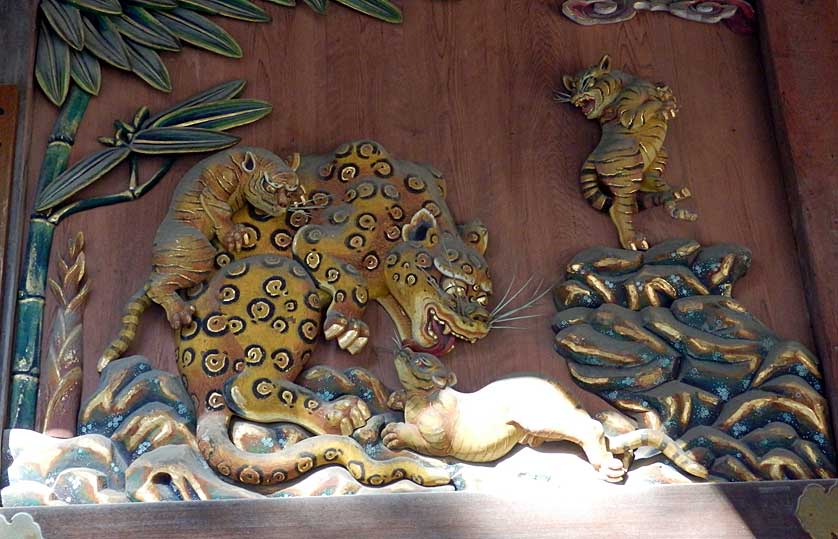 Tiger mother in leopard fur design, Chichibu Shrine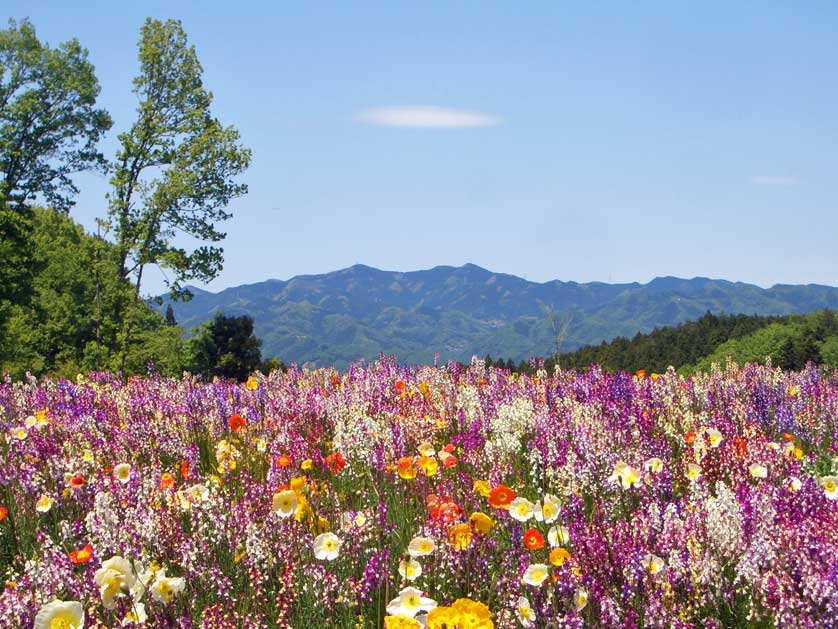 Chichibu Muse Park in May
34 Temples
Continuing with religious sites, Chichibu has its own pilgrimage route of 34 Buddhist temples. The pilgrimage circuit dates back to the 14th century. Visits to all temples are free and most are within urban Chichibu. Though all the temples are ancient, many of them are rather small and have more the feel of a neighborhood temple than a grand monument.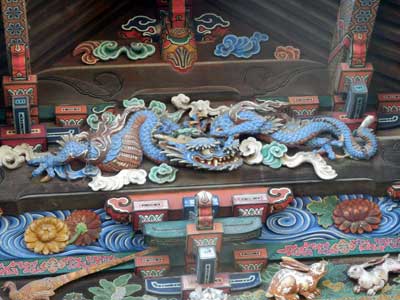 Tied Dragon carving at Chichibu Shrine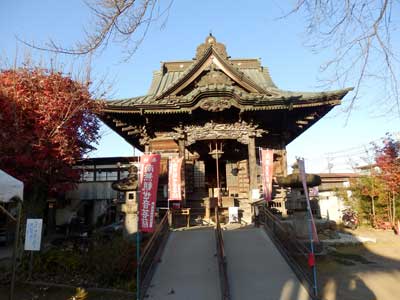 Jigan-ji Temple, temple #13 on the pilgrimage route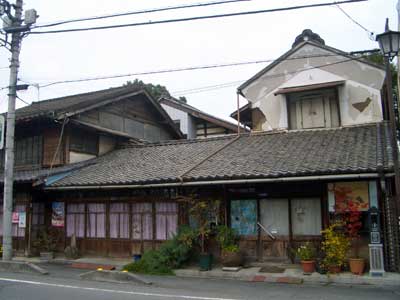 Old residential buildings in Chichibu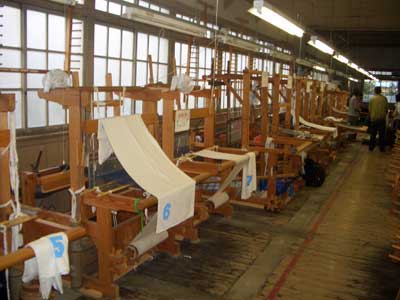 Hand-operated looms at the Meisenkan

Wado Coins
What really put Chichibu on the map in old Japan wasn't religion though but finance.
Coins from China and Korea had been in use in Japan from the 6th century A.D. on but it wasn't until the discovery of large copper deposits in Chichibu at the beginning of the 8th century A.D. that Japan minted its own coins.
Those first coins were called Wado Kaichin (wado roughly translating to "Japanese copper") and they were first minted in 708 A.D.
A hugely oversized replica of such a Wado Kaichin serves as monument to the era and is situated close to Wadokuroya Station on the Chichibu Railway Line in the direction of Nagatoro, Kumagaya and Hanyu.
A few remains of old mining sites can still be visited near Wadokuroya Station.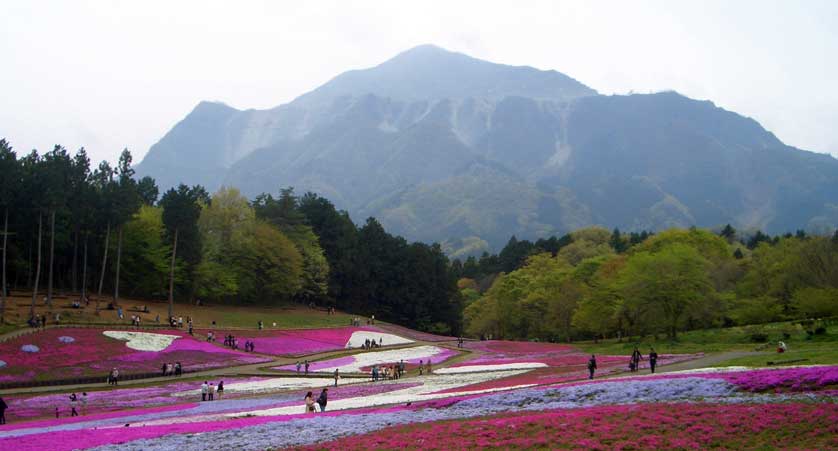 Hitsujiyama Park in April with Mount Buko in the background

Meisenkan
The Chichibu Meisenkan is a silk museum in Chichibu. During the Edo Period, Chichibu was a center of silk production. The Chichibu Meisenkan attests to that history. Meisen was a special kind of silk fabric only produced in Chichibu and held in high regard among the upper classes of Edo.
The Meisenkan is located in a wooden building designed by Frank Lloyd Wright in the early 20th century, and resembles an old-style silk manufacture factory. It can be visited and the friendly staff will explain all the intricate details of silk production all the way from the silk worm to the finished woven cloth. Though this is sort of a museum, actual silk cloth is still woven here on a small but regular scale in real old-style fashion.
Visitors can buy the products at the on-site Meisenkan store. (When visiting the store, be careful what to choose. Not all items on sale are in-house products. Ask staff for assistance).
Meisenkan address: 28-1 Kumaki-cho, Chichibu-sh. Tel: 0494-21-2116
Open daily from 9am to 4pm, closed from December 29th through January 3rd
Entry fee: Adults 200 yen, children 100 yen.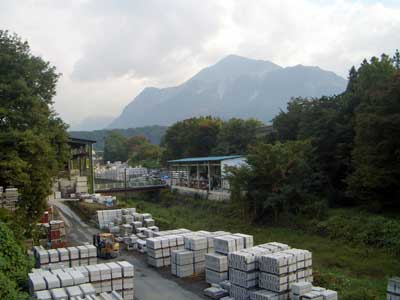 Cement factory with Mount Buko in the background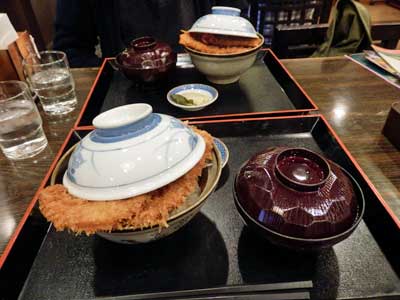 Waraji-katsu, Chichibu, Saitama Prefecture
Hitsujiyama Flower Park
The Hitsujiyama Flower Park is especially worth visiting in April and early May when it is covered by a sea of pink and white Moss Phloxes (Shibasakura in Japanese) against an impressive backdrop of Mount Buko.
During April and May, especially at weekends, the park takes on a festival-like atmosphere. There are beer gardens, and vendors of various foods including fried fish and barbecued meat. Expect big crowds.
Park address: 6630 Omiya, Chichibu-shi. Tel: 0494-25-5209
Open daily from 8am to 5pm, entry fee 300 yen.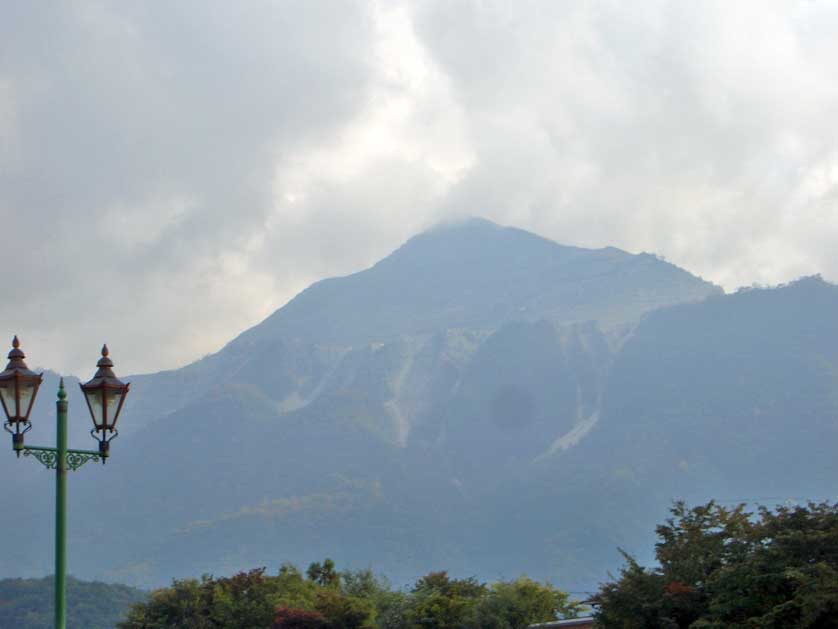 Mount Buko seen from Chichibu, Saitama Prefecture

Chichibu Muse Park
The Chichibu Muse Park is open and active all year. Chichibu Muse Park's intrinsic and always popular draws are the extensive flower fields changing with the seasons with the Chichibu mountains in the background.
Particularly well-known is the plum blossom in the park (mid-March to early April). Chichibu Muse Park also hosts concerts and other events.
Chichibu Night Festival
The Chichibu Night festival is one of the Kanto region's most famous festivals. It always takes place on December 2nd and 3rd and it features brightly lit floats being carried through the crowded streets before a giant firework display lights the sky.
Chichibu Food
Soba noodles are the Chichibu area's main traditional food. Rice doesn't grow well up here in the mountains. Farmers have cultivated buckwheat (from which soba noodles are made) since ancient times and consequently, the local cuisine has focused on soba noodles.
A more recent specialty is Waraji-katsu. A sort of schnitzel (breaded pork cutlet) on rice with a strong miso taste. It may be a local adoption of Nagoya-style Waraji-katsu, popularized because of the abundance of locally produced miso (soy-bean paste).
In general, one could say that Chichibu food is serious stuff geared towards filling the hungry stomachs of workers and hikers. It is not sophisticated gourmet food.
Access
Train
Chichibu can easily reached from Ikebukuro Station via the Seibu Line Red Arrow Express train (in as a little as 78 mins).
Slower trains necessitate a change in Hanno from the Seibu Ikebukuro Line to the Seibu Chichibu line.
Chichibu Station of the Chichibu Railway is a short walk from Seibu Chichibu Station in Chichibu. The Chichibu Railway connects Chichibu with Nagatoro, Kumagaya Station in Kumagaya and Hanyu in one direction and Mitsumine in the other.
Car
From central Tokyo: Drive the Kan-etsu Expressway towards Niigata, get off at Hanazono I.C., take Route 140 to Chichibu.
From Tokyo / Tokorozawa: Drive to Hanno, then go onto Route 299 to Chichibu.
City information
Right outside Seibu Chichibu Station is a tourist information office. It offers plenty of information brochures, free maps and event announcements. The staff are very friendly but speak little English.
Useful Links
Chichibu Shrine website in Japanese: www.chichibu-jinja.or.jp
Saitama Prefecture info in English: www.sainokuni-kanko.jp
Chichibu Buddhist Temple Pilgrimage RoutesBrief descriptions of all 34 temples in Japanese and English. Click a temple on the map and the author's temple tour of the day he/she visited shows up.
Meisenkan Website in Japanese: www.meisenkan.com
Web info in English: www.sainokuni-kanko.jp (with access map)
Wikipedia article about Wado Kaichin
Hitsujiyama Flower Park info in English: www.sainokuni-kanko.jp (with access map)
Chichibu Muse Park website in Japanese: www.muse-park.com
Chichibu Night Festival website in Japanese: navi.city.chichibu.lg.jp
and in English: www.sainokuni-kanko.jp
Mt Buko on Google Maps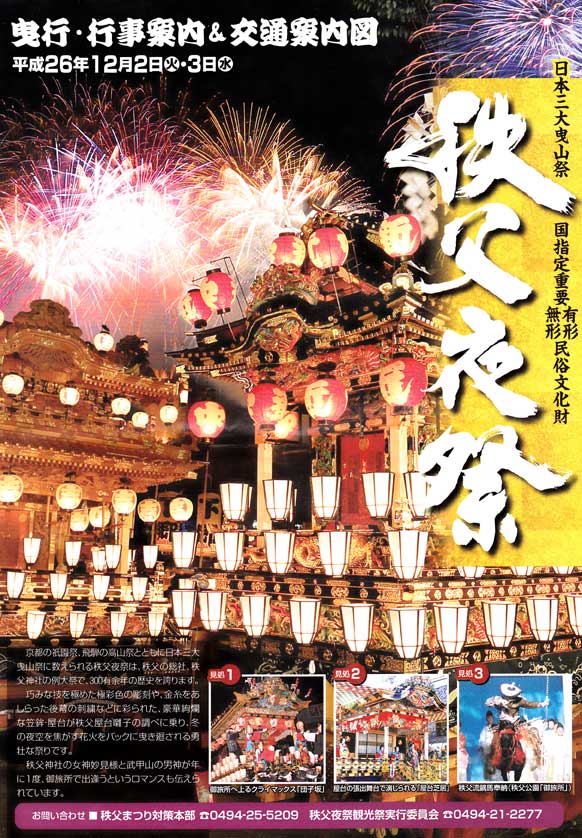 Chichibu Night Festival
Book Hotel Accommodation in Saitama Japan
All the themes of the city