Karakuni dake
韓国岳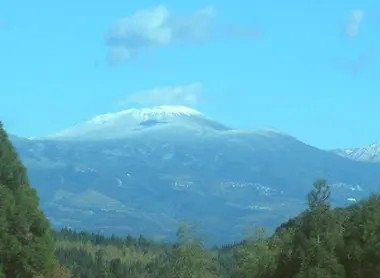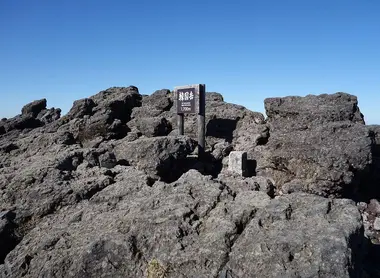 Kyushu's other peak
Karakunidake, or Mount Karakuni, is a hill on the southern island of Kyushu. Less known than other heights in the region such as the Kagoshima Sakura-jima volcano or Mount Aso in Kumamoto prefecture, it nevertheless offers a breathtaking view of Miyazaki and Kagoshima prefectures from its summit! A must-see!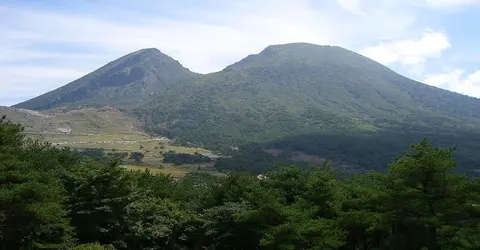 Roof of the Kirishima Mountains
Karakuni-dake , or "Mount Karakuni" is the highest peak of the Kirishima Mountains, a mountain range of volcanic origin studded with volcanic cones and craters and which extends over about thirty kilometers north of Kagoshima Bay. Located 1,700 meters high , it is crowned by an impressive crater 900 meters in diameter and 300 meters deep which can turn into a lake during heavy rainfall . The origin of its name could either come from the Japanese "kara" which means empty and which would characterize a little frequented mount, with little vegetation on its heights, or from the fact that at
At one time, it would have been possible to see the Korean peninsula from the mountain, which is why the kanji 韓国 ( kankoku , meaning "Korea") is used to write its name.
Unmont open to hiking
Karakuni-dake offers stunning views of southern Kyushu from its peak. To climb the mountain, you can take trail paths starting from the east as well as from the west, from the main car park located 1,200 meters high, at the level of the Ebino plateau. The ascent of 500 meters can be done quietly in a few hours . The surrounding nature will offer you a different spectacle depending on the season when you set off to attack the mountain. A climb started early in winter - before 10 a.m. - will allow you to wander through a forest of ice that will have formed at night along the branches, while a climb in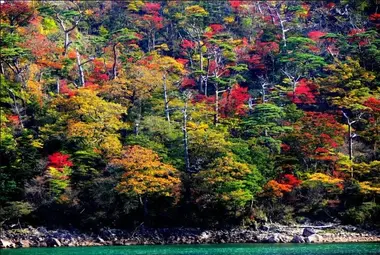 Autumn (the most popular season) is a time to experience a kaleidoscope of colors with the rainbow yellow-red-green vegetation and the brilliant blue of the lakes .
Continue the adventure
The ascent of the Karakuni dake can be done quite quickly, climbers can take advantage of the surrounding attractions . Indeed, the mountain is located within the Kirishima-Yaku National Park. A possible route is for example to climb the Karakuni dake, then to go to the gigantic Onami lake located in a crater in the surroundings. The option "finish with an onsen " is also possible, the Kirishima mountains have a certain number of them .
See also : Kirishima-Yaku National Park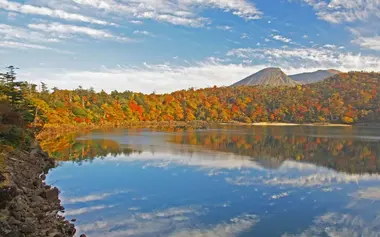 ---
Address, timetable & access
Address

Timetable

~1h30 by car from Kagoshima to Ebino KogenFrom JR Kirishima Jingû station, get on the Iwazaki bus in the direction of the Iwazaki Hotel. Get off at Maruo onsen stop and then take another bus (about 4 per day) to Oonamiike tozanguchi stop.
All the themes of the city