Kyoto Bus & Subway Travel Cards & Passes
京都市営地下鉄

The city of Kyoto is a center of traditional culture in Japan that is one of the country's most popular destinations. Take a look at how to navigate throughout the city and some of the transportation options that are available. 
Kyoto Bus & Subway Fares
Single fares for adults on Kyoto's subway system range from and 220-350 yen for adults and 110-180 yen for minors. Kyoto's subway system has two lines: the north-south Karasuma Line (green) and the east-west Tōzai Line (red).
Kyoto City Buses have a single fare of 230 yen for adults and 120 yen for children within the designated central area. As you travel outside the designated area the fare increases. Pick up a numbered ticket on entry. The fare corresponding with your number is shown on an electronic signboard at the front of the bus.
Kyoto City Subway One-Day Pass
The Kyoto City Subway One-Day Pass allows unlimited travel on Kyoto's subway and costs 800 yen for adults and 400 yen for children.
The Kyoto City Subway One-Day Pass includes discounts on admission to Kyoto Municipal Museum of Art, Nijo Castle, Kyoto Zoo, The Museum of Kyoto and Kyoto International Manga Museum.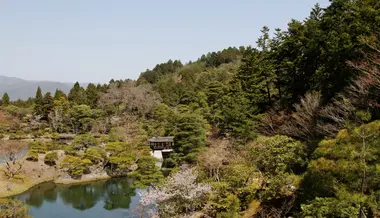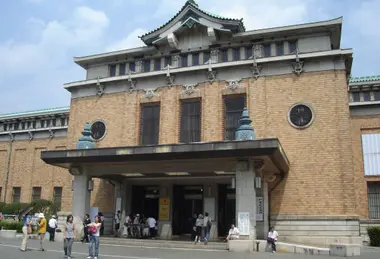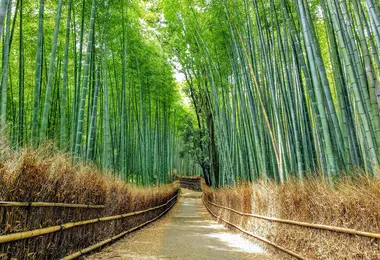 Kyoto City Bus One-Day Pass
The Kyoto City Bus One-Day Pass allows for unlimited travel on all Kyoto city buses and Kyoto buses within the downtown fixed rate zone (including Arashiyama and Shūgakuin) and costs 700 yen for adults and 350 yen for children.
The Kyoto City Bus One-Day Pass is available from the Kyoto Station Tourist Information Center, subway station ticket windows, any Kyoto bus and Kyoto City Bus Offices.
Subway, Bus One-Day & Two-Day Passes
These passes are valid for the Kyoto subway, Kyoto city buses, Kyoto buses and certain Keihan buses (namely to Yamashina and Daigo). Unlike the Kyoto City Bus One-Day Pass (see below), the One and Two-Day Subway, Bus Passes include travel to Saihō Temple (Kokedera; Moss Temple), Ōhara and Iwakura.
The Subway, Bus One-Day Pass is valid only for the day it is issued (not 24 hours) and costs 1,100 yen for adults and 550 yen for children.
The Subway, Bus Two-Day Pass is valid for two consecutive days and costs 2,000 yen for adults and 1,000 yen for children.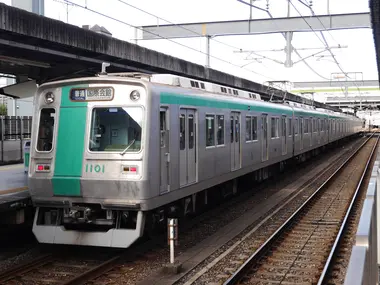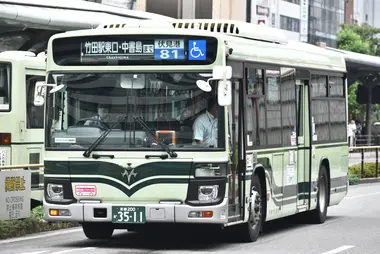 K'Loop Buses
K'Loop Buses operate on weekends and public holidays and travel in a clockwise loop connecting many of Kyoto's attractions and UNESCO World Heritage Sites. 
---
K'Loop Bus Stops
Kyoto Station Hachijoguchi | Shijo Kawaramachi and Nishiki Market | Kyoto City Hall/Honnoji Temple |
Nijo Castle | Kyoto Imperial Palace (Gosho) | Kitano Tenmangu/Kamishichiken | Kinkakuji Temple |
Daitokuji Temple | Botanical Gardens | Shimogamo Shrine/Tadasu-no-mori | Demachiyanagi | Ginkakuji |
Temple Heian Jingu/Okazaki Museum area | Chion-in Temple and Maruyama Park | Gion and Yasuka Shrine |
Kiyomizudera | Sanjusangendo/Kyoto National Museum
---
The fare is 1,500 yen (700 yen for children) for a day pass allowing you to hop on and hop off at any stop. Buy the ticket on the bus from the driver.
JR-West Kansai Area Pass and Kansai Wide Area Pass
Although not valid on Kansai's subways, the JR-West Kansai Area Pass can be used on JR trains connecting Kyoto, Osaka, Nara, Kobe, Nishi-Akashi and Himeji as well as the Haruka Express from Kansai International Airport (KIX).
The pass can be bought for 1-day, two successive days, three successive days and four successive days - with half price for children (age 12 or under). The JR-West Kansai Area Pass is available from major stations in the Kansai.
The pass is not valid on Shinkansen trains. 
Icoca and Kansai One Pass
Icoca is issued by JR West in the Osaka metropolitan region, Kyoto, Kobe, Okayama, and Hiroshima. Pasmo and Suica Cards that are distributed in Tokyo are also usable in Icoca. 
The Kansai One Pass is a special Icoca, also for foreign passport holders only, that has the bonus of special deals and discounts at numerous sightseeing spots and tourist attractions throughout the Kansai area.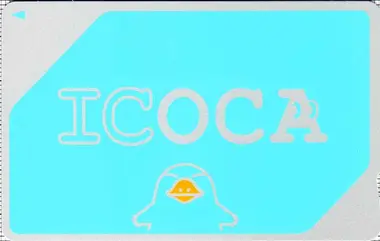 Showing a non-Japanese passport entitles the purchaser of an Icoca card to a substantial fare discount for the Haruka express train serving Kansai International Airport, in a package called Icoca & Haruka.
Operating Hours of Kyoto Buses & Subway
Kyoto's subway runs from around 5.30 am until 11.55 pm, 7 days a week with reduced services at the weekends and public holidays.
Tunneling was slow during the construction of the two lines to allow time for archaeological research on Kyoto's long history. Items of interest found during the construction are displayed at Karasuma Oike Station.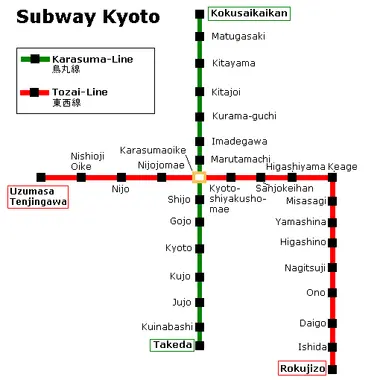 All the themes of the city