Tozai Line Kyoto Subway
Tozai Line Kyoto Subway (東西線)
The the east-west Tozai Line (red) and the north-south Karasuma Line (green) are the two lines that make up the Kyoto subway network.
Each station also has its own individual color code based on a flower (eg. Daigo Station is sakura-iro = cherry blossom) and is equipped with platform screen doors. The Tozai Line is 17.5 km long and runs from Rokujizo Station in the south east of Kyoto in Fushimi-ku to Uzumasa Tenjingawa in Ukyo-ku in the west. The line is completely barrier-free for wheelchair users.
The Tozai Line and Karasuma Line intersect at Karasuma Oike Station.
Tozai Line stations are coded with a "T" and then a number, thus Rokujizo Station is K01.
The Tozai Line was completed in stages from 1997 to 2008.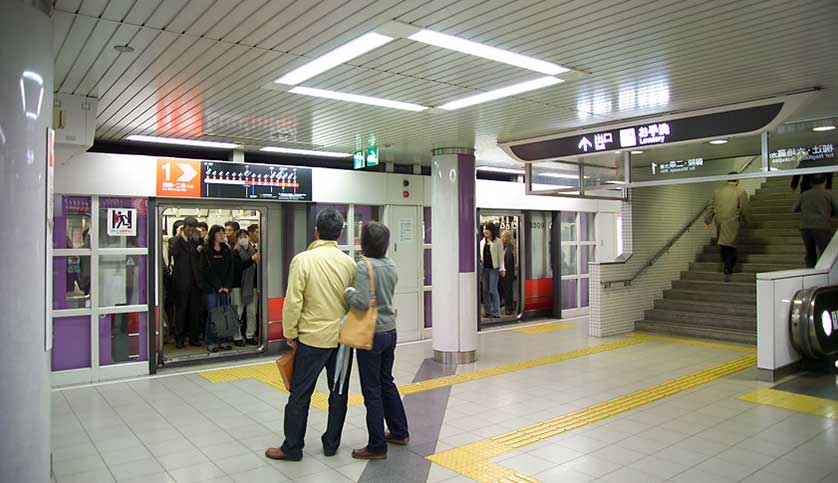 Tozai Line, Kyoto Subway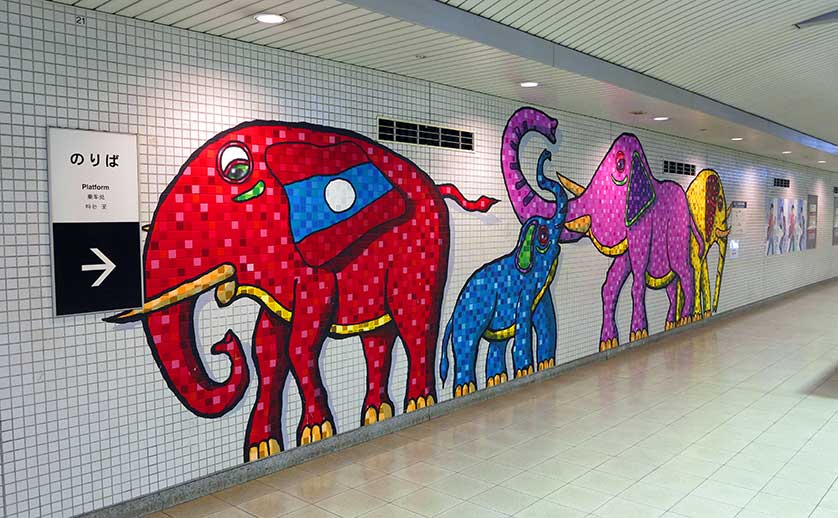 Keage Station, Tozai Line, Kyoto Subway
Tozai Line Stations
There are 17 stations on the Tozai Line. From east to west they are Rokujizo, Ishida, Daigo, Ono, Nagitsuji, Higashino, Yamashina, Misasagi, Keage, Higashiyama, Sanjo, Kyoto Shiyakusho-mae, Karasuma Oike, Nijojo-mae, Nijo, Nishioji Oike and Uzumasa Tenjingawa.
Rokujizo Station
Rokujizo Station (六地蔵駅; T01) in Fushimi-ku is the eastern terminus of the Tozai Line. Rokujizo connects with the JR Nara Line to Nara Station in Nara. Keihan Rokujizo Station, a short walk away, across the Yamashina River, is a station on the Keihan Uji Line to Uji.
Ishida Station
Ishida Station (石田駅; T02) in Fushimi-ku is located close to Nijo General Hospital.
Daigo Station
Daigo Station (醍醐駅; T03) is convenient for the large Daigoji Temple complex a short walk to the east.
Ono Station
Ono Station (小野駅; T04) is south of the Meishin Expressway and north of Zuishin-in Temple, a pretty temple known for its plum blossoms and later cherry blossoms in spring as well as its azaleas and maples later in the year. Ono Station's color code is kobai-iro (red ume or plum). Zuishin-in Temple is connected with the Heian Period courtier and poet Ono no Komachi who was banished here and is said to have lost her mind while staying at the temple.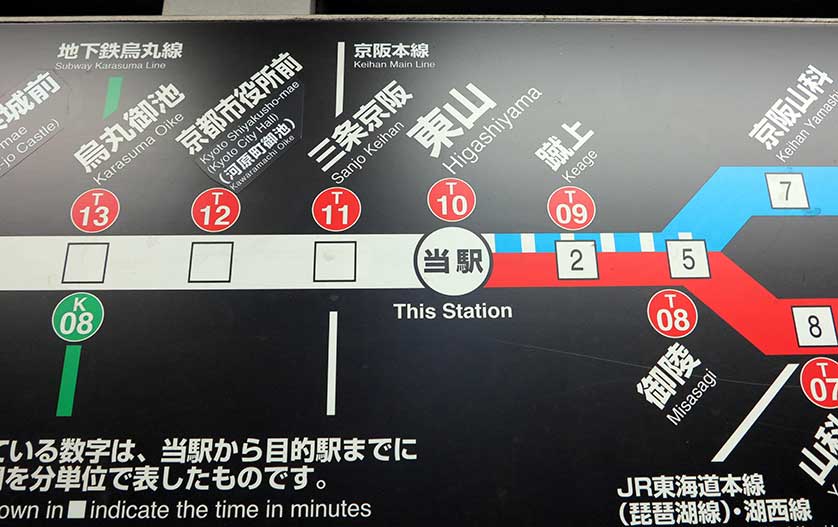 Tozai Line, Kyoto Subway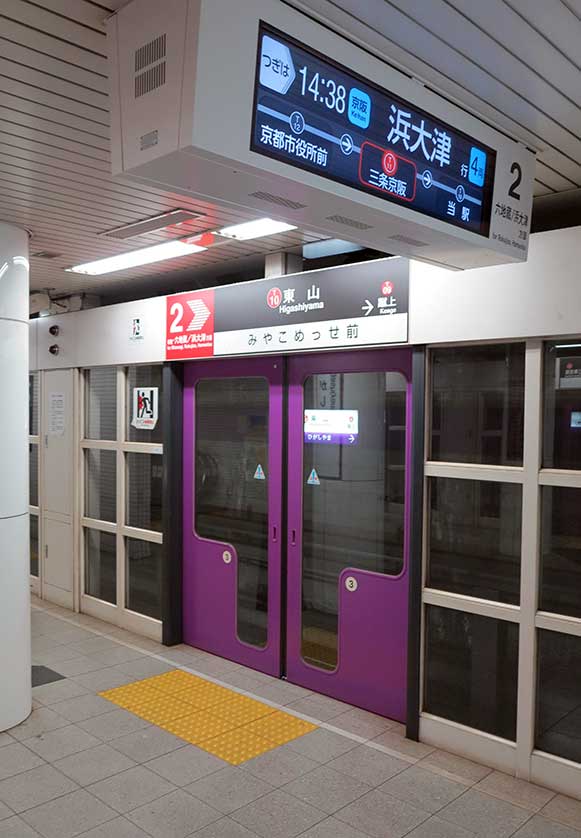 Higashiyama Station, Karasuma Line, Kyoto Subway
Nagitsuji Station
Nagitsuji Station (椥辻駅; T05) in Yamashina-ku is close to Kyoto Prison.
Higashino Station
Higashino Station (東野駅; T06) is located close to Honganji Yamashina Betsuin, a sub-temple of Nishi-Honganji in central Kyoto and the site of the former Yamashina Mido, a fortified temple destroyed by its enemies in 1532.
Yamashina Station
Yamashina Station (山科駅; T07) connects with the Biwako Line (part of the Tokaido Main Line) between Maibara and Kyoto Station, the Kosei Line between Kyoto Station and Omi-Shiotsu via Omi-Maiko and the Keihan Keishin Line from Misasagi to Hamaotsu. The Hotel Brighton City Kyoto Yamashina is close to Yamashina Station. The old Tokaido highway passes just south of the station.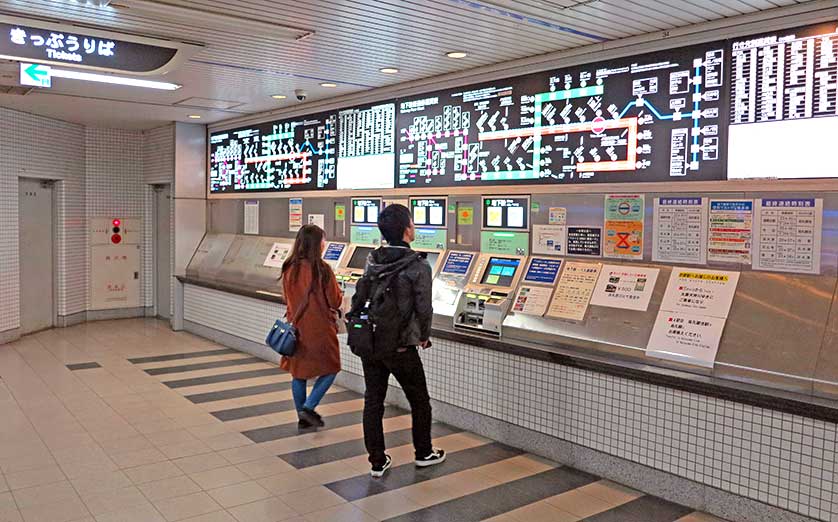 Tozai Line Ticket Machines, Kyoto Subway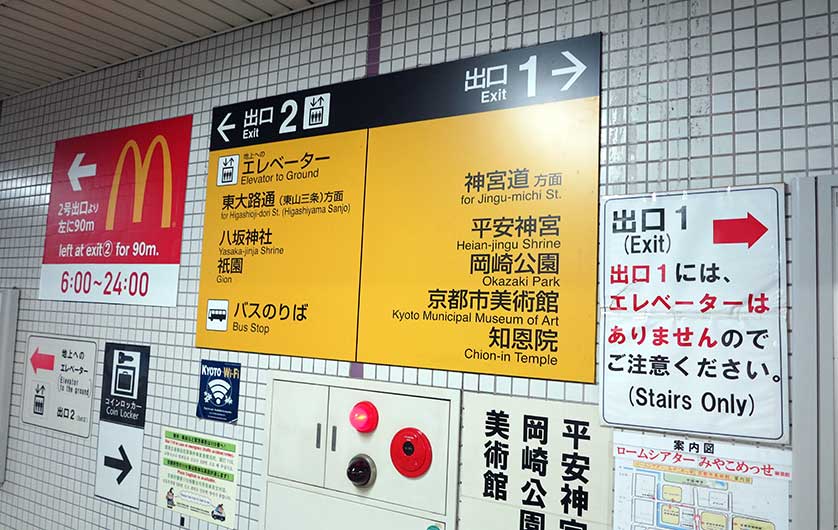 Tozai Line, Kyoto Subway
Misasagi Station
Misasagi Station (御陵駅; T08) is the terminus of the Keishin Line. Misasagi Station is close to the the tomb of Emperor Tenji (626-672). Kyoto University Misasagi International House for foreign students is a short walk west of the station.
Keage Station
Keage Station (蹴上駅; T09) is Keage Station is located very close to the luxury Westin Miyako Hotel Kyoto, Kyoto Zoo (hence the colorful elephant murals in the station), Kyoto International Community House, Murin-an Garden and the free and fun Lake Biwa Canal Museum.
Higashiyama Station
Higashiyama Station (東山駅; T10) is located at the south west corner of the Okazaki museum district and this is the closest station to the area. From the station it is about 10-15 minutes walk to Heian Jingu, Kyoto Prefectural Library, Kyoto Municipal Museum of Art and on the same (west) side as Miyako Messe and the National Museum of Modern Art. Adjacent to exit 1 of Higashiyama Station is the rejuvenated Furukawa-cho shotengai (arcade). Nearby places to stay popular with foreign tourists are Hostel Haruya Kyoto, Guesthouse Oki's Inn and Hotel Japaning Kyoto. The more upmarket Kyoto Miyabi Inn is just nearby on the banks of an attractive canal.
Sanjo Station
Sanjo Station (三条京阪駅; T11) is part of Sanjo Keihan Station on the Keihan Main Line to Yodoyabashi Station in Osaka. The Keihan Oto Line is an extension north to Demachiyanagi Station. The area around Sanjo Station is a lively shopping, dining and entertainment area and also has a number of hotels and guest houses close by. The long-established foreigner hang-out Pig & Whistle Pub is right at the station exit on the north side of Sanjo.
Kyoto Shiyakusho-mae Station
Kyoto Shiyakusho-mae (京都市役所前駅; T12), as the name suggests, is adjacent to Kyoto Shiyakusho (Kyoto City Hall). The covered shopping arcade (shotengai) of Teramachi begins here on Oike. Kyoto Hotel Okura is close by as are a number of other hotels including the Kyoto Royal Hotel & Spa. Across Oike Dori is Honnoji Temple, where the warlord Oda Nobunaga met his death near the end of the 16th century.
Karasuma Oike Station
Karasuma Oike Station (烏丸御池駅; T13) is the intersection of the Karasuma and Tozai Lines of Kyoto subway. The area around the station has a number of attractions including Kyoto International Manga Museum and The Museum of Kyoto. Places to stay within easy walking distance of Karasuma Oike include the Hearton Hotel Kyoto, Hotel Monterey Kyoto and Hotel Gimmond Kyoto.
Nijojo-mae Station
Nijojo-mae Station (二条城前駅; T14) is at the south west corner of Nijo Castle and close to Shinsen-en Garden. Kyoto Horikawa Inn is a two-star hotel south of the station.
Nijo Station
Nijo Station (二条駅; T15) connects with the JR Sagano Line to Kameoka. The roof of Nijo Station evokes an ancient Japanese straw hat.
Nishioji Oike Station
Nishioji Oike Station (西大路御池駅; T16) is in Nakagyo-ku, a short walk north of Nishioji-Sanjo Station on the Keifuku Line.
Uzumasa Tenjingawa Station
Uzumasa Tenjingawa Station (太秦天神川駅; T17) is the western terminus of the Tozai Line and connects with the Keifuku Arashiyama Line (Randen) to Arashiyama at nearby Randen Tenjingawa Station.
Kyoto Subway Fares & Passes
Single fares for adults on the system range from 210-340 yen and 110-170 yen for minors. There are a number of travel cards available including the Kyoto Sightseeing Pass Card (one day card 1,200 yen for adults and 600 yen for children; two-day card is 2000 yen for adults and 1000 yen for children). The pass is valid for the subway and city buses. An all-day inner city bus pass is 500 yen for adults and 200 yen for children.
The Kyoto City Subway One-Day Pass allows unlimited travel on Kyoto's metro and costs 600 yen for adults and 300 yen for children. The pass is available at the Kyoto Tourist Information Center (KYO Navi) on the second floor of the Kyoto Station building. The Kyoto City Subway One-Day Pass includes discounts on admission to Kyoto Municipal Museum of Art, Nijo Castle, Kyoto Zoo, The Museum of Kyoto and Kyoto International Manga Museum.
The pre-paid Surutto Kansai Miyako Card is available in denominations of 1,000 yen, 2,000 yen, 3,000 yen and 5,000 yen and is valid for travel on the Kyoto subway, Kyoto city buses, and the Hankyu and Keihan urban rail networks.
The Kyoto City Bus One-Day Pass allows for unlimited travel on all Kyoto city buses within the downtown fixed rate zone (excluding Arashiyama, Shugakuin, Takao and Iwakura) and costs 500 yen for adults and 250 yen for children. This pass is also available for the Kyoto Station Tourist Information Center.
Although not valid on Kansai's subways, the JR-West Kansai Area Pass can be used on JR trains connecting Kyoto, Osaka, Nara, Kobe, Nishi-Akashi and Himeji as well as the Haruka Express from Kansai International Airport (KIX).
The pass can be bought for 1-day (2000 yen), two successive days (4000 yen), three successive days (5000 yen) and four successive days (6000 yen) - with the half price for children. The JR-West Kansai Area Pass is available from major stations in the Kansai area and overseas branches of JTB, JAL, ANA and major travel agencies.
The Traffica Kyoto Card is a pre-paid travel card available in 1,000 yen and 3,000 yen denominations giving a free bonus of 10% on each card and is valid on Kyoto city subways and buses.
Kyoto's subway runs from around 5.30am until 11.55pm, 7 days a week with reduced services at the weekends and public holidays.
Tunneling was slow during the construction of the two lines to allow time for archeological research on Kyoto's long history. Items of interest found during the construction are displayed at Karasuma Oike Station.
Map of the Kyoto Subway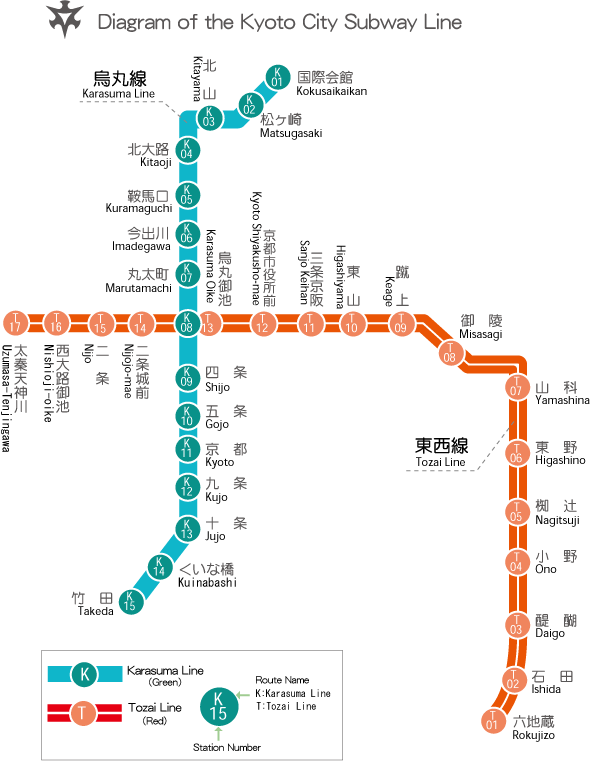 Kyoto Subway Map; Map courtesy of Kyoto City Web
Kyoto Subway Video
The Tozai Line of Kyoto Subway runs east-west from Rokujizo Station to Uzumasa Tenjingawa Station. The Tozai Line intersects with the Karasuma Line at Karasuma Oike Station.
All the themes of the city