National Holidays in Japan
National Holidays in Japan: see a calendar of national public holidays and long weekends in Japan for 2019 and 2020.
National Holidays in Japan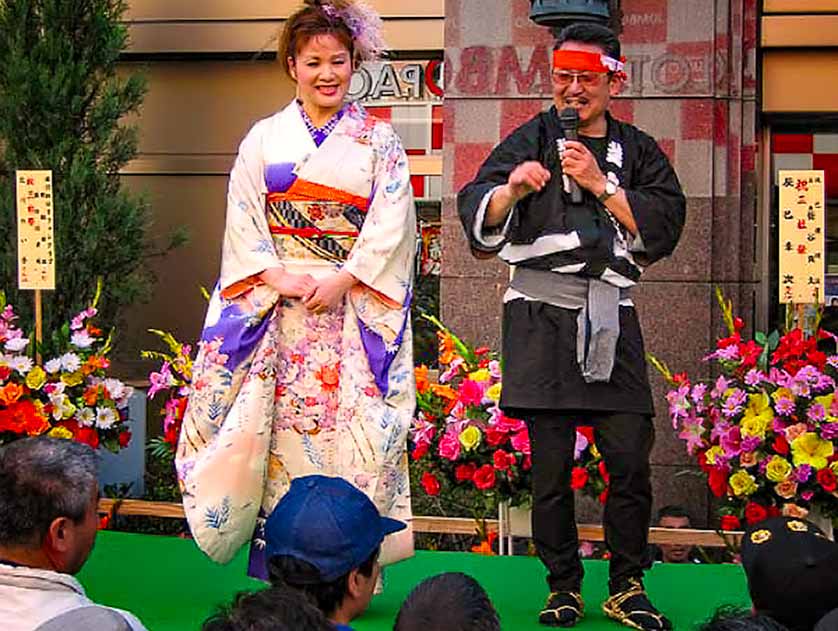 Holiday street concert in Asakusa, Tokyo
Japan has 16 standard national holidays, with at least one holiday every month except June. However, 2019 was a special year, with 18 national holidays, and an extra long Golden Week. 2020 is also special in having two of its holidays shuffled to create a 4-day "Silver Week" in July.
Read all about the Japanese national holidays for 2017 through 2021. Note that 2019 and 2020 are unusual years because of the change of emperor in 2019 and the Tokyo Olympics, which were supposed to take place in 2020 (but postponed due to the coronavirus pandemic), both which affect the holiday calendar.
Monday-Off Compensatory Holidays - "Furikae Kyujitsu"
Except for New Year's Day, in the case of a national holiday falling on a Sunday, the next day, Monday, becomes a holiday (a "compensatory holiday" or furikae kyujitsu). However, if a holiday falls on a Saturday, well ... better luck next year!
Worker and Student Holidays
Most workers in large companies, public servants as well as students at public schools and universities have the day off on national holidays. However, students at private universities cannot take the day off except on Coming-of-Age Day.
Holiday Crowds
National holidays mean extra busy bars and restaurants on the evening before, and a busy time for museums, parks, temples and shrines and for shopping throughout Japan.
For a list of all notable festive days (not necessarily public holidays) in the Japanese calendar, see Japanese Public Holidays and Festivals.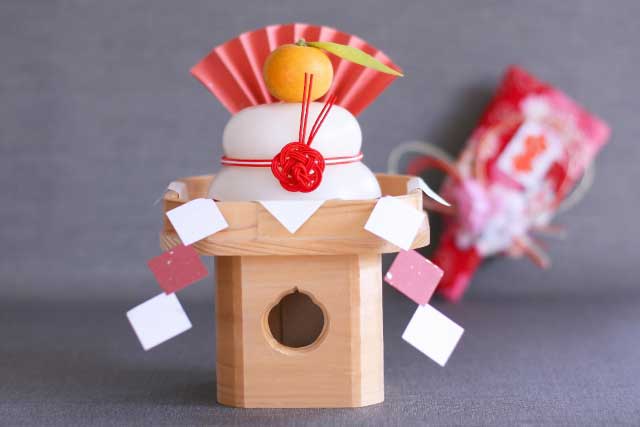 New Year decoration featuring mochi rice cake
January
New Year's Day (Ganjitsu 元日 or Gantan 元旦)
New Year's Day. or Ganjitsu, in Japan is traditionally a family affair that starts the evening before with watching Kohaku on TV and visiting a shrine, and relaxing with the family enjoying special New Year food and drink.Ganjitsu is the first day of the period known as O-Shogatsu (お正月). The first three days of January is called San-ga-Ichi (三が日), when family visits a shrine, drinks toso spiced sake, and eats zoni rice cakes boiled in vegetable soup. The first week of January is Matsu-no-uchi (松の内), when kadomatsu pine decorations adorn the house to accommodate ancestral spirits.
A formal New Year celebration ceremony (shin-nen shukuga) takes place at the Imperial Palace, with VIPs, including foreign ambassadors, in attendance. On January 2, the public may enter the Palace grounds and wave to the Emperor and family, who appear on the balcony (ippan sanga). Visitor numbers have tripled over the past two decades as the Japanese population ages.
Sunday, January 1, 2017
Monday, January 1, 2018Tuesday, January 1, 2019Wednesday, January 1, 2020Friday, January 1, 2021
Coming of Age Day (Seijin no Hi 成人の日)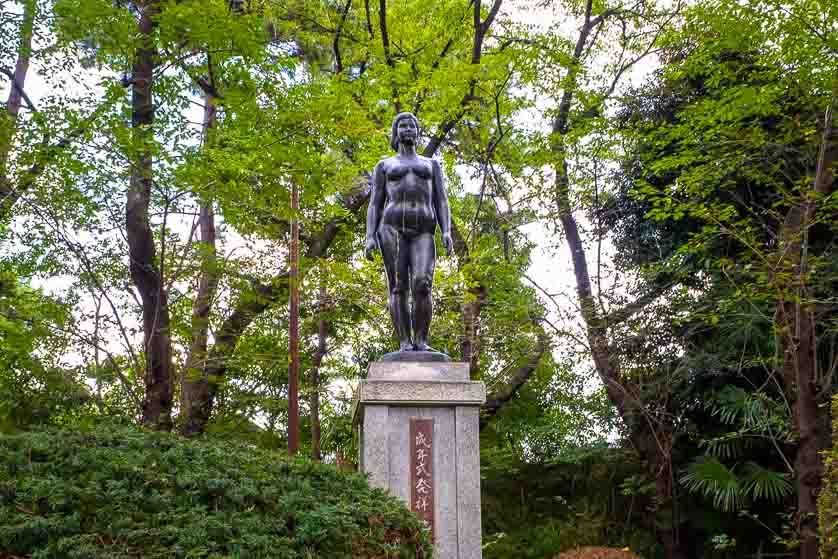 Statue commemorating Japan's first Coming-of-Age ceremony, in Warabi, Saitama
Coming of age, i.e., achieving adulthood, happens at age 20 in Japan. Coming of Age Day is an intensely social day for 20 year olds marked by dressing traditionally, group outings and parties. Such events take place on both the official level—with the local city hall, for example, typically holding a ceremony for all 20 year olds in the municipality—and on the social level. Coming of Age ceremonies also generally involve a visit to a Shinto shrine, as well.The first Coming of Age ceremony to be held in Japan was in 1946, in the town of Warabi in Saitama Prefecture, as a means of encouraging a revival of national spirits after defeat in the Second World War.Coming of Age day in any one year covers those who came of age on or after April 2 of the year before up until April 1 of the current year.In 2022, a change in the law will mean the Coming of Age ceremony will be celebrated at 18, not 20. However, the sole benefit is eligibility to hold a passport. Until turning 20, they may not drink alcohol, smoke tobacco, or engage in the few forms of gambling that are legal in Japan.Note that the age of consent is unrelated to Coming of Age day. Japan's age of consent is the lowest of any developed country in the world, but is effectively set at about ages 16 to 18, depending on where in Japan, by obscenity laws and by prefectural bylaws.Coming-of-Age Day happens on the second Monday in January.Monday, January 9, 2017
Monday, January 8, 2018Monday, January 14, 2019Monday, January 13, 2020Monday, January 11, 2021
Coming of Age Day is on the second Monday of January
February
Foundation Day (Kenkoku Kinen no Hi 建国記念の日)
Foundation Day (literally, National Foundation Memorial Day) is based on the supposed date of enthronement of Japan's first (mythical) ruler the Emperor Jimmu in the year, goes the story, 660 B.C. The holiday was introduced in 1873 to give the newly modernized state of Japan its own foundation day, and thus promote nationalism. It was abolished in 1948 in the wake of World War Two as part of the Allies' dismantling of State Shintoism. However, the government reinstated it in 1967 after a decade and a half of political struggle over the measure in the Diet. Its non-democratic origin is reflected in its being the only Japanese national holiday instated by government decree.
The conservative, nationalistic roots of National Foundation Day are still evident in today's celebrations, which are patriotic by nature. The most enthusiastic celebrators are Japan's right-wing extremists, who parade around the streets in "sound trucks" festooned with pre-war Japanese flags and playing martial music at very high volume. The Japanese Navy also celebrates the day, with its ships dressed overall.
Saturday, February 11, 2017
Monday, February 12, 2018 (compensatory holiday for Sunday, February 11)
Monday, February 11, 2019
Tuesday, February 11, 2020
Thursday, February 11, 2021
Emperor's Birthday (Tenno no Tanjobi 天皇の誕生日)
The new Emperor's Birthday holiday began in 2020 following the accession of Crown Prince Naruhito to the throne in 2019 after his father, Emperor Akihito, abdicated. It replaced the former Emperor's Birthday held on December 23.
Japan's traditional celebration of the Emperor's birthday dates back to the 8th century. It was called Tenchosetsu, and had its roots in the courtly ritual of China's Tang dynasty. It became a national holiday in 1868. After the Second World War, in 1948, it changed its name to the Emperor's Birthday.
On the Emperor's Birthday, various celebrations take place at the Imperial Palace. The best known is the Ippan-Sanga (literally, "general gathering in the Imperial Palace"), when members of the public are allowed into the inner grounds of the Palace to wave at the Imperial family, which appears on a glassed-in balcony. Also, the Ise Shrine and all other Shinto shrines in Japan carry out the Tenchosai ritual, the Japanese Navy dresses its ships overall, and Japanese embassies overseas hold a celebration (although not on the day itself).
Not observed in 2019
Monday, February 24, 2020
Tuesday, February 23, 2021
March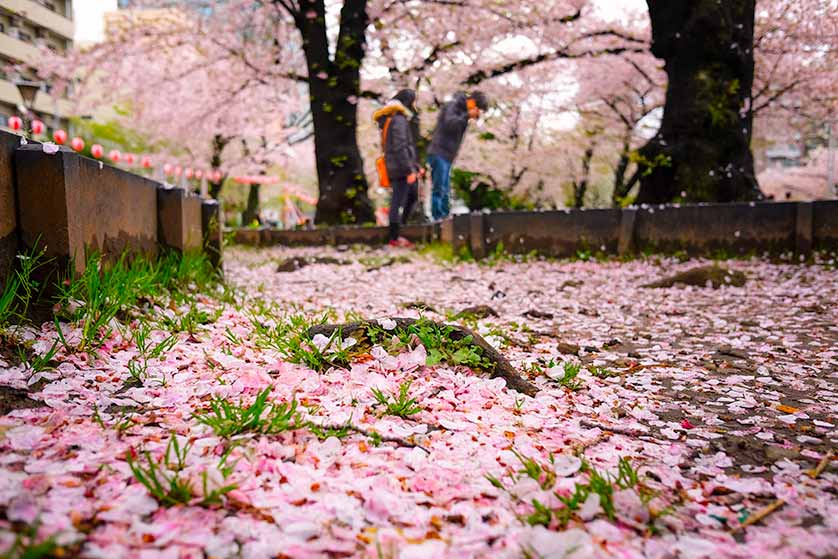 Enjoying sakura cherry blossom with festival lanterns in background
Spring Equinox Day (Shunbun no Hi 春分の日)
Spring Equinox Day welcomes the coming of spring. The date of Spring Equinox Day is not officially set. It is the task of the National Astronomical Observatory of Japan to calculate and announce the date in February of the year before. However, in practice, Spring Equinox Day falls on March 21, except in a leap year and the year following a leap year, when it is on March 20.
Spring Equinox Day falls in the middle of the Buddhist period known as Haru no Higan (Spring Higan). This is celebrated by all Buddhist sects in Japan, and is when people remember their dead, typically returning to their hometown and tending to family graves.
This holiday began in 1878, based on the springtime Imperial rites venerating the Emperor's ancestors, together with a holiday later in the year for the same rites called out at the autumn equinox. These were abolished in 1947, and from 1948 the springtime holiday became exclusively associated with the astronomical vernal equinox.Monday, March 20, 2017Wednesday, March 21, 2018Thursday, March 21, 2019
Friday, March 20, 2020
Saturday, March 20, 2021
April
The four consecutive national holidays in April and May form Golden Week, when companies close for the first week of May and millions of Japanese go traveling.
2019 Golden Week was longer than usual, affording the populace an unbroken 10-day holiday, starting on Saturday, April 27.
Showa Day (Showa no Hi 昭和の日)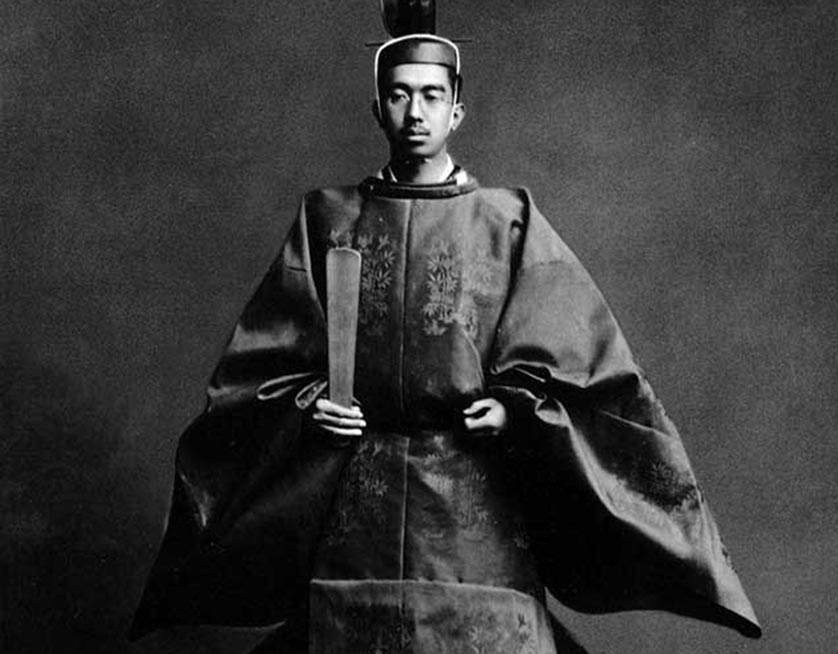 The Emperor Hirohito, posthumously known as the Emperor Showa
Showa no Hi (Showa Day) commemorates the Emperor Showa (Emperor Hirohito). This day, April 29, was Emperor Showa's birthday, and upon his death in 1989 it was kept going but under a different name: Green Day (Midori no Hi). The reason this holiday celebrating the Emperor's birthday was kept going in spite of the Emperor having died was that it was one of holidays that made up Golden Week. Abolishing it outright would interfere with the traditional Golden Week vacation period. (This parallels the establishment of Culture Day to commemorate the Emperor Meiji, also on his birthday.)In 2007, after seven years of attempts by the conservative Liberal Democratic Party and its Diet allies, the name of the holiday was changed to "Showa Day" (Showa no Hi), to more fully reflect its significance. This had been opposed by parties who thought such overt observance undesirable due to Emperor Showa's conspicuous involvement in waging the Pacific War. With Showa Day replacing Green Day, the latter was moved to May 4, which till then had been the nondescript "People's Holiday": a Golden Week filler day-off.
Showa Day is held to "think about the Showa era when Japan went through such turbulent times and reconstructed itself, and pay heed to the nation's future."
Many places with "Showa" in their name allow free entry and/or have special events on this day, for example, Showa Memorial Park in Tokyo.Saturday, April 29, 2017
Monday, April 30, 2018 (compensatory holiday for Sunday, April 29)
Monday, April 29, 2019
Wednesday, April 29, 2020
Thursday, April 29, 2021
April 30, 2019: a Special "People's Holiday"
Showa Day (see above) happened on Monday, April 29, 2019, and the Accession of New Emperor holiday (see below) happened on Wednesday, May 1, 2019. Therefore, Tuesday, April 30, 2019 was declared a holiday to ensure an uninterrupted (and, in length, unprecedented) 10-day Golden Week holiday break, only for 2019.Tuesday, April 30, 2019 (2019 only)
May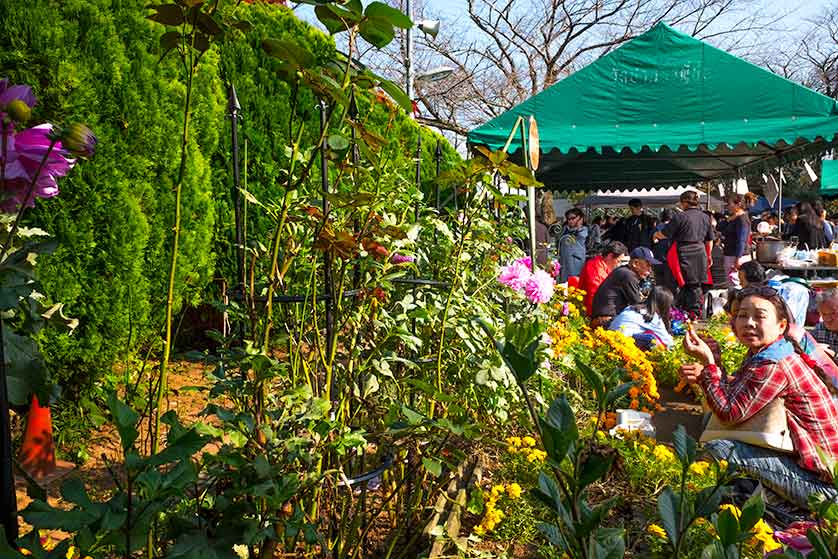 Holiday flower market in Japan
Accession of New Emperor (Shin Tenno Sokui 新天皇即位)
In 2019, Crown Prince Naruhito became the new emperor of Japan. Although the enthronement ceremony didn't happen until October 22, 2019 (also made a national holiday for this purpose), the accession actually took place before that, on Wednesday, May 1, 2019, which was a national holiday. Thursday May 2 was sandwiched between the Accession of New Emperor and Constitution Day; so, out of consideration to workers, May 2 was a special "People's Holiday" for 2019 only (see below). This made Golden Week 2019 unusually long, with 10 consecutive days off, from April 27 to May 6.Wednesday, May 1, 2019 (2019 only)
May 2, 2019: a Special "People's Holiday"
The Accession of New Emperor holiday (see above) happened on Wednesday, May 1, 2019 and Constitution Day (see below) happened on Friday, May 3, 2019. Therefore, Thursday, May 2, 2019, was declared a holiday to ensure an uninterrupted (and, in length, unprecedented) 10-day Golden Week holiday break, only for 2019.Thursday, May 2, 2019 (2019 only)
Constitution Day (Kempo Kinenbi 憲法記念日)
Constitution Day was established in 1948 to commemorate the establishment of the Constitution of Japan on May 3 of the year before. The establishment of the constitution following the end of World War Two changed Japan from what, under Emperor Showa, had become an increasingly militaristic and dictatorial state, to a liberal democracy. The debate about whether to change the pacifist constitution to one that permits military aggression is a hot one, and is given free rein on Constitution Day in particular.Wednesday, May 3, 2017
Thursday, May 3, 2018Friday, May 3, 2019
Sunday, May 3, 2020
Monday, May 3, 2021
Green Day (Midori no Hi みどりの日)
Green Day commemorates both Emperor Hirohito (posthumously, Emperor Showa) and the Japanese people's declared love of nature."Green Day" began in 1989 as the day commemorating Emperor Showa's birthday on April 29. However, when that day was renamed "Showa Day" in 2007, what had been a Golden Week filler holiday called "People's Holiday" (May 4) became "Green Day."
Green Day celebrates the Emperor Showa's love of nature (he became an amateur marine biologist after the War), and the Japan people's professed love of nature.
Green Day happens during what is called "Green Month" (Midori no Gekkan): April 15 - May 14, when local governments throughout Japan engage in environmentally friendly initiatives.Thursday, May 4, 2017
Friday, May 4, 2018Saturday, May 4, 2019
Monday, May 4, 2020
Tuesday, May 4, 2021
Children's Day (Kodomo no Hi 子供の日)
Children's Day has its roots in the day traditionally known as tango (May 5), which was one of the five most auspicious sekku days of the year as determined by the Chinese calendar. Tango was the day when people put the leaves and roots of a plant called sweet flag (Acorus calamus, now known to be toxic) in the bathwater to supposedly give the bather the strength to withstand the coming summer heat, drank sweet flag liquor, and ate kashiwa-mochi (mochi rice cake wrapped in an oak leaf) or chimake (rice paste wrapped in a bamboo or iris leaf).
Starting in the Kamakura period, the day became associated with boys. Families with boys would decorate the house with elaborate miniature warrior helmets and the "May dolls" (go-gatsu ningyo), depicting warriors, and fly koinobori carp streamers outside, representing masculine vigor.
Children's Day was established in 1948, and replaced the former Boy's Day (May 5) and the girl's day called Hina-Matsuri (March 3). Children's Day is the last day of Golden Week.Friday, May 5, 2017
Saturday, May 5, 2018
Monday, May 6, 2019 (compensatory holiday for Sunday, May 5)
Tuesday, May 5, 2020
Wednesday, May 5, 2021
July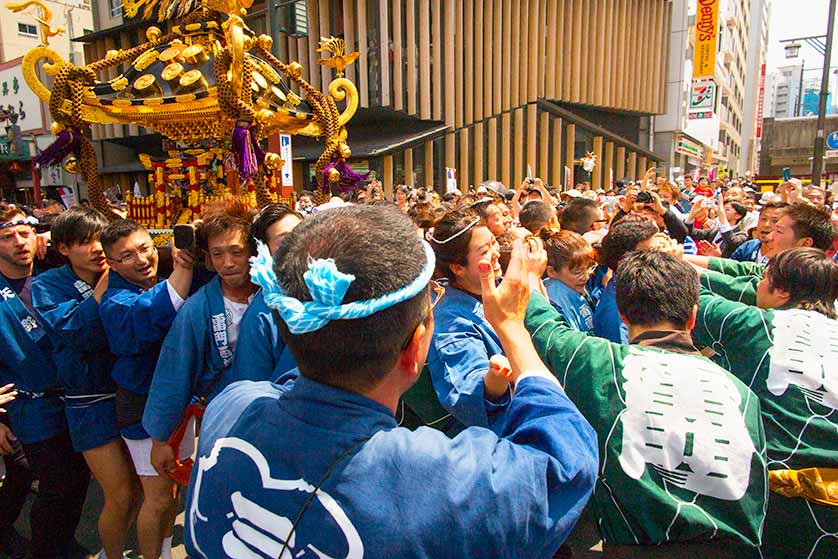 Summertime festival in Asakusa, Tokyo
Ocean Day / Marine Day (Umi no Hi 海の日) - 3rd Monday of July
Ocean Day, or Marine Day, is one of Japan's more recent public holidays, established in 1995 to "give thanks for the ocean's bounty, and pray for the welfare of Japan as an ocean country." From 2005, the holiday became part of "Ocean Month" (Umi no Gekkan): July 1st to 31st. July therefore sees numerous sea-related activities all over Japan, the biggest being the Umi Festa (Sea Festival), which is held every year in a different part of Japan and includes everything from oceanic symposiums to marine sports events and concerts.
Nara Prefecture is one prefecture in Japan without a sea border, so has its own special "Mountain and River Day" on Ocean Day.
The Japanese Navy also celebrates the day, with its ships dressed overall.
Despite its newness, Ocean Day's roots go back to the Meiji period. The Meiji Emperor made five trips around Japan between 1872 and 1885 as part of the new government's statehood-building enterprise. He visited the Tohoku region in 1876 by ship, which, according to some sources, was the 23-year-old Emperor's very first time at sea. The ship carrying him, the Meiji-maru, returned to Yokohama on July 20th. Ships were little known in Japan up until the Meiji Restoration, as the government up until that time, the Bakufu, had banned unauthorized foreign travel. Going to sea was therefore seen as dangerous. So, the Emperor's safe return was celebrated in order to help break down that perception. Then, 65 years later, in 1941, when the Japanese state was feeling increasingly imperiled, it established "Ocean Memorial Day," not as a national holiday (Japan being at war), but simply as a memorial day for rallying public spirit.
Then in 1995, when the Great Hanshin Earthquake had made land and air travel impossible, enormous effort was put into mobilizing shipping for the transport of necessary goods. So those involved sought to have the old "Ocean Memorial Day" reinstated, but this time as a national holiday.
Ocean Day happens on the third Monday of July, but for 2020 only is to take place on Thursday, July 23, the day before the 2020 Tokyo Olympics were supposed to open. With Health and Sports Day, which normally happens in October, moving to Friday, July 24 - just for 2020 - the country gets a four-day run of holidays (nicknamed "Silver Week"). Also, with the Olympics having been postponed to 2021 because of the coronavirus pandemic of 2020, Ocean Day will take place on an irregular date in 2021, too, i.e., Thursday, July 22.Monday, July 17, 2017
Monday, July 16, 2018
Monday, July 15, 2019
Thursday, July 23, 2020
Monday, July 19, 2021
August
Mountain Day (Yama no Hi 山の日)
Mountain Day is a Japanese national holiday that began in 2016. It "provides an opportunity to get closer to mountains and give thanks for their bounty."
Toru Funamura (1932-2017), a famous singer and keen alpinist, supposedly got the ball rolling by saying, in 2011, that it was odd having an Ocean Day without having a Mountain Day. This is particularly so when considering that eight of Japan's 47 prefectures are without a sea coast. The movement to establish Mountain Day was backed by Japan's major alpine clubs, which established a council for the purpose. Once established, Mountain Day subsumed the various mountain-related days that several prefectures had established prior to it.
Every year on Mountain Day, a different one of Japan's prefectures hosts the Mountain Day National Convention.
The originally proposed date for Mountain Day was August 12, as this would neatly segue with the mid-August O-Bon Festival, when Japanese traditionally return to the family home to venerate their ancestors. However, August 12, 1985, was the date of the crash of Japan Airlines Flight 123 with the loss of 520 lives; so it was changed to August 11.
Mountain Day happens on August 11 every year, but in 2020 only, it will happen on Monday, August 10, the day following what was supposed to be the ending of the now-postponed 2020 Tokyo Olympic Games, thus creating a three-day break.
Friday, August 11, 2017
Saturday, August 11, 2018
Monday, August 12, 2019 (compensatory holiday for Sunday, August 11)
Monday, August 10, 2020
Wednesday, August 11, 2021
September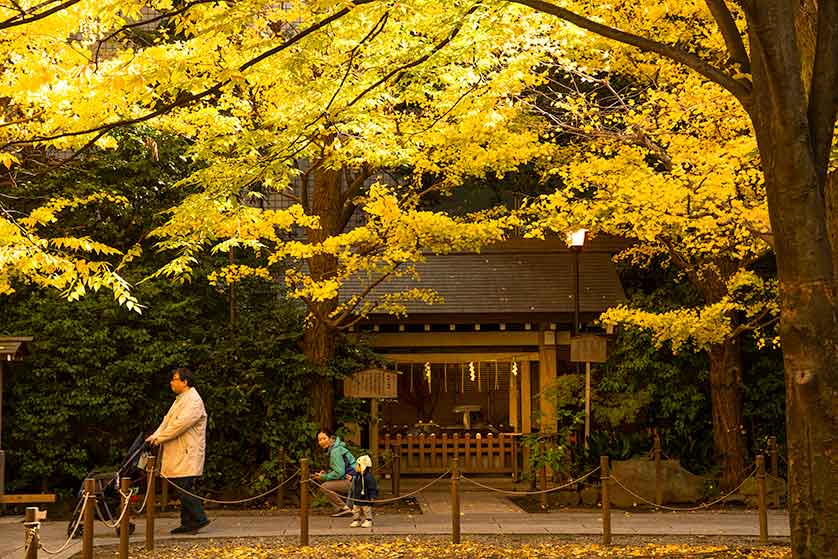 Shinto shrine in fall, Asakusabashi, Tokyo
Respect for the Aged Day (Keiro no Hi 敬老の日)
Respect for the Aged Day is, as the name suggests, a day to express respect to those who have been part of communities for years, and to celebrate their long life.
Communities across Japan celebrate the day with events for, and featuring, the elderly. It is customary to gift those who have turned 60 (an occasion called kanreki) with something red.
Respect for the Aged Day's roots are post-war, starting in a village in Hyogo prefecture that has now been amalgamated into today's Taka town. It was 1947, a time of national exhaustion, and, like most other towns in Japan, mainly only adults were left - few young people having returned from the battlefield. The mayor therefore established an "Aged Persons' Day" for September 15. This was in the farmers' off-season and when the weather was usually good. The initiative spread to other localities, and in 1963 it went national with the Diet proclaiming a Respect for the Aged Day for September 15, and Respect for the Aged Week for September 15-21. It was made a national holiday in 1966.
In 2003, the date was changed to the third Monday in September, thanks to the "Happy Monday" Law of 2001.
In the immediate post-war decades, anyone over 55 was considered "old." But a 2017 survey showed that, while many young people consider Respect for the Aged Day appropriate for those in their 60s, most over-60s consider it appropriate only for those at least in their 70s.Monday, September 18, 2017
Monday, September 17, 2018
Monday, September 16, 2019
Monday, September 21, 2020
Monday, September 20, 2021
Autumn Equinox Day (Shuubun no Hi 秋分の日)
Autumn Equinox Day marks the beginning of fall. It is a 1947 revival of the autumn Koreisai rite performed by the pre-war imperial court to worship imperial ancestors. Whereas Spring Equinox Day has been divested of such associations, Autumn Equinox Day is still officially to "revere forebears, and remember those who have passed away." In this way it carries on the O-Bon and Respect for the Aged Day theme of venerating those who have gone on, or will probably go on, before.
As with Spring Equinox Day, the date of Autumn Equinox Day is not officially set. Rather, it is the task of the National Astronomical Observatory of Japan to calculate and announce the date in February of the year before. But current calculations predict that, until 2044, Autumn Equinox Day will fall on September 22 in leap years and September 23 in common years. (The Observatory's calculations have not proved wrong to date!)Saturday, September 23, 2017
Monday, September 24, 2018 (compensatory holiday for Sunday, September 23)Monday, September 23, 2019
Tuesday, September 22, 2020
Thursday, September 23, 2021
October
Health and Sports Day (Taiiku no Hi 体育の日) - Second Monday in October
Health and Sports Day celebrates health, sport and everything physically vibrant. The official purpose is "to familiarize people with sports, and build healthy minds and bodies." It became a national holiday in 1966. It was originally set to October 10, the day of the opening ceremony of the 1964 Tokyo Olympics. But in 2000, it was changed to the second Monday in October, thanks to the "Happy Monday" law. Mid-October was chosen as this is generally when the autumn rains, which usually start in late August, have finished, and the weather in Japan is cooler and bracing, with low humidity.
On this day, schools hold their annual sports day (undokai) - a tradition going back to the early Meiji period - with all sorts of races and tournaments involving both parents/guardians and pupils. Local running races such as marathons and other sporting events are held locally throughout Japan. Also, sports and exercise facilities typically offer a discount or free entry. The Formula One Japanese Grand Prix is held at Suzuka, in Mie Prefecture, on or near this holiday.
From 2020, the day's name permanently changes to Sports Day (スポーツの日). The date will temporarily change - in 2020 only - to Friday, July 24, 2020, which was supposed to be the opening day of the now-postponed 2020 Tokyo Olympic Games. And with Ocean Day, which normally happens on the third Monday in July moving to Thursday, July 23 - just for 2020 - the country gets a four-day run of holidays (nicknamed "Silver Week").Monday, October 9, 2017
Monday, October 8, 2018Monday, October 14, 2019
Friday, July 24, 2020
Monday, October 11, 2021
Imperial Enthronement Ceremony (Sokui-reisei-den no Gi 即位礼正殿の儀)
In 2019, Crown Prince Naruhito became emperor following the abdication of his father. The day of his enthronement was a special national holiday for 2019 only.Tuesday, October 22, 2019 (2019 only)
November
Culture Day (Bunka no Hi 文化の日)
Today's Culture Day was originally a holiday established in 1927 to commemorate the Emperor Meiji (1853-1912), November 3 having been his birthday. Called "Meiji-retsu," it was abolished in 1947. In its place, in 1948, a new holiday was established for the same date, called Culture Day, "for the love of peace and liberty, and the advancement of culture."
In keeping with this updated purpose, the Emperor bestows the Order of Culture on deserving citizens on this day, the Agency for Cultural Affairs sponsors artistic and cultural events on and around this day, museums often allow free entry, and the All Japan Kendo Championships take place in the Budokan.In keeping with the pre-1947 significance of the day, the Japanese Navy dresses its ships overall. Also, the Meiji Shrine in Tokyo - one of Japan's biggest Shinto shrines - holds its most important ceremony of the year on this day, to commemorate the Emperor Meiji.Friday, November 3, 2017
Saturday, November 3, 2018Monday, November 4, 2019 (compensatory holiday for Sunday, November 3)
Tuesday, November 3, 2020
Wednesday, November 3, 2021
Labor Appreciation Day (Kinro Kansha no Hi 勤労感謝の日)
Labor Appreciation Day (or Labor Thanksgiving Day) was established shortly after the end of the Second World War to "value diligence, celebrate production, and for the people to express their mutual appreciation."
This celebration goes back to the sixth century Asuka period of Japanese history, to the Niiname-sai rite celebrating the harvest that would get the nation through the next year. The Meiji government made the Niiname-sai an official national holiday in 1872. Abolished after World War Two, it re-emerged as the Labor Thanksgiving Day holiday in 1948. However, the Imperial household and Shinto shrines throughout Japan still celebrate the old Niiname-sai on this day.
One Labor Thanksgiving Day tradition is for children or grandchildren to present their elders with a "back massage ticket" (katatataki-ken) or "home help ticket" (otetsudai-ken) that the weary bearer can get redeemed when needed.Thursday, November 23, 2017
Friday, November 23, 2018Saturday, November 23, 2019
Monday, November 23, 2020
Tuesday, November 23, 2021
December
Emperor's Birthday (Tenno no Tanjobi 天皇の誕生日) NOW ABOLISHED
The December Emperor's Birthday holiday celebrated the birth of the abdicated Emperor, Akihito. Upon his abdication, his successor's birthday, February 23, was set as a new holiday.Saturday, December 23, 2017
Monday, December 24, 2018 (compensatory holiday for Sunday, December 23)Not observed in 2019 or beyond
All the themes of the city