Arashiyama and Sagano
Arashiyama and Sagano 嵐山 嵯峨野
Arashiyama and Sagano denote a hilly area of western Kyoto, in the city's Ukyo ward, that has been a rest and relaxation spot for centuries, especially in spring and fall for its sakura cherry blossom and changing autumn leaves.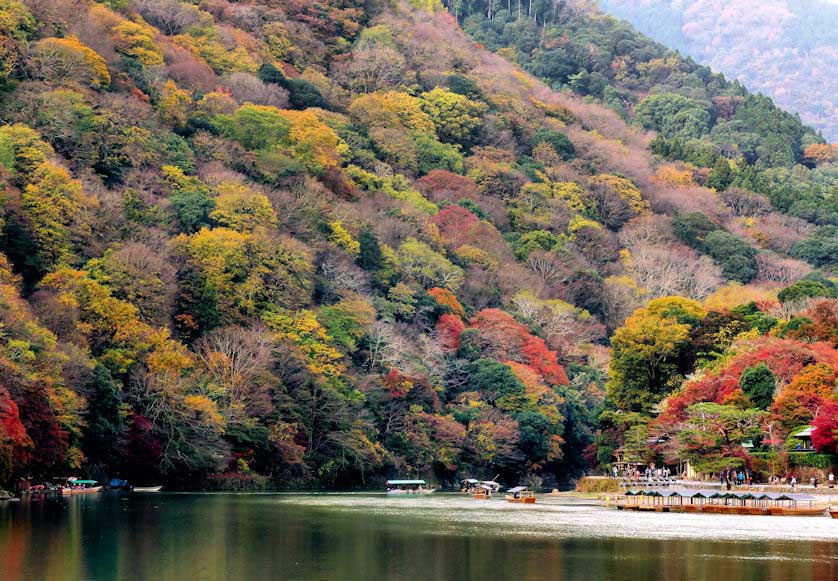 Rental boats, Arashiyama, Kyoto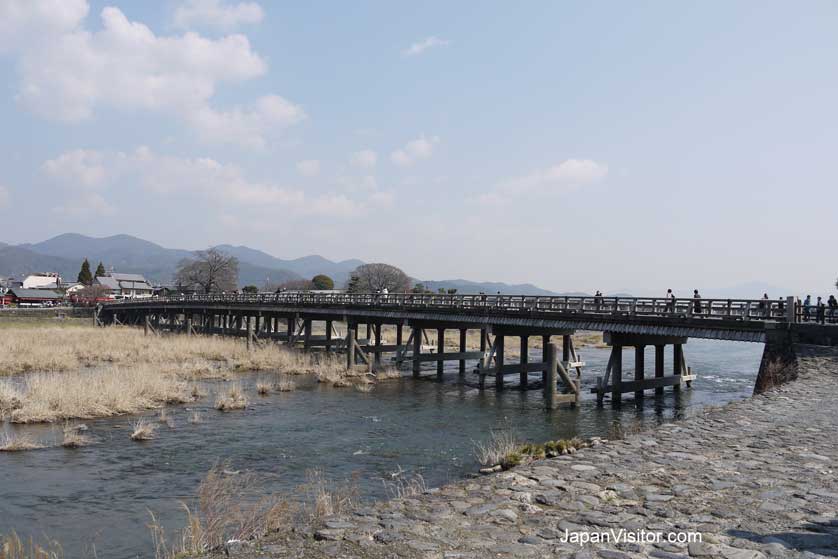 Togetsukyo Bridge, Arashiyama, Kyoto
Arashiyama's main street features the famous Togetsu-kyo Bridge that stretches 155 meters (510 feet) across the Katsura River, first built in the Heian period when Arashiyama became a popular retreat, and rebuilt in concrete in 1934, but retaining something of the old design.
Arashiyama History
Arashiyama and the adjoining Sagano area were developed in the Heian period of Japanese history when the Japanese imperial family and court nobles began building retreats here to enjoy the quiet, scenic surrounds. Even before this building boom, there were already many temples dotted throughout the area. In later years, the retired Emperor Go-Saga (1220-1272) had cherry trees from Mt. Yoshino in Nara replanted here, making Arashiyama a well-known cherry blossom spot, together with Mount Ogura just west for fall colors and deer.
Arashiyama and Sagano Features & Attractions
The area around Togetsu-kyo Bridge is somewhat tourist-oriented, but heading out of the center in a north-westerly direction brings you to the verdant mountain tranquility that Arashiyama became famous for.
The area north of the river is, strictly speaking, called Sagano - with Arashiyama denoting the area south of the river only - but the whole area has come to be popularly referred to as "Arashiyama."
Besides Togetsukyo Bridge, Arashiyama is best known for its springtime cherry blossom viewing, autumn leaves in fall, its numerous temples, some shrines, museums, parks and groves.
The admission fees to the various attractions can add up quickly, so please use discretion when selecting which attractions to visit.
Arashiyama Monkey Park Iwatayama 嵐山モンキーパークいわたやま
Arashiyama Monkey Park Iwatayama features about 170 Japanese macaque monkeys that roam freely and can be interacted with fairly closely. This is the only big attraction in Arashiyama itself (i.e., south of the river, as opposed to Sagano north of the river). Food to feed the monkeys is available for only 100 yen. There are viewing platforms to take advantage of the elevation for good views of Kyoto. Access requires a 20-30 minute hike to the top of Mt. Iwatayama up a trail after first buying a ticket at the bottom. Access to the trail is marked by the small Ichitanimunakata Shrine.
Hours: March 15-October 31, 9 am-5.30 pm (last entry 5 pm); November 1-March 14, 9 am-4.30 pm (last entry 4 pm). Open 365 days a year, except on days of very bad weather. Admission: 550 yen for adults, 250 yen for 4 y.o to junior high school age.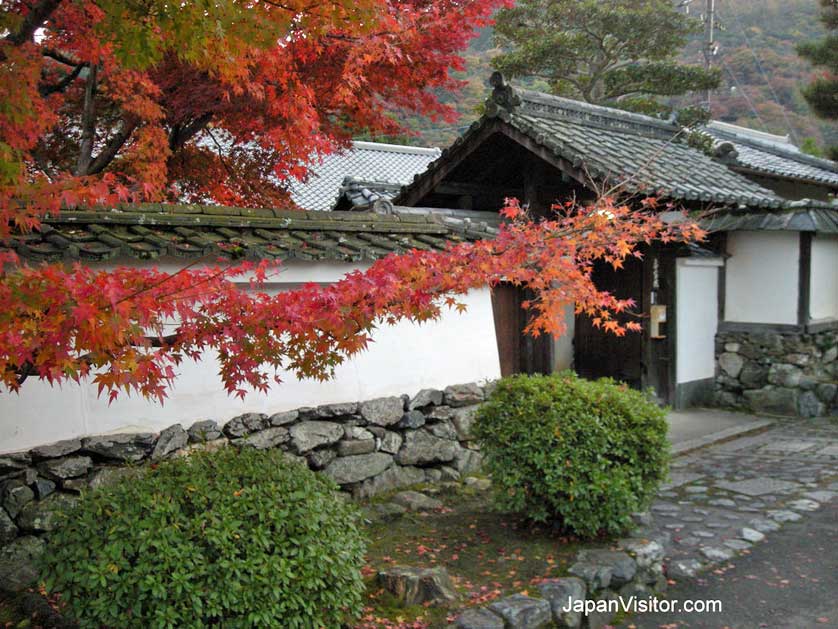 Tenryuji Temple, Arashiyama, Kyoto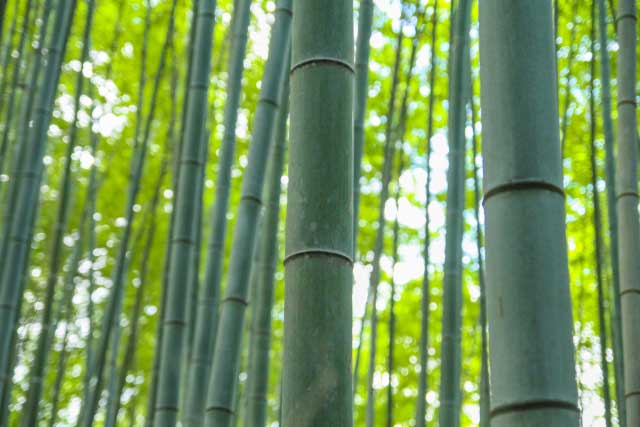 Bamboo, Arashiyama, Kyoto
Tenryuji Temple 天龍寺
Tenryuji Temple is a major Zen Buddhist temple, and the area's biggest and most important. Tenryuji is a UNESCO World Heritage Site. Tenryuji is also the temple nearest Togetsukyo Bridge on the Sagano (north) side of Arashiyama. Tenryuji dates from the Muromachi period in Japan's 14th-16th century. Among its many attractions is the Sogenchi pond and garden - the only original feature of the temple that has survived the centuries - designed by the famous priest and garden designer, Muso Soseki.
Tenryuji Hours: 8.30 am-5.30 pm March 21-October 20, 8.30 am-5 pm October 21-March 20.
Admission: different attractions in Tenryuji require separate admission fees.
Sogenchi Pond and Hyakkaen Garden: 500 yen for adults, 300 yen for school age children.
Ohojo, Shoin, Tahodo halls: a 300 yen surcharge on the above fees.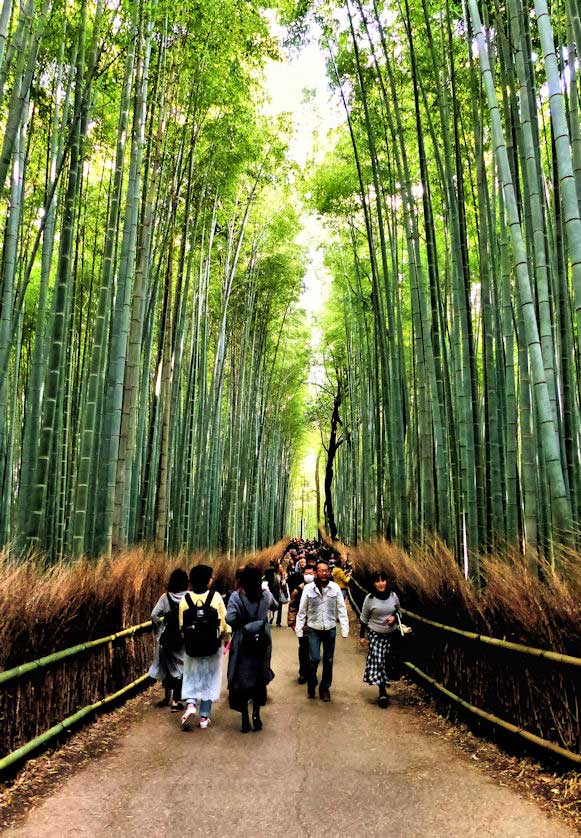 Bamboo Grove, Arashiyama, Kyoto
Bamboo Groves
Bamboo groves are just north of Tenryuji Temple, and to walk or cycle through the towering green stems on either side of the path is to enter another world of serenity and beauty. The paths provide access to several temples and other attractions further north and north-west, including the following.
Okochi Sanso 大河内山荘
Okochi Sanso is one of Arashiyama's most popular sights. "Sanso" means "mountain villa" and it is the former residence of the jidaigeki (samurai film) actor, Denjirō Okochi (1898-1962). Its design is inspired by the historical roles he played. Okochi Sanso's 20 hectare (50 acre) grounds contain Okochi's old home, a tea ceremony house, a shrine, and numerous other structures, as well as an outdoor museum and beautiful gardens that showcase each season. Its elevation affords great views of the surrounding countryside. Okochi Sanso is just behind Tenryuji Temple, very close to Torokko Arashiyama on the Sagano Romantic Train line. The admission fee includes a cup of green tea and a traditional wafer.
Hours: 9 am-5 pm 7 days a week; admission: 1,000 yen for high school age and over; 500 yen for up to junior high school age.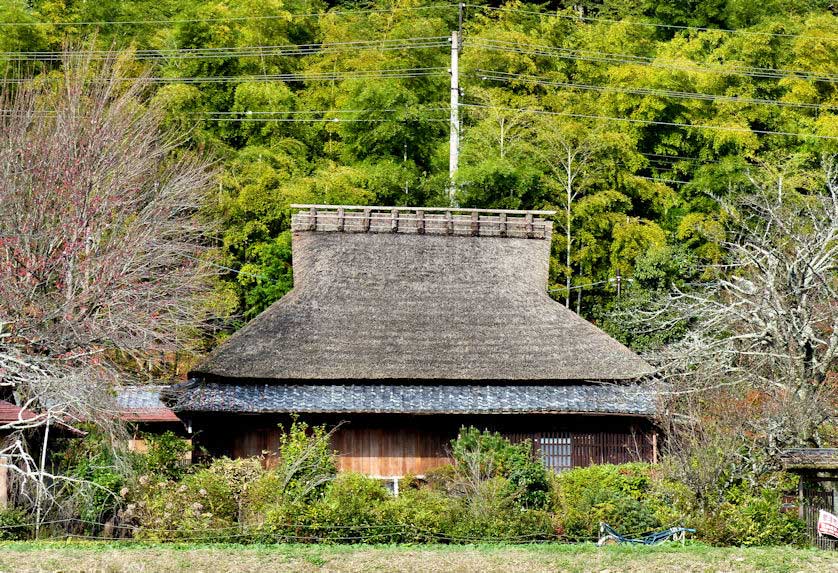 Rakushisha, Arashiyama, Kyoto
Rakushisha 落柿舎
Rakushisha is a small, clay-walled, thatched house built without nails that was the dwelling of the reclusive haiku poet, Mukai Kyorai (1651-1704), an acolyte of the great haiku poet, Basho. This hard-to-find poetic hermitage among trees has a few stone tablets around it inscribed with haiku. Basho visited his friend Kyorai here four times and penned some haiku here, too, including some shortly before he (Basho) died. "Rakushisha" means "the house of the fallen persimmons," referring to the persimmon trees surrounding it. A very atmospheric spot to drop by on your walk through the Sagano area.
Hours: 9 am-5 pm 7 days a week (10 am-4 pm in January and February), closed December 31 and January 1; admission: 250 yen.
Jojakkoji Temple 常寂光寺
Jojakkoji Temple, the pretty "temple with no walls," is on the slopes of Mt. Ogura and dates from the late-16th/early 17th century. The serenity, feeling of remoteness, maple trees and mossy grounds make for a special, untouched atmosphere. Its few but charming structures include a thatched roof gatehouse and a pagoda. The sloping grounds include several spots with very good views of the surrounding Arashiyama/Sagano/Mt. Ogura area.
Jojakkoji hours: 9 am-5 pm (last entry 4.30 pm) 7 days a week; admission 400 yen.
Nison-in Temple 二尊院
Nison-in Temple is another hillside temple about 15 minutes walk north up from Tenryuji Temple, and is most worth visiting in June for its hydrangeas and in fall for its spectacular fiery-colored foliage. Nison-in dates from the mid-9th century. Its name means "two revered images" in Japanese, referring to the twin Buddhist statues in the main temple hall, of Shaka Nyorai and Amitabha Tathagata. History buffs will be interested in the temple's cemetery, in which are interred the ashes of many emperors and nobles.
Nison'in hours: 9 am-4.30 pm, 7 days a week; admission 500 yen.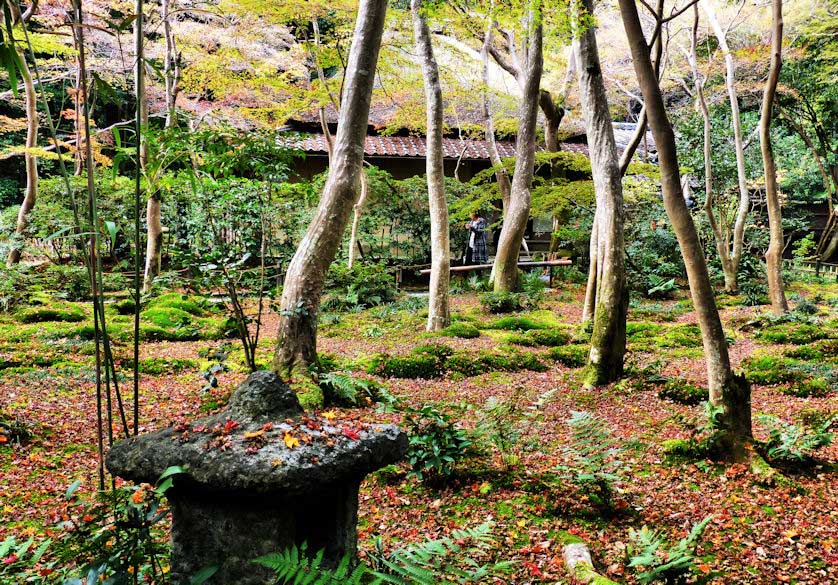 Gioji Temple, Arashiyama, Kyoto
Gioji Temple 祇王寺
Gioji ("ghee-OH-jee") is a small temple of interest in that it is a Buddhist nunnery - with a story. Gioji is all that survives of the formerly huge Ojo-in Temple. In 1868 it became a branch temple of Daikakuji Temple, just over a kilometer away to the north-east. According to legend, Gio, after whom the temple is named, was a dancer jilted by a noble, who then retired here as a nun. This story, the beautiful mossy compound, the thatched roofs and the serenity are Gioji's biggest charms.
Hours: 9 am-5 pm (last entry 4.30 pm); admission: 300 yen for adults, 100 yen for school age. However, for 600 yen you can buy a ticket to visit both Gioji and nearby Daikakuji (25 minute walk from here and 500 yen to visit by itself.)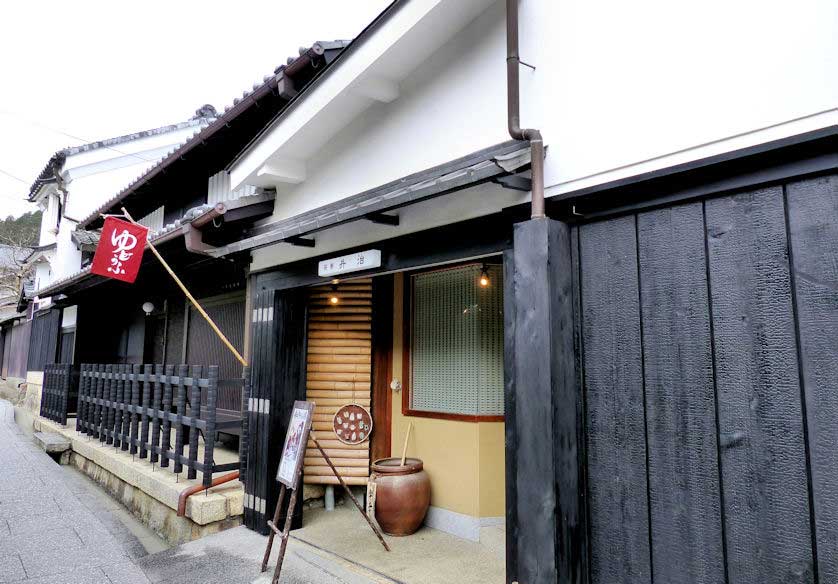 Saga-Toriimoto Preserved Street, Arashiyama, Kyoto
Saga-Toriimoto Preserved Street 嵯峨鳥居本保存地区
Saga-Toriimoto Preserved Street is part of the road northwards from Nison-in and preserves the look of Meiji era Japan (late 19th/early 20th century) with its old residences now converted to stores, tea houses and restaurants.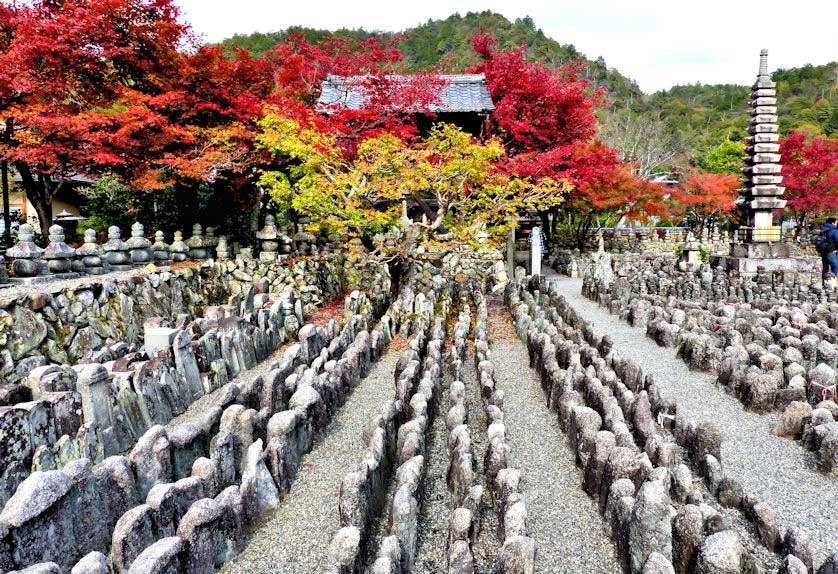 Adashino Nenbutsuji Temple, Arashiyama, Kyoto
Adashino Nenbutsuji Temple 化野念仏寺
Adashino Nenbutsuji Temple is at the end of Saga-Toriimoto Preserved Street and is notable for its roughly 8,000 statues of the Buddha collected from all around the area at the beginning of the 20th century. In the Heian era the dead were left here for the elements to reclaim, with just one of these small statues of the Buddha (nenbutsu) to memorialize them. The temple's sento-kuyo ("1,000 Lights") event in late August is spectacular for its nighttime lighting up of the statues with candles. Adashino Nenbutsuji Temple is said to have been founded in the 9th century by one of Japan's most well-known Buddhist teachers, Kukai (774–835). It has its own bamboo grove. Be warned that photography is not permitted within the temple grounds.
Hours: 9 am-5 pm (last entry at 4.30 pm); December-February 9 am-4 pm (last entry 3.30 pm), 7 days a week; admission 500 yen for adults, 400 yen for high school age, free for elementary school age and below.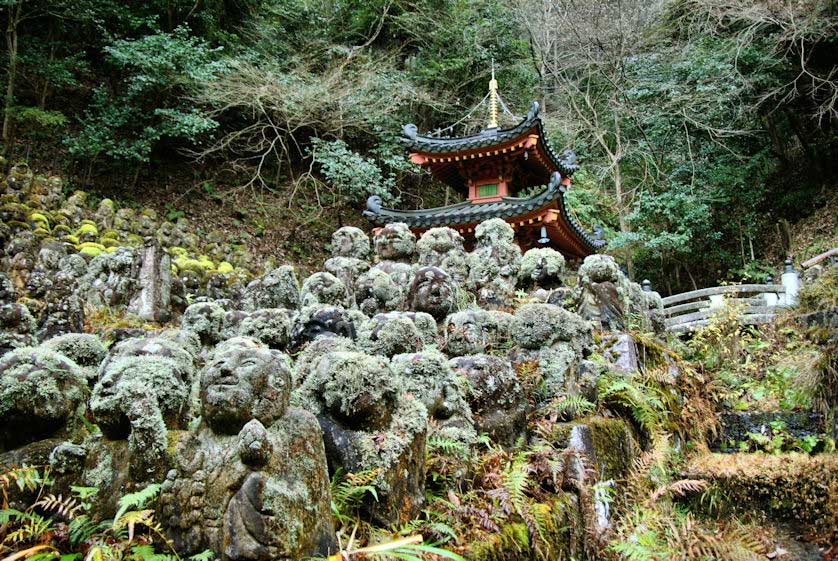 A small selection of the 1200 unique statues of Rakan at Otagi Nembutsuji Temple
Otagi Nenbutsuji Temple 愛宕念仏寺
Otagi Nembutsuji Temple is another ancient temple, dating from the 8th century, some minutes walk on from Saga-Toriimoto Preserved Street. Ancient as it is, its biggest attraction is its recently created collection of rakan (an arhat, one who has attained nirvana). Over 1,200 mossy stone carvings of rakan, many with a humorous twist, inhabit the temple grounds. Because each is unique, together they transmit a very "human" vibe. The project was the work of a sculptor monk who oversaw the creation by amateurs of the statues as part of a temple renovation effort in the 1980's. There is a golden Kokuzo Bosatsu, the Bodhisattva of Space, on the grounds, but the Fureai Kannon Hall's chubby-cheeked, beneficent-looking Buddha has more charm. Otagi Nenbutsuji Temple's grounds are beautiful year-round.
Hours: 8 am-5 pm (last entry 4.45 pm), 7 days a week; admission 300 yen (free for junior high school age and below).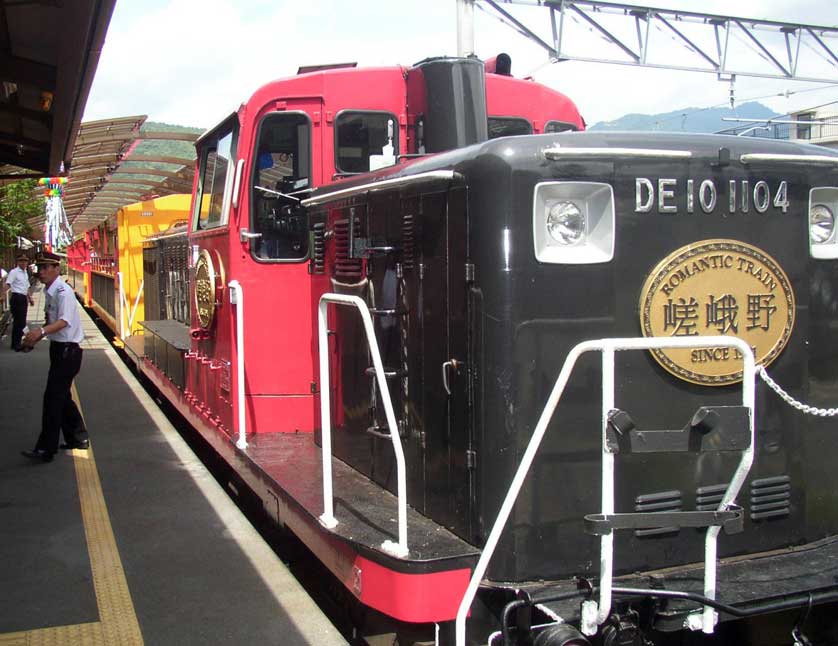 Sagano Romantic Train, Kyoto
Sagano Romantic Train 嵯峨野観光鉄道
The word "romance" in Japan is used more in the sense of nature-loving Victorian poets waxing eloquent than of lovers canoodling, and the Sagano Romantic Train (Sagano Torokko Ressha) is an old-style scenic railway experience through 7km of Arashiyama's natural beauty. The Sagano Romantic Train departs Torokko Saga Station, adjacent to JR Saga Arashiyama Station, and goes four stations west on a 25-minute journey to Torokko Kameyama Station, following the Hozugawa River. A train departs Torokko Saga Station once every hour, from about 9 am to 4 pm. One of the train's five, wooden-seated, cars is fully open. May be closed on Wednesdays in off-peak months. Please check beforehand. A one-way ticket costs 620 yen for adults, 310 yen for children.
Hozugawa River Boat Ride 保津川下り
The Hozugawa River is the river followed by the Sagano Romantic Train, and the Hozugawa River Boat Ride is a great way to return to Arashiyama after taking the train to the last stop on the line, Kameoka. This motorless ride (just oars) takes you through the rocky ravine the river courses through, with some shallow rapids, and some weird and wonderful rock formations. Takes about two hours.
March 10-November 30: seven boats with a capacity of 24 people depart on weekdays between 9 am and 3.30 pm (non-fixed times on weekends); December-March 9: four boats with a capacity of 16 people depart every day between 10 am and 2.30 pm. Fare: 4,100 yen for adults. 2,700 yen for 4 y.o. to elementary school age.
Saga Arashiyama Museum of Arts & Culture 嵯峨嵐山文華館
The Saga Arashiyama Museum of Arts & Culture is a new addition to the cultural scene in the Saga Arashiyama area. The museum is set in a modern building with garden overlooking the river. On the first floor is the museum's permanent exhibition called Hyakunin Isshu, which translates as "One hundred people, one poem each." The Hyakunin Isshu is a very famous anthology of poems with the full title being Ogura Hyakunin Isshu, Ogura being the name of the area of Kyoto where the anthology was composed.
Accommodation
Arashiyama and Sagano offer several pleasant and convenient accommodation options.
Suiran, a Luxury Collection Hotel, Kyoto is a modern, spacious hotel in a romantic dreamscape of a location, overlooking the river, and just three minutes walk from Tenryuji Temple. Enjoy Japanese and French cuisine, and impeccable hospitality.
Close by are three more four- and five-star, luxury ryokan, offering superb service, traditional Japanese food, river views and private onsen: Ryotei Rangetsu, Arashiyama Benkei and Ranzan. All come highly recommended.
Japaning Hotel Liv Ranrokaku is a traditional Japanese ryokan with a clean, modern design, very conveniently located in Arashiyama proper, just south of Togetsukyo Bridge.
Guest House Arashi is budget accommodation option, offering both private and shared bunk-bed rooms, very near Togetsukyo Bridge.
Other budget accommodations include Mulan Hostel and the Sakura Story apartment.
Access to Arashiyama-Sagano
Three railway lines serve Arashiyama:
-the JR Sagano (or "Sanin") Line with its Saga Arashiyama Station about 6 minutes walk north of the river. From Kyoto Station to Saga-Arashiyama Station takes only 15 minutes and a 240 yen train fare (or your Japan Rail Pass).
-the Keifuku (Randen) Line with its Arashiyama Station just over a minute's walk north from Togetsukyo Bridge. The Keifuku Line provides access to Arashiyama from Shijo-Omiya Station, takes 22 minutes and costs 210 yen.
-the Hankyu Line with its Arashiyama Station about 4 minutes walk south of the river. Accessing Arashiyama by Hankyu requires changing trains at Katsura station (if you're coming from the Hankyu Kyoto Line that runs between Kawaramachi and Umeda). From Shijo-Kawaramachi station, the full journey takes about 15 minutes and costs 220 yen.
Arashiyama and Sagano are compact enough for a pleasant one-day walking tour of Arashiyama.
Arashiyama & Sagano Map
See a Google Map of Arashiyama and Sagano. Search for attractions in the larger map.
Book Hotel Accommodation in Arashiyama & Kyoto
Arashiyama and Sagano in Kyoto's north-west form a centuries-old resort area, with cultural, historical and scenic delights for everyone.
All the themes of the city