Karasuma Oike Station Kyoto
御池駅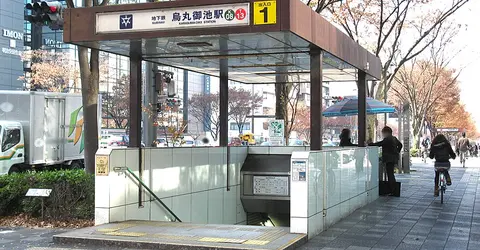 Karasuma Oike Station in Kyoto is the intersect station of the Karasuma and Tozai Line of the Kyoto Municipal Subway network.
Karasuma Oike Station is the intersecting station of the two lines of Kyoto's subway network: the north-south Karasuma Line (green) and the east-west Tozai Line (red).
Located in the center of Kyoto, the area around the station is an excellent place to base. Visitors can head out north, south, east or west to make the most of Kyoto's many attractions.
From here it is a short journey south to Kyoto Station and the shinkansen to Tokyo, Osaka, Nagoya (for Takayama and Magome) and Hiroshima.
Station Facilities
Karasuma Oike is the largest subway-only station on the network.
There are several shops in the concourse beteen the two lines. These include a convenience store, a Starbucks cafe and other shops.
The station has coin lockers and is barrier free with elevators to street level and the platforms.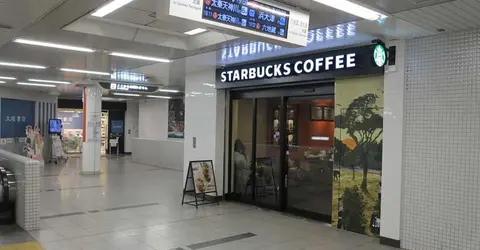 Buses
The following Kyoto buses stop near the station: #15 to Ritsumeikan University, Sanjo Keihan and Shijo Kawaramachi: #51 to Sanjo Keihan and Shijo Kawaramachi; 京大 快速 to Kyoto University Hospital and Kyoto Station; #65 to Iwakura, Shijo Karasuma and Shijo Kawaramachi.
Connections
One stop north of Karasuma Oike is Marutamachi Station convenient for the Imperial Palace (Gosho) and the hotels located on its western side.
Hotels here include the Kyoto Heian Hotel, Kyoto Garden Palace Hotel and The Palace Side Hotel. Just round the corner on Marutamachi from the station is the new Bird Hostel for budget travelers and back-packers in Kyoto.
Heading further north on the Karasuma Line are Daitokuji Temple (at Kitaoji Station)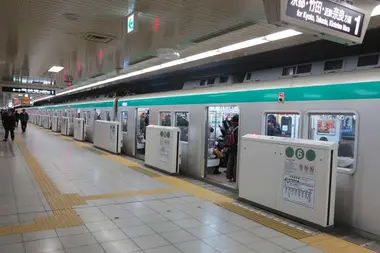 Kyoto Subway Fares & Passes
The Kyoto Sightseeing Pass Card (one day card and two-day card) has been replaced by the Subway, Bus One-Day Pass and the Subway, Bus Two-Day Pass. The passes are valid for the Kyoto subway, Kyoto city buses, Kyoto buses and certain Keihan buses (namely to Yamashina and Daigo). Unlike the Kyoto City Bus One-Day Pass (see below), the One- and Two-Day Subway, Bus Passes include Saihoji (Kokedera), Ohara and Iwakura.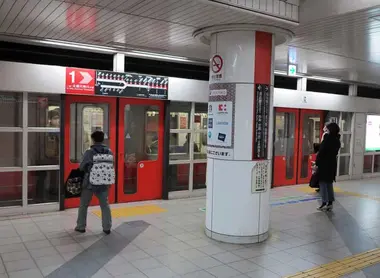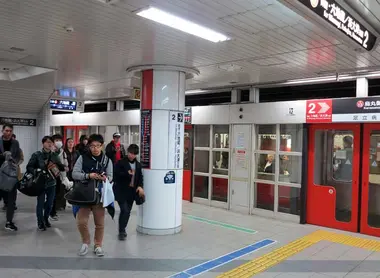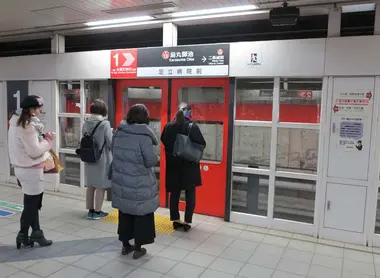 The area around the station is in the heart of traditional Kyoto. Head west for narrow, tranquil streets with traditional craft makers, restaurants, cafes and bars.
South of the station are two Starbucks cafes. The one on the east side of Karasuma must be Kyoto's most picturesque overlooking Rokkakudo Temple through its large windows.
The Ikebana Museum is a few meters south of the station on the east of Karasuma.
Places to stay here include the Kyoto Garden Hotel, the Mitsui Garden Hotel Kyoto Sanjo, the Hotel Mystays Kyoto Shijo, and the Hotel Monterey Kyoto.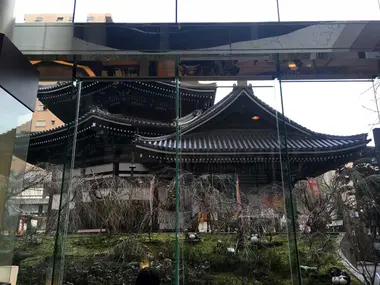 All the themes of the city