Iwakura Guide
Kyoto District Guides: Iwakura, Kyoto 岩倉
Iwakura, at the foot of Mt. Hiei in the north east of Kyoto, is not really on the tourist map of the ancient capital. Indeed, in the not-too-distant past, Iwakura was thought of as something of a place of exile for disobedient courtiers. However, Iwakura is now a pleasant suburb of the city and there are several places of interest worth a visit.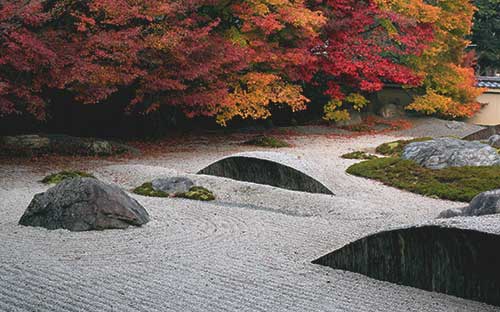 Jissoin Temple, Iwakura, Kyoto
Jissoin Temple
Jissoin (aka Iwakura Monzeki or Iwakura Goten) is an important, historic temple. Jissoin is a Monzeki temple meaning its head priests were usually drawn from the imperial family.
Jissoin was founded in 1229 by the priest Seiki and was originally located close to the Imperial Palace (Gosho) but was moved to its present location during the Onin War (1467-1477) that destroyed much of the rest of the city.
Jissoin Temple is known for its lovely garden which is particularly popular during the autumn leaf viewing season in Kyoto. Views are Mt. Hiei are used in the borrowed scenery of the garden and its large stone lanterns are another highlight.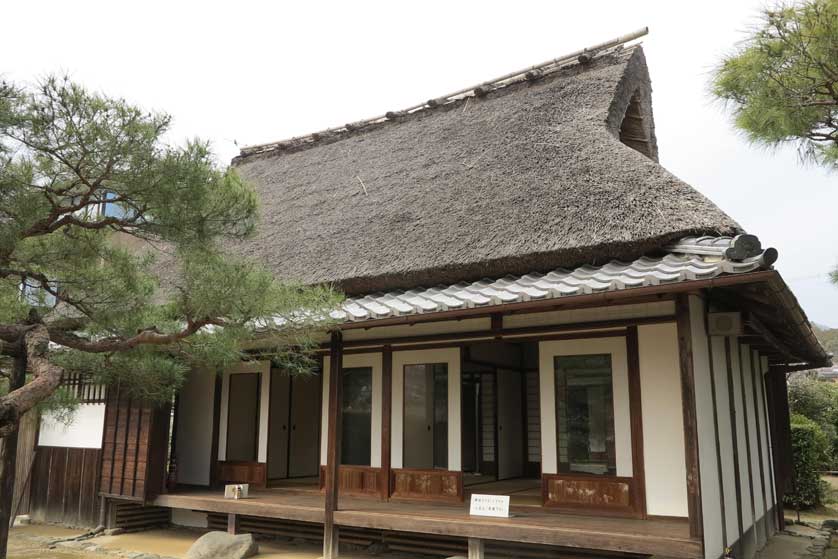 Old Secluded Residence of Iwakura Tomomi, Kyoto
Old Secluded Residence of Iwakura Tomomi
The Old Secluded Residence of Iwakura Tomomi (Iwakura Tomomi Yusei Kyutaku) is a preserved residence of Iwakura Tomomi, an important court noble and influential politician during the turbulent mid-nineteenth century Bakumatsu period of Japanese history.
It was at this time, in the late Edo Period of the 1850's and 1860's, after the appearance of Commodore Perry and a foreign threat to the nation, that control of the country passed from the Tokugawa shogunate to the new Meiji government centered on the person of the Japanese Emperor.
Iwakura Tomomi (1825-1883) was a pivotal figure in these important political events and intrigues centered on the capital of Kyoto. Political machinations at this time forced Iwakura to seek self-imposed exile in Iwakura, where his family had connections. His life may have been in danger and he needed to distance himself from the court in central Kyoto. Iwakura lived here for five years between 1863-1867 and the residence became a clandestine meeting place for the central plotters in the plans to overthrow the Tokugawa regime. Men such as Sakamoto Ryoma, Okubo Toshimichi and Kido Takayoshi are believed to have visited Iwakura here.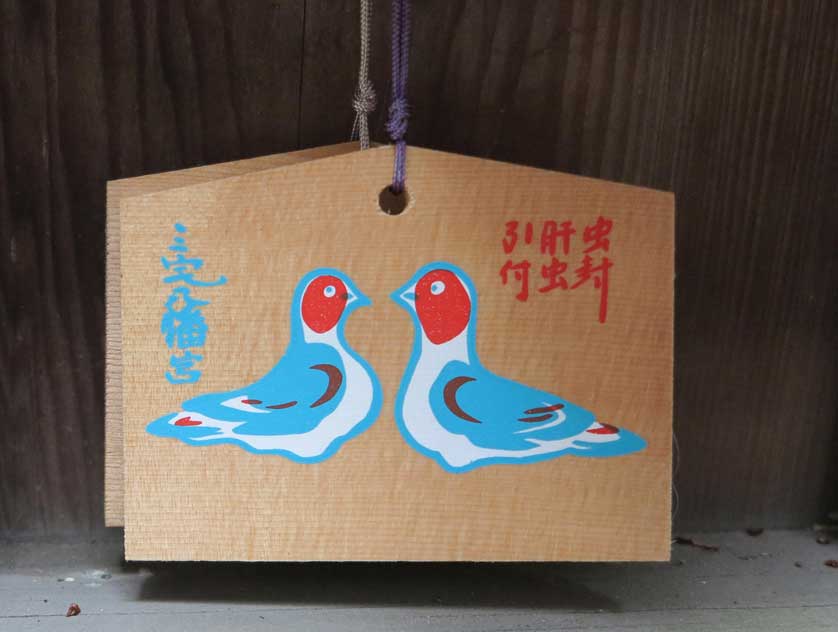 Ema votive plaque with doves, Miyake Hachimangu Shrine, Iwakura, Kyoto
Miyake Hachimangu Shrine
Miyake Hachimangu Shrine is an historic shrine located in Iwakura.
According to legend, Miyake Hachimangu Shrine was founded by Ono no Imoko (小野 妹子), an important politician and diplomat during the Asuka Period of Japanese history. Ono no Imoko was an envoy to China during the reign of the Empress Suiko and is believed to have delivered a now-famous letter to the Chinese Emperor from Prince Shotoku.
Supposedly after falling ill in Kyushu on his way to or way back from China, the envoy prayed for health to the deity Hachiman at Usa Jingu in present-day Oita Prefecture. Ono no Imoko reportedly recovered so quickly that he built a shrine to Hachiman, who is associated with the mythical Emperor Ojin, when he returned to central Japan.
The Emperor Ojin is the main deity enshrined at Miyake Hachimangu and Hachiman/Ojin's symbolic animal and messenger is the dove which can be seen on statues, noren curtains and ema (votive plaques) around the shrine. Flocks of pigeons are fed at the shrine by devotees.
The Shinto deity enshrined at Miyake Hachimangu Shrine is believed to cure "peevish" children or those afflicted with mushi - spirits that can cause convulsions. The shrine is particularly popular on September 15, the day of its autumn festival.
Accommodation in Iwakura
This area of Kyoto does not have an over-abundance of hotels but the large (over 300 rooms) and prestigious Grand Prince Hotel Kyoto is located in this area of north east Kyoto close to Takaragaike Lake and is an important congress and convention center. At the other end of the scale Green Peace is a long-standing back-packers' hostel not far from Kyoto Botanical Garden. In Shugakuin, the over 450-year-old Heihachi Tea House Inn offers traditional Kyoto accommodation, fine cuisine and a beautiful garden.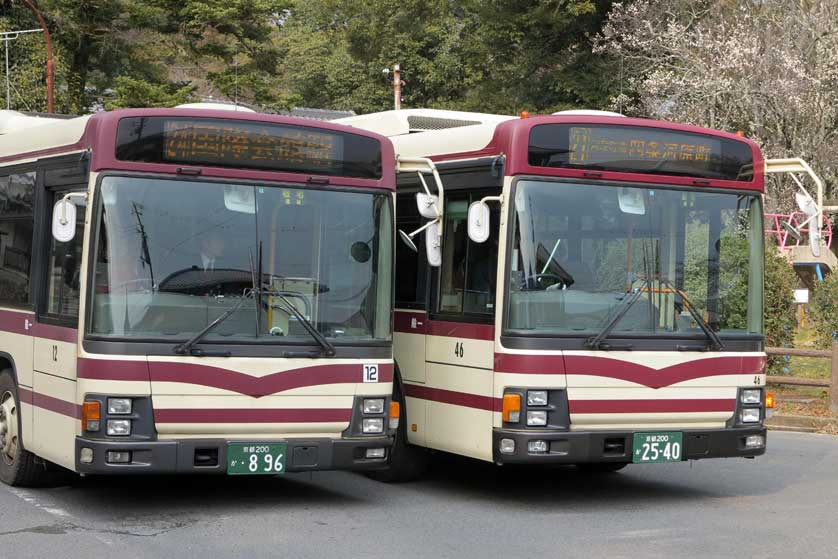 Buses #24 and #21 outside Jissoin Temple, Iwakura, Kyoto
Access: Getting To Iwakura
From Kyoto Station take a Kyoto subway train on the Karasuma Line to Kokusaikaikan and then a #24 Kyoto bus which terminates at Jissoin Temple. This is not within the Kyoto City Bus & Kyoto Bus One-day Pass (500 yen) zone so the fare is a further 170 yen.
Alternatively take buses #21 or #23 from Shijo Kawaramachi Station or from Demachiyanagi Station take the Eiden train to Iwakura Station and then a 20 minute walk or pick up a #21 or #23 bus from Demachiyanagi.
Kyoto Hotels
Iwakura is a quiet, secluded district of north east Kyoto at the foot of Mt. Hiei famous for Jissoin Temple and the former residence of Iwakura Tomomi.
All the themes of the city