Osaka City Guide
大阪


Local Time 17:49
Symbol : cloudy_rainy

Temp : 27.7°C

Date : Today

Symbol : sunny_cloudy

Temp : 24.6°C

Date : Tomorrow

Symbol : sunny_cloudy

Temp : 22.2°C

Date : Monday

Symbol : cloudy

Temp : 19.8°C

Date : Tuesday
The capital of Kansai and Japanese gastronomy
Some impressions endure time and appeal to generations to come. In Japan, Osaka is always looking to the future. A major hub of innovations, the economic capital of Kansai has a taste for commerce, audacity, and hospitality. Today, Osaka is the third-largest city in Japan after Tokyo and Yokohama. Discover the city of Osaka and the distinctive quality of this cosmopolitan city. Markets, lively streets, warm and passionate shop keepers, a generous serving of dishes: visit the capital of Kansai and let yourself be immersed by its charms.
Osaka: a historic port
The third port on the inland sea from the 4th century and throughout the feudal period, until the 20th century, Osaka built its commercial reputation on manufacturing of textiles, in particular its cotton. Furthermore, Osaka is the origin of the Japanese pharmaceutical industry and the city where major foreign firms are established in Japan. Osaka prides itself as a leading scientific research community on par with London and Paris. 
Traveling to Osaka is an opportunity to experience the beauty of the city, as well as its rich history and heritage. On the Yodogawa Delta, Osaka is nicknamed the "city with its feet in the water", because it is open to the sea waves and converged by canals. It was largely devastated in 1945 by the American bombs, before quickly rising from its ashes. The Universal Exhibition of 1970 revealed to the world its vitality and its centers of expertise dear to investors, as well as its urban assets.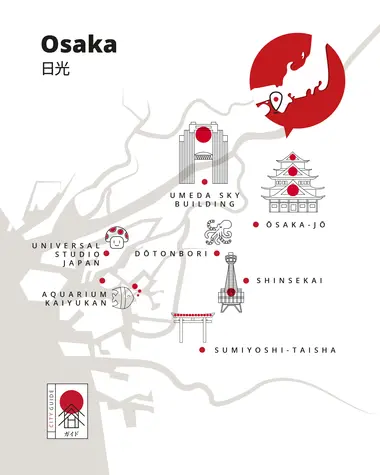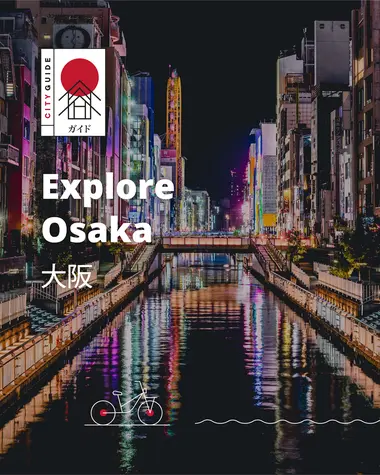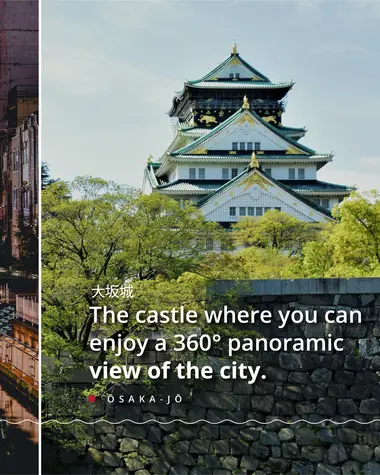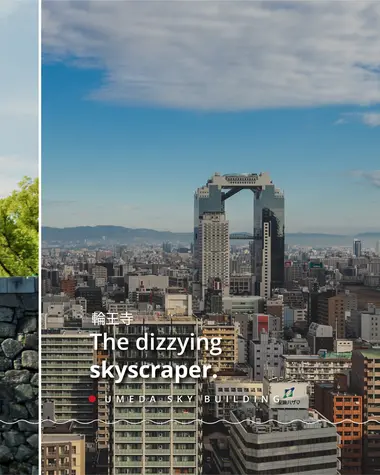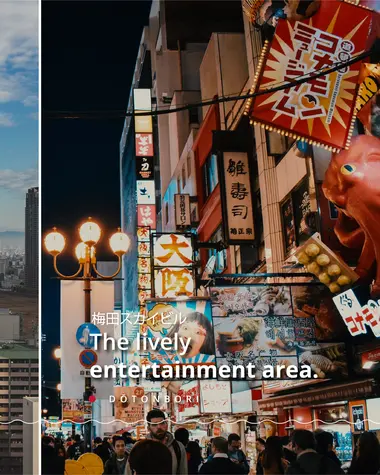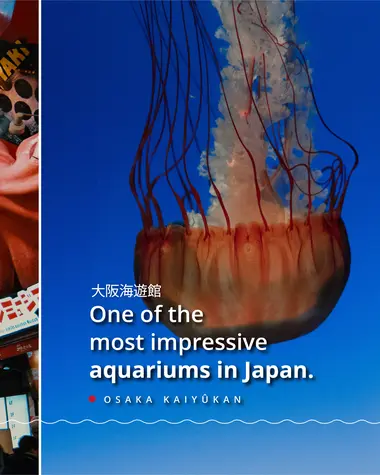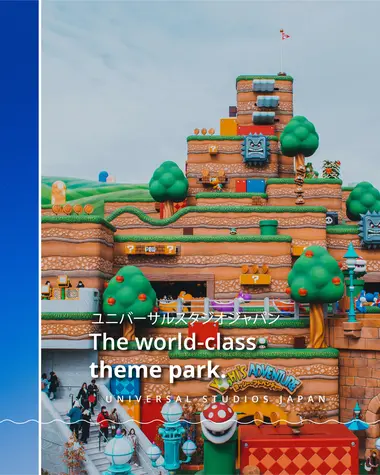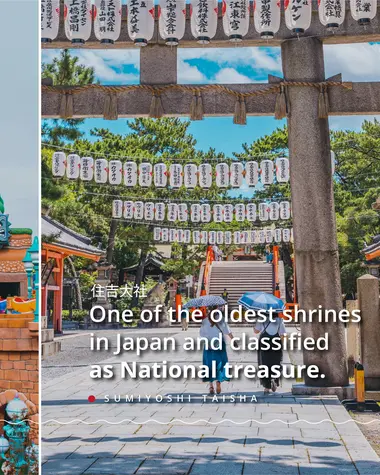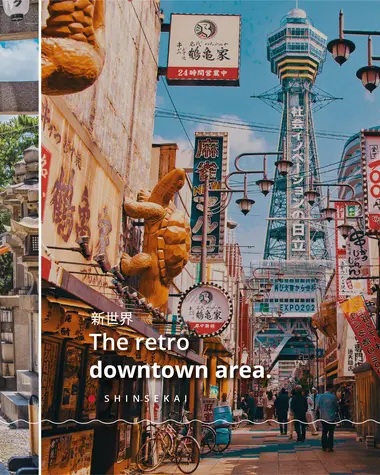 Osaka, a spirit of freedom
The charm of the city lies in its lively streets, its cozy bars, and markets, the source of all worldly temptations. In constant turmoil, the cosmopolitan and gourmet city, called the "Cuisine of the Nation", concentrates myriads of restaurants and bars. It was in Osaka that takoyaki (cooked octopus soufflé) was born.
During your visit to Osaka, stop by the Namba district, the city's youth center, the Aquarium, facing Osaka Bay, Universal Studio Amusement Park - the third location following Hollywood and Orlando (United States), the entertainment district of Dôtonbori/ Be sure to stroll after dark along the canal on Dotonburi Street, and have a drink or a bite to eat along the famed Dotombori river.
Adored by its residents and visitors, the renovated and ageless Osaka Castle or Osaka-jô, previously destroyed by wars and fires watches over the city. Here, the people have a spirit of freedom, like the monk and poet Bashô (1644-1694), master of haiku, and the playwright Chikamatsu Monzaemon (1653-1724), author of famous bunraku plays (puppet theater) and kabuki .
Osaka is considered to be more westernized and adoringly labeled as less "civilized" than other cities, just as its people - warm, direct, bold, and fast pace.
Driving could be more challenging and travel by public transportation could be an adventure but all in good fun! Osaka is beloved for its uniquely different and rebellious quality from conventional ways.
Kitchen of Japan
The city is recognized throughout the archipelago for its relaxed and lively lifestyle. It is, therefore, no coincidence that you will find a rich culinary tradition here and a selection of restaurants and other street-food stands likely to thrill your taste buds.
Okonomiyaki and takoyaki are Osaka's two most famous specialties. Okonomiyaki , a kind of Japanese omelet with cabbage, is served in many restaurants, topped with okonomi sauce.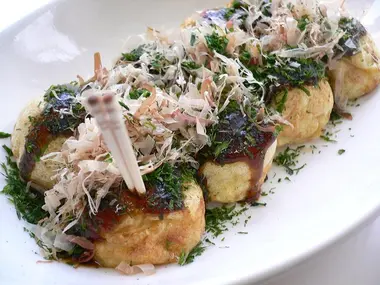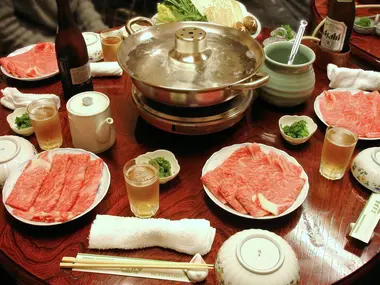 Do not miss to take a tray of takoyaki (octopus fritter) in the district of Amerika-mura . Those with a sweet tooth will also enjoy the kitsune-udon , a bowl of udon noodles with fried tofu, or the shabu-shabu, a delicious and unique - shared hot pot.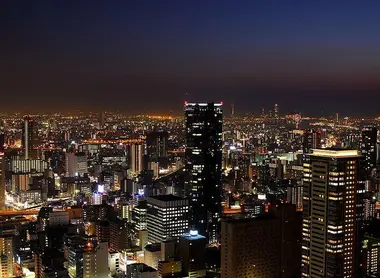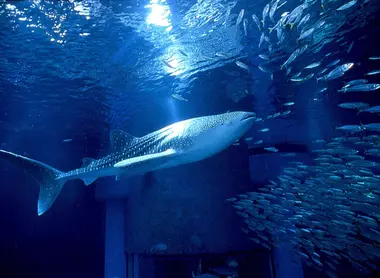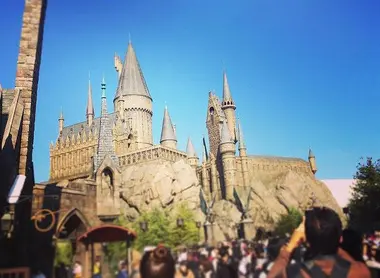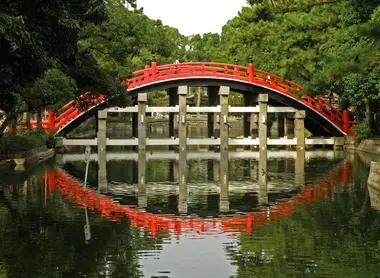 What to see in Osaka: the essentials
Osaka offers a uniquely different perspective from cities like Kyoto and Tokyo and it will not disappoint you. Aside from its no-nonsense attitude, Osaka is direct, bold, and inviting. Immerse yourself in her beauty and she will reward you with a memorable experience.
Osaka Castle . Address: 1-1 Osakajo, Chuo Ward, Osaka, 540-0002
The Umeda Sky Building and its view of the city. Address: 1-1-87 Oyodonaka, Kita Ward, Osaka, 531-6023
The districts of Shinsaibashi, Namba, Amerikamura, and Dotonburi Street
Osaka Kaiyukan Aquarium . Address: 1-1-10 Kaigandori, Minato Ward, Osaka, 552-0022
The Universal Studios Japan amusement park. Address: 2-1-33 Sakurajima, Konohana Ward, Osaka, 554-0031
Sumiyoshi Taisha Shrine. Address: 2-9-89 Sumiyoshi, Sumiyoshi Ward, Osaka, 558-0045
In addition, Osaka is an ideal place to stay for exploring all of Kansai and its surroundings, being extremely well served by public transport. You can easily access Kyoto, Nara, Mount Koya, or Kobe and Himeji by Shinkansen or Limited Express train services.
Want to visit the Kansai region, discover the Kansai Wide Area Pass
All the themes of the city
Interested by Osaka City Guide
Discover other cities to explore