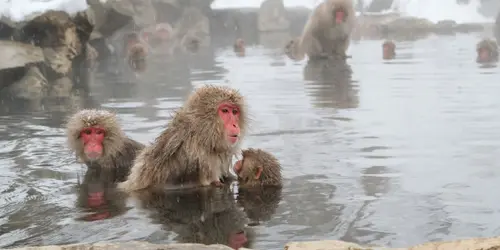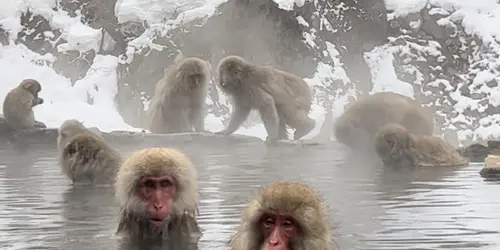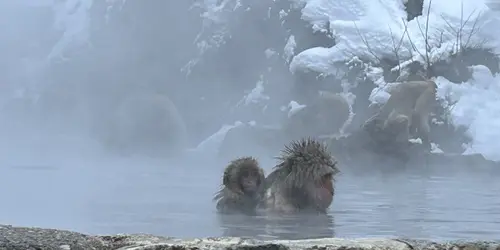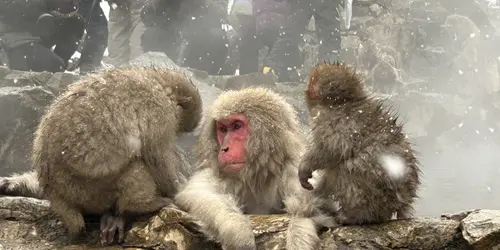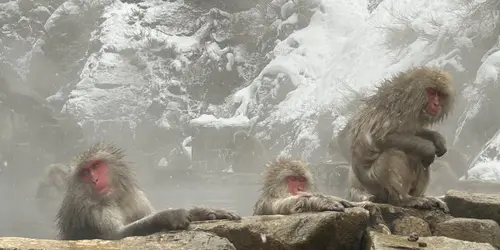 The monkey mountain
Monkeys bathing in hot springs. This is not a legend, nor is it manga. They exist in Jigokundani, about 1 hour from Nagano.
Monkeys bathing in hot springs
Where can you see the monkeys bathing in the hot springs? It's Jigokudani, literally "the valley of hell", in the Jigokudani Yaen Koen National Park, about an hour from Nagano in the Japanese Alps. The park was established in 1964 to protect the natural habitat of Japanese macaques and provides shelter to several hundred of them.
The monkeys in the park began to observe and then imitate humans bathing in the onsen in the centre of the park, generating the strange spectacle we know today. 
A high probability of seeing them
The monkeys are of course wild and therefore unpredictable, but given their density and their habit of remaining around the onsen, the likelihood of seeing them is very high. The best season is of course winter, as this is the season that the monkeys prefer to warm up and bask in the warm water. In addition, the snow-covered landscape makes the show all the more striking.
But they are present and enjoy a bath at all seasons, males, females, and the adorable newborn babies. The middle of the day is when they are usually most present and active. 
The best way to visit the park
This tour lasts about 4 hours and consists of a round trip by bus from Nozawa Onsen. The bus drops you off at the car park at the entrance of the park, then you need to walk for 25 minutes to reach the onsen in the centre of the park. You have about 1 hour to enjoy the place, and then take the bus back.
The departure is from Nozawa Onsen (Nozawa-onsen Kotsu's office) at 1:10 pm (meet 30 min before for check-in) , then the trip takes half an hour. Return to Nozawa Onsen at 5 pm.
Minimum number of participants: 2 adults
The activity does not take place on Sundays.
Location
---
The monkey mountain
$40 per person