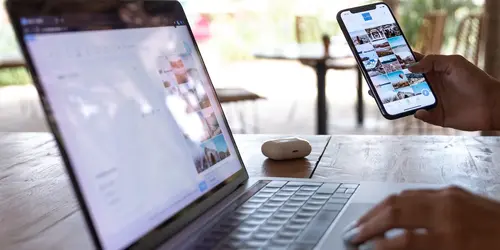 Pocket Wifi
Up to 12 hours of use

Unlimited access 150Mbps

LTE/4G/3G
The best internet solution for your trip in Japan !
If you are looking for fast and unlimited* internet access for the duration of your trip, renting a Pocket WiFi is the best solution for you. With the Pocket WiFi you can connect to the internet wherever you are in the country. Free and reliable internet access can be difficult to find in Japan, so if you want a reliable internet connection 24/7 a Pocket WiFi is essential. 
What is a Pocket Wifi? Pocket WiFi is a portable internet router, similar to a modem or internet router, which allows you to create a secure and private WiFi network.
Easy to carry and use thanks to its lightweight and long battery life, the Pocket WiFi fits in a Pocket or stows away in a bag
Why renting a Pocket WiFi in Japan?
Pocket WiFi allows you to connect to the internet on different 5 devices simultaneously. It is the perfect solution for a trip with a small group, family or friends.
Thanks to Pocket WiFi, you can organize your trip and your journeys with ease. It also allows you to stay connected with friends and family with easy access to your inbox, online messaging and social networks.
What are the advantages of Pocket Wifi?
Rental period from 5 consecutive days
Unlimited* high-speed internet access
Delivery in Japan to your hotel or upon arrival at the airport
Compatible with all devices that can connect via WiFi: iPhone, iPad, Android smartphones, PC and Mac laptops, cameras and other portable consoles
Possibility to connect up to 5 devices simultaneously
Lightweight and with a long battery life.
 Unlimited data*.
* After reaching 3GB a day, the wifi could be slowed down
More information about the product
Technical specifications
Device type: Premium WiFi 
Speed: 150 Mbps 
Network: LTE / 4G / 3G 
Battery life: between 8 and 10 hours depending on use 
Charging time: around 3 hours 
Dimensions: 103 x 66 x 14.5 mm (4 x 2.6 x 0.57 inch) 
Weight: 140 grams (5 ounces)
Pocket Wifi Airport Pick-up
Please pick up your Pocket Wifi at one of the JAL ABC counters below.
Narita International Airport Terminal 1 :
Arrival floor (1F)
North Wing : 7:00~18:00
South Wing : 7:00~1 hour after the last flight on arrival
Departure floor(4F)
North Wing : Temporary closed
South Wing : 7:00~20:00
Narita International Airport Terminal 2 :
Arrival floor (1F)
7:00~1 hour after the last flight on arrival
Departure floor (3F)
7:00~21:00
Haneda Airport Terminal 3 :
Arrival floor (2F)
4:00~01:00
Departure floor (3F)
6:00~22:00
Kansai International Airport Terminal 1 : 
Departure floor (4F)
7:00~21:00
Make sure to check the closing time of the counter, taking into account the time between your landing and the moment you pick up your luggage (about 1 hour).
We will inform you of the counter where you should pick up your Pocket Wifi according to the time of your arrival. 
If the counter is closed, please choose hotel delivery. 
Pocket Wifi
Your personal data will be collected by Japan Experience who are also responsible for processing it. More information* (Conf. Policy).