Airport Transfer in Kyoto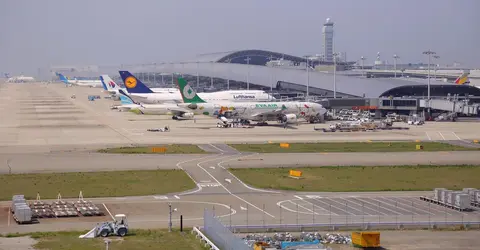 When traveling to Japan, instead of arriving in Tokyo, you may have chosen to land near Osaka or Kyoto, at either Kansai International Airport (KIX) or Itami International Airport (ITM). Kansai International Airport is about 75 kilometers southwest of Kyoto, while Itami International Airport is about 50 kilometers north of central Kyoto. Itami airport is mainly used for local flights, but depending on your country of departure, it's not impossible for your plane to land there.
To get to the heart of Kyoto, Japan's historic ancient capital, there are a number of different transport options, and it's essential to choose the one that best suits your needs.  By exploring the different options, you can compare the advantages of each mode of transport in terms of journey time, cost, comfort, convenience or door-to-door. Whether you're traveling alone, with family or friends, with or without luggage, discover all the public transport options we offer for this itinerary between the airport and central Kyoto.
Between public transport such as express or local trains, limousine buses, or individual transport such as private shuttles or cabs, discover the solution that suits you best!
What airport transfer options from Kansai (KIX) to Kyoto?
Limousine Bus Shuttle
Transfer buses are comfortable coaches that run between Kansai International Airport (KIX) from Terminal 1 (international and domestic) and Terminal 2 (domestic low-cost) and the center of Kyoto. This transport service offers a practical and reliable solution, making it the most economical option for a trouble-free journey.
With luggage pick-up, and up to two pieces of luggage per person at no extra charge, this transport option is ideal for busy travelers wanting to avoid train or metro connections.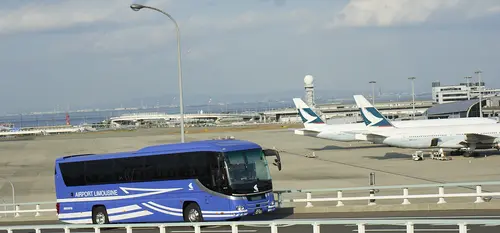 More information :
Departures are frequent, with 1 to 2 buses per hour to Kyoto station. The journey from Kansai International Airport (KIX) to JR Kyoto Station takes around 85 minutes. Limousine buses serve the various airport terminals, as well as the JR Kyoto station stop (all buses stop at the Hachijo exit) and the Kyotanabe Highway stop (this bus stop is close to JR Matsui Yamate station).
The coaches are comfortable with plenty of legroom and air-conditioning, but free toilets, WiFi and USB chargers depend on the bus and are not always guaranteed.
Shared Yasaka Shuttles
This is a minibus transfer service from Kansai airport to Kyoto city. This shared shuttle (for a small number of people) takes you from your terminal to the address of your choice, to your hotel, to a train station and vice versa to the airport. Allow around 1h30 for a trip between Kansai airport and central Kyoto.
You can take a large suitcase with you free of charge, and an additional 1,000 yen is charged for extra luggage.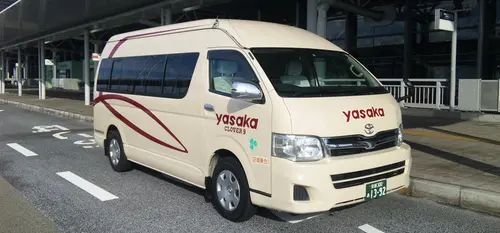 More information :
Shared shuttles offer a similar level of comfort, with comfortable seats, air conditioning and sometimes additional services such as on-board WiFi. This option is ideal for travelers looking for simplicity, who wish to be taken care of door-to-door. Prices for this shuttle service (similar to a cab, but shared by several people) are higher than for other means of public transport, but more attractive than a cab or private shuttle. This shuttle is not available with the JR Pass, so you'll need to buy a ticket.
Our Airport Transfer Options in Kyoto
Get from Kansai (KIX) or Itami airports to Kyoto with these airport transfers !
Did you know that your Japan Rail Pass also gives you access to certain airport transfer options in Kyoto ?
For example, the Haruka Express Train stopping at JR Kyoto station is included with your Japan Rail Pass. From there, you can then take local Kyoto lines to get to your accommodation or any final destination of your choice. If you do not have a Japan Rail Pass yet, explore all the advantages it offers outside the Shinkansen bullet train lines below !
All Other Airport Transfer Options in Kyoto 
| Airport Transfer | Airport Served | Price | Stops | JR Pass compatible ? |
| --- | --- | --- | --- | --- |
| Shared Shuttle | Kansai (KIX) & Itami (soon) | $$ | Anywhere | N/A |
| Limousine Bus | Kansai (KIX) | $$ | JR Kyoto station | N/A |
| Haruka Express Train | Kansai (KIX) | $ | JR Kyoto station | Yes |
| Nankai Rapit Train | Kansai (KIX) | $ | Tengachaya Station + Hankyu Kyoto subway line | No |
| Taxi/Cab | Kansai (KIX) & Itami | $$$ | Anywhere | N/A |
Frequently Asked Questions