Accommodation in Japan

Solutions for a successful holiday in Japan
Choosing accommodation is an important step when preparing for a trip. It depends on many factors: budget, number of travelers, location, and facilities... So, which accommodation for which needs? To help you find your way around, we present you with the different accommodation options available in Japan and their specificities.  
Ryokan, house, business hotel, or capsule hotel, choose the solution that best suits your needs!
The different types of accommodation in Japan
In the space of a few years, many accommodation solutions have been developed in Japan to welcome the ever-increasing number of tourists. 
Whatever solution is chosen, it is advisable to book in advance to stay in Japan during your stay, especially during the high season. In big cities, it is not uncommon for the rentals to be fully booked, so it is better to validate your reservations before departure.
À la découverte du Japon traditionnel avec le Ryokan
Looking to discover a traditional Japanese accommodation? Ryokan is for you!
Typical Japanese accommodation, the ryokan is a traditional Japanese inn whose architecture and organization correspond to the Edo era (1603-1868). The concept?  To propose an immersion in traditional Japan: onsen, futons, and wooden/bamboo structures will make you discover the oldest aspects of Japanese culture.
Staying in a ryokan also gives you the opportunity to enjoy the very popular onsen, hot springs of volcanic origin. Baths inside, or rather outside (rôtenburo), the experience is unique!
The price is variable depending on the Ryokan chosen and its location! There is something for every price, but it is important to remember that the more expensive the accommodation, the more important the comfort offered!
The interest of Ryokan in 3 points :
Immersion in a traditional way of life
Discovery of the onsen
Being housed in a home that is sometimes centuries old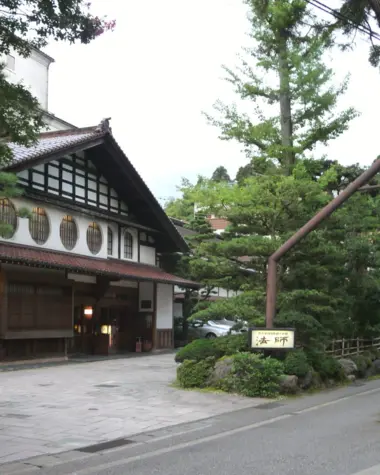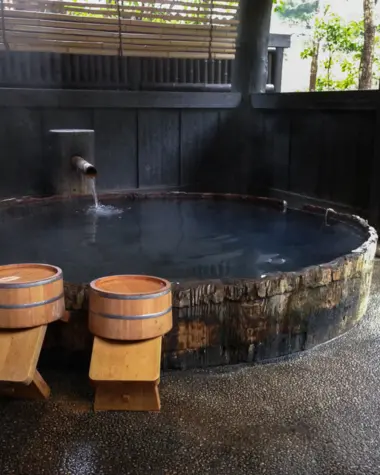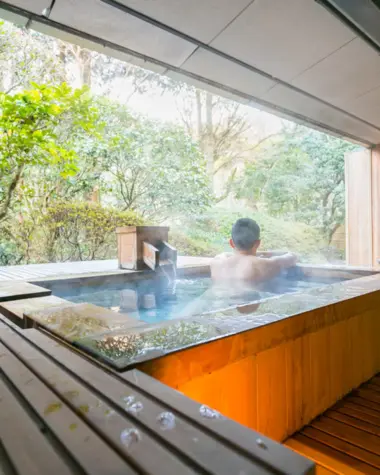 Rent a house for an immersion in the Japanese daily life
Would you like to experience an immersion in Japanese daily life? Discover Japan from the inside with Japan Experience's house and apartment rentals in Japan. For a short, medium, or long stay, it is the ideal solution for a trip with family or friends.
What are the advantages of renting? The possibility of organizing your stay as you wish, sharing your stay with friends or family, a wide range of prices available, and above all... the Travel Angels! Travel Angels are expatriates from the Japan experience team who will welcome you in your accommodation and offer you an immersion in the daily life of the city!
Our accommodations are available in all four corners of Japan so that your immersion is as diverse as possible. Tokyo, Kyoto, Kanazawa, Takayama or Okayama.
Find our entire range of house and apartment rentals
3 reasons to rent a house with Japan experience :
economic: renting a house in Kyoto or Tokyo for example is more interesting financially, for equal or superior comfort.
Japanese immersion: furnished and equipped "Japanese style", located in the heart of neighborhoods and residential areas, the houses for rent and the "Travel Angel" allow you to discover the Japanese culture as well as its daily habits and customs.
suitable for group travel: with family or friends, houses for rent in Japan allow you to benefit from a common accommodation and enjoy your stay together, at your own pace.
The capsule hotel, the experience of modern minimalism
Looking for an atypical getaway? Let's not introduce you to the capsule hotel! Modern and minimalist, this atypical accommodation knows how to delight the original. With an average surface area per capsule of two meters by one for a height of one-meter twenty-five, the capsule hotel seeks to optimize space. Ideal for lovers of minimalism! Inside, the essentials of a small room: a bed and, in some cases, a television. Toilets and baths are shared, but the presence of sento (public baths) brings a friendly and pleasant aspect to share.
Taking its success from salarymen who need a room after a night out with colleagues, the capsule hotel has caught the eye of a diverse clientele: tourists, travelers, locals, etc.
In addition to its originality, the capsule hotel is a practical accommodation at an affordable price!
The capsule hotel in 3 points:
To avoid the discomfort of sharing such an intimate space, the dormitories are not mixed. Women on one side and men on the other!
Dorms and bathroom/toilet areas are generally single-sex and often located on separate floors. You will have a personal locker with a lock to store your luggage and belongings.
The price is similar to that of a youth hostel: count between 2,000 and 7,000 yen (between 16 and 58 €) for a night in a capsule.
Read also : Capsule hotel in Japan