Accommodation in Japan

Find accommodation for a successful trip to Japan: a complete guide
Choosing accommodation is an important step when preparing for a trip. Whether it's a few days' stay or a longer vacation, finding pleasant accommodation that meets your expectations depends on several factors specific to each individual: budget, number of travelers, location, and amenities.
In Japan, there are numerous accommodation options, each offering a unique experience that you can discover throughout your journey. Traditional ryokans (inns), house or apartment rentals, unusual hotels, or even a night in a temple are just some of the possibilities.
So, what type of accommodation suits your needs? To help you navigate through the options, we present our guide to different lodging choices in Japan, along with tips for making the right decision.
What criteria should you consider before booking accommodation in Japan?
Travel period: Take into account peak seasons, such as spring (from March to May). It's a popular time due to cherry blossoms and the Golden Week holiday. Make your reservations well in advance to benefit from more advantageous prices.
 
Location: Choose a neighborhood close to city attractions and transportation options. The accessibility of public transportation is a plus not to be overlooked, as well as the neighborhood's atmosphere (quiet, family-friendly, lively) and nearby amenities.
 
Services offered by your booking: It's important to inquire about the services provided. Wi-Fi access, bed linens, air conditioning, laundry facilities, meals, access to an onsen (hot spring bath), 24-hour reception, or concierge service are some examples.
 
Types of accommodations: For a traditional experience, consider ryokans (traditional inns), shukubos (temple lodging), or minshukus (homestay accommodations). For a unique experience, capsule hotels, budget business hotels, or house and apartment rentals offer maximum comfort.
Ryokan : Discovering traditional Japan
Looking to discover a traditional Japanese establishment? Ryokan is for you! 
Ryokan are cultural treasures of Japan, offering travelers a unique and immersive accommodation experience. Typical of Japan, the ryokan is a traditional Japanese inn whose architecture and organization correspond to the Edo era (1603-1868). These traditional inns are imbued with an enchanting atmosphere, where history and tradition blend harmoniously.
By staying in a ryokan, travelers have the chance to discover the true Japanese way of life: onsens, futons, tatami mats and shoji (sliding doors made of rice paper) will make you discover the most ancient aspects of Japanese culture. Staying in a ryokan also gives you the opportunity to enjoy the very popular onsen, the natural hot springs of volcanic origin. Depending on the inn you choose, the rooms may have a private indoor onsen.
Its gastronomy is also a must. The meals served are real feasts, highlighting the refined Japanese cuisine. Prepared with fresh and seasonal ingredients, the dishes are presented with care and delicacy, allowing you to taste a variety of authentic flavors.
Prices vary depending on the Ryokan you choose and its location! There is something for every price, but it is important to remember that the more expensive the rooms are, the more comfort is offered!
The interest of Ryokan in 3 points : 
Immersion in a traditional way of life
Discovery of the onsen 
Staying in a home that is sometimes centuries old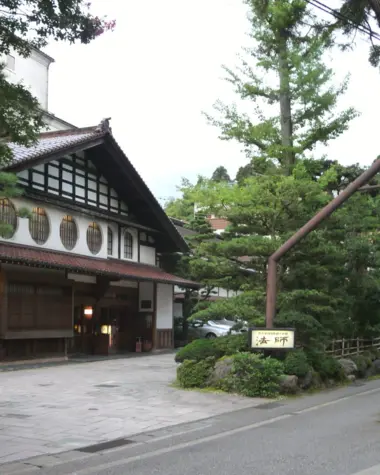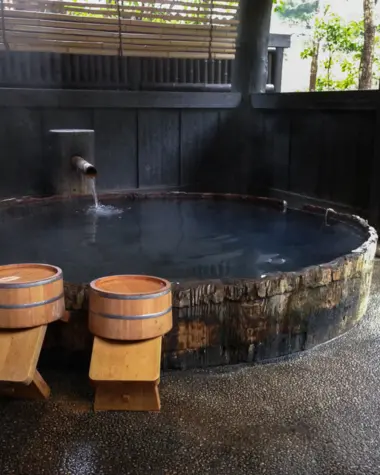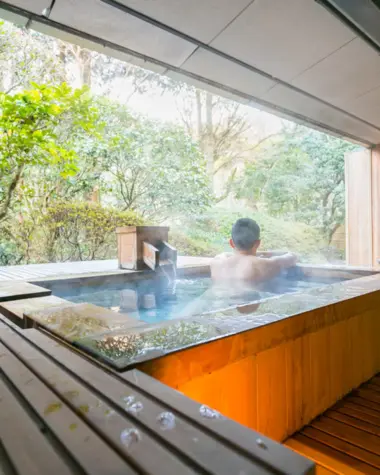 Rent an apartment or a house
Do you want to experience the daily life in the land of the rising sun? Discover Japan from the inside with the house and apartment rentals in Japan proposed by Japan Experience. For a short, medium or long stay, it is the ideal solution for your vacations with family or friends.
What are the advantages of renting? The possibility to organize your stay as you wish, share your stay with friends or family, a wide range of prices available and most of all...the Travel Angels! The Travel Angels are expatriates from the Japan Experience team who welcome you in your home. They will guide you in your installation and are there to help you in case of problems or needs.
3 reasons to rent a house with Japan Experience : 
economic: renting a house in Kyoto or Tokyo for example is more interesting financially, for an equal or superior comfort.
 
immersion in Japan: furnished and equipped "Japanese style", located in the heart of neighborhoods and residential areas, the houses for rent and the "Travel Angel" allow you to discover the Japanese culture and its daily habits and customs. 
 
adapted to group travel: with family or friends, houses for rent in Japan allow you to benefit from a common accommodation and to enjoy your stay together, at your own pace.
Our apartments and houses
Japan Experience recommends a selection of accommodation
By opting for house rentals and apartments, you will enjoy more space, with several rooms, a living room and sometimes even the luxury of having your own outdoor space. You'll be able to relax and feel at home, especially on a long vacation. Fully equipped, the rentals also offer more privacy and flexibility. You will have your own space to relax, rest and stay at your own pace. It is the ideal solution for groups or families! Financially, renting can also be more economical. Plus, the ability to cook your own food can save you money on catering costs.
House and apartment rentals are available all over Japan, offering a variety of experiences. Whether you want to stay in Tokyo, Kyoto, Kanazawa, Takayama or Okayama, you will find a wide range of rentals to suit your needs and preferences. Whether you prefer a traditional Japanese room or a more western configuration, there is something for everyone.
The capsule hotel, the experience of modern minimalism
Looking for an atypical getaway? Let us introduce you to the capsule hotel! Modern and minimalist, this atypical accommodation knows how to delight the originals in the country of the unusual. With an average surface per capsule of 2 meters on 1 for a height of 1m25, and seeks to optimize space. Ideal for lovers of minimalism! Inside, the essentials of a small room: a bed and, in some cases, a television. Toilets and baths are shared, but the presence of sento (public baths) brings a friendly and pleasant aspect to share. 
The success of this unusual hotel is due to the Japanese salarymen who need a room after an outing with colleagues. It has attracted the attention of a diverse clientele: tourists, travelers, locals, etc. 
In addition to its originality, this type of hotel is a practical option at an affordable price!
The capsule hotel in 3 points:
Dorms can be mixed or separate. Women on one side and men on the other, you can choose!
Dorms and bathroom/toilet areas are generally single-sex and often located on separate floors. You will have a personal locker with a lock to store your luggage and belongings. 
The price is similar to that of a youth hostel: count between 2,000 and 7,000 yen (between 16 and 58 €) for a night in a capsule.
Ideal for backpackers looking for a last minute reservation.
Read also : Capsule hotel in Japan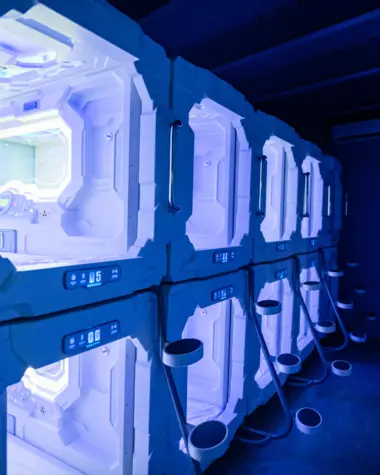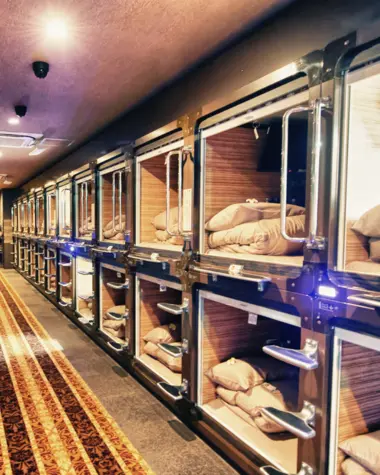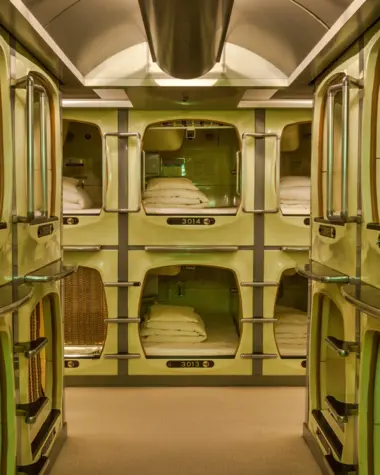 Shukubo: Spending the night in a Buddhist temple
Looking for a unique experience in the heart of Japanese culture? Shukubo are traditional accommodations located in Buddhist temples. With a calm and serene atmosphere, it is an excellent opportunity to relax, meditate and recharge your batteries away from the daily hustle and bustle. Lodging in Japanese style rooms with a very simple style, you will have the necessary amenities to spend a comfortable time in the respect of the Buddhist habits and customs.
Staying in a shokubo will give you the opportunity to participate in Buddhist religious activities and practices. This may include meditation sessions, morning prayers, participation in Buddhist ceremonies or interaction with the resident monks. This is a unique opportunity to experience Japanese spirituality up close. You may also have the opportunity to visit the temple, explore the gardens and learn more about the history and teachings of Japanese Buddhism.
You will also have the chance to learn about Buddhist dietary principles. Shukubo often serve Buddhist vegetarian meals called "shojin ryori". These recipes are prepared with fresh vegetable ingredients and are both delicious and healthy.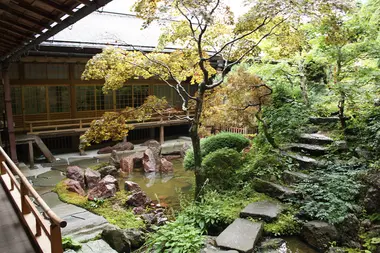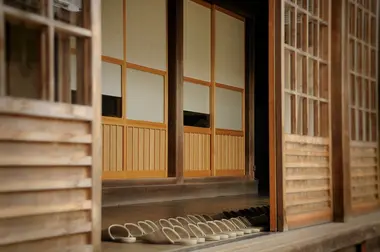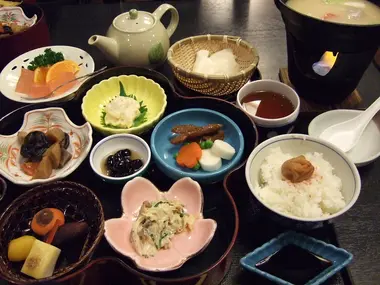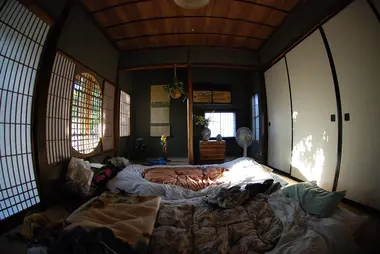 Each shukubo may have its own characteristics and offer different experiences. Also note that they are places of worship and religious practice, so it is important to follow the rules and customs of the temple during your stay. This may include specific times for dinners and activities, as well as appropriate rules of behavior. 
Please note that not all Buddhist temples welcome tourists, so it is best to check with the local tourist office to see which establishments are willing to accommodate you.
Minshuku: Family Immersion
How to stay in a homestay in Japan? Minshuku is a type of traditional Japanese accommodation that offers authentic and homely experiences in a guesthouse. It is a popular option for travelers who want to experience Japanese culture and lifestyle in a more intimate way. Usually located in rural areas or small towns and run by families or small landlords, these guesthouses offer a friendly, family-like atmosphere, making you feel welcomed and cared for throughout your stay. The hosts are often very friendly and willing to share their local knowledge and advice about the area.
In the minshuku, you will sleep in Japanese style rooms with tatami mats, shoji and futon. Often included in the price of the establishment, you will be able to taste local, fresh and seasonal dishes.
However, keep in mind that this is a guesthouse.  You will have less privacy than in other categories of accommodation. The bathroom and toilets are shared between guests and depending on your minshuku, may even include an onsen!
The business hotel, a classic of western comfort 
Looking to relax in a more classic establishment without breaking the bank? Business hotels are for you! They are located in small modern buildings that offer all the necessary comfort and good value for money in the heart of the big cities. Count about 6,000 yens (45 euros) for a night in a room equipped with a double bed, a television and a basic bathroom. A minimalism that allows you to save money! 
Note that the business hotel has a typical western style, so don't expect to live Japanese-style life experiences!
Why choose the business hotel in 3 points:
Comfort at an affordable price
Strategic location
Payment is usually made on the spot
The guesthouse (hostels): to meet people
Where to sleep to meet people in Japan? Guesthouses (also called hostels in Japan) are the ideal accommodation for travelers who want to meet people and share moments and experiences in a friendly and warm atmosphere. Indeed, they allow you to meet travelers from all over the world but also to meet Japanese people who have come to spend a few days in a different region or members of the local community. They will be able to provide you with advice on attractions in the area but also tips and good spots! 
In the guesthouses, the prices are very affordable, however the privacy is a bit less. You will be sharing your room with other travelers so the number of beds will depend on your choice of guesthouses. There are mixed dormitories, but also men and women for more comfort. The bed you will occupy will usually be equipped with curtains for your privacy.  Common facilities such as lounges and shared kitchens encourage interaction and conviviality.