Driving in Japan

Traveling in Japan by car
The practical guide by Japan Experience
Japan may have one of the most efficient rail networks in the world, but the car remains the preferred and even essential means of exploring some of its most beautiful regions. And visiting Japan by car has never been easier!
To enable travelers to go where the train does not go, Japan Experience offers a complete arsenal of services for driving in Japan, including all the tools necessary for a successful trip. From driving license translation to car rental, including GPS, Drivin' Assistance and practical advice, we give you all the keys to a successful road trip and explore Japan off the beaten track.
---
---
Take the roads to explore Japan
First essential step - driving license translation
To drive in Japan, having an international driving license is not enough for many nationalities. The translation of the driver's license to Japanese standards is then essential to get behind the wheel.
Japan Experience is in partnership with the JAF, the Japan Automobile Federation , to offer you this official translation service for your driving license.
Rent a car in Japan
How can you rent a car in Japan? With Japan Experience, you can pick up and drop off your rental car from the north to the south of the island of Honshu of course, but also in Hokkaido, Kyushu or Shikoku and even in Okinawa.
Do you fancy a car in Nikko to explore its sacred mountains and the surroundings of one of the most iconic places in Japan? Do you want to visit the Japanese capital far from the crowds of public transport? Or have you always dreamed of discovering rural Japan by following the legendary Tokaido route? Our car rentals are available all over Japan!
Japan Experience, in partnership with Nissan, rents cars in more than 300 agencies located in strategic points of the country. A wide range of vehicles suitable for small excursions as well as long journeys with all comfort. Good news: the GPS option in English is available, as are SIM cards to stay connected. For those who have lost their way or simply need help, the Drivin' Assistance service offers telephone assistance in Japan 7 days a week for any questions, advice or troubleshooting.
To rent a car, complete our online form and receive a confirmation within 48 hours. Your car is waiting for you at the selected agency. Your freedom ...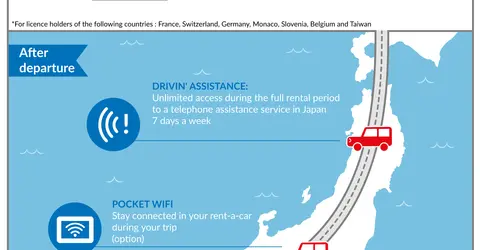 Driving in Japan in vidéos:
Discover all our tips for parking, taking gas, driving on highways and using a GPS.