Selection of the moment

Discover our selection of activities to do in Japan !
Japan isn't just Tokyo, Kyoto and Osaka; there are incredible activities to do all over the country, in places like Nara, Okayama, Nikko, Hiroshima, Kobe, or even in the countryside. Japan Experience offers a whole range of activities to discover the very best of Japan. 
Kintsugi, making cracks beautiful
Behind the Japanese art of Kintsugi lies a whole philosophy that encourages us to accept our weaknesses and imperfections, and to sublimate them to make them more beautiful and powerful.
Kintsugi, or the art of embracing imperfections
Kintsugi means "golden seal". In practice, it involves gluing broken pieces of ceramic together with resin, then covering them with a thin layer of gold. Kintsugi requires a certain amount of manual dexterity and concentration. Although there are Kintsugi artists who take the art to higher dimensions, as an art form it is accessible to all.
Above all, Kintsugi is a philosophy. And when you manipulate the damaged pieces of your plate or bowl to put them back together, what you are doing is embracing that philosophy. What Kintsugi teaches us is that nothing is eternal, nothing lasts forever, and that it is normal for the things we are surrounded by in our lives, whether tangible or intangible, someday to break.
But breaking doesn't mean the end. With Kintsugi, you learn that dedicating a little energy and heart to picking up the pieces allows you to bring something back to life in a way that is even more beautiful than before.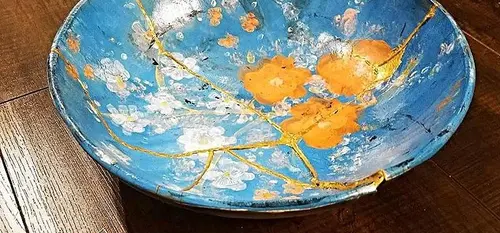 Gion Night Walk
Wondering how to spend the evening in Kyoto? Explore the alleyways of Gion, Kyoto's geisha district, at nightfall, with a guide to reveal all of its secrets.
The best way to spend the evening in Kyoto is to visit Gion.
Some of Kyoto's most beautiful places only truly reveal their beauty at nightfall. Thus, our guides will show you Gion by night, telling you its story in a small group in the calm of the lighted alleyways. 
Like many other elegant places around the world, Kyoto is transformed at night by the combination of darkness and minimalist and sometimes old-fashioned lighting. The dark silhouette of the surrounding mountains, populated by wild animals, halo of mystery the old quarter of Gion below.
The tourist crowds of the day have deserted the streets and the faint halo of old lampposts enhances the quaint charm of the small alleys.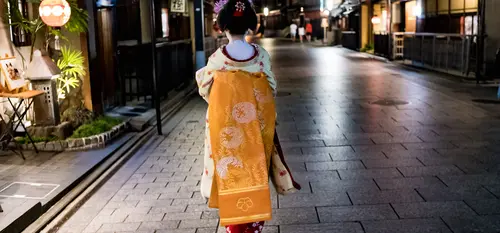 Zen gardens, secret gardens
Karesansui, tsukiyama, zen gardens, dry gardens, ... The art of Japanese gardens is an art of ancestral wisdom. Through a guided tour of some of the most beautiful - but not the most well-known - gardens in Kyoto, learn how to decipher the beauty and hidd
The secret of Zen gardens
A few rocks here and there, silent, unperturbed. Around them, a carpet of moss spreads out in the shade of a black pine tree with fine curves. Then, an expanse of light grey gravel unfolds its smooth ripples, revealing the meticulous work of the landscape gardener. Zen gardens have so much to say... But the mystery that surrounds them makes their words inaudible to those who cannot hear them. They speak an abstract language, one made of codes, symbols and metaphors.
Climbing Mount Fuji
Climb Mount Fuji, Japan's highest and most sacred mountain, accompanied by a professional mountain guide.
Mount Fuji, the sacred mountain symbol of Japan
A mountain so beautiful that it has become symbolic of Japan, a country that does not take aesthetics lightly, is also one of the most sacred natural sites. Throughout history, the mountain has always been the object of veneration and pilgrimage. In the Shinto religion, climbing the mountain is a way to honour the goddess Sengen, guardian of the sleeping volcano, and in the Buddhist religion, the climb symbolises the path to enlightenment.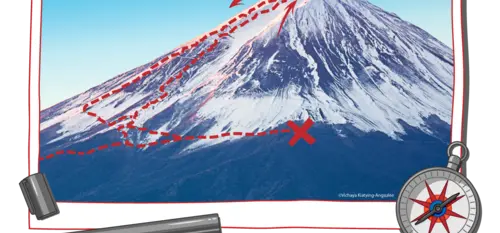 Takigyo, the waterfall ritual
A thousand-year-old Buddhist practice, the waterfall ritual purifies souls, warding off bad luck and bringing the gods of nature closer together.
An extreme form of meditation
Takigyo (pronounced takiguio) is a form of meditation, but instead of sitting in a temple, you are under a waterfall where water, usually very cold, falls on you. This practice is used to test your limits, your mental and physical strength, and to rediscover yourself in extreme conditions.
Although the moment when you slip under the cold water is far from pleasant in itself, people who have experienced it all attest to feeling refreshed, more serene, distanced from the small problems of everyday life, and with a renewed energy.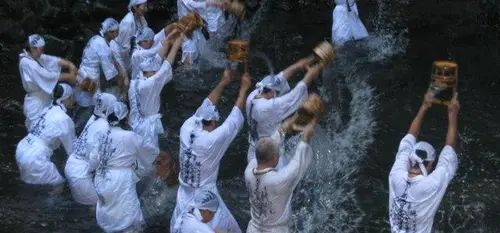 Morning Sumo Training
From early morning onwards, you can step into the inner depths of the Sumo stables, and observe these giants of the arena practice their techniques.
The best way to see Sumo wrestlers
 Want to see Sumo, but your trip is scheduled between the dates of the tournaments? Or perhaps all the tournament tickets have sold out? Not a problem, because to see the Sumo in action, you can also come and watch a Sumo training session. Please note that this is not a performance. Called "asa-geiko", you will witness real Sumo trainers in their true practice conditions, for an intimate and authentic experience.