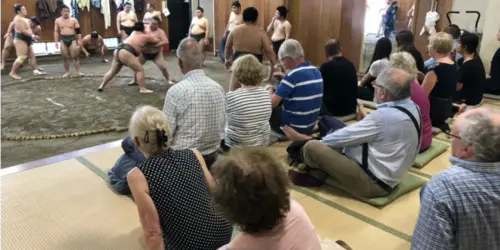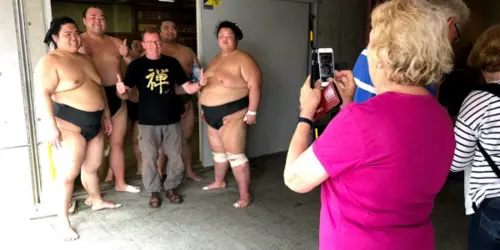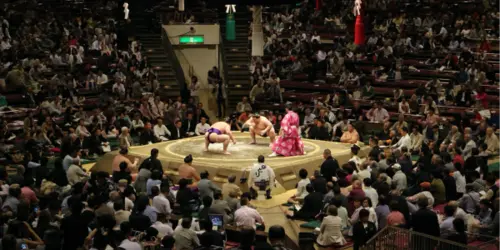 Morning Sumo Training
From early morning onwards, you can step into the inner depths of the Sumo stables, and observe these giants of the arena practice their techniques.
The best way to see Sumo wrestlers
 Want to see Sumo, but your trip is scheduled between the dates of the tournaments? Or perhaps all the tournament tickets have sold out? Not a problem, because to see the Sumo in action, you can also come and watch a Sumo training session. Please note that this is not a performance. Called "asa-geiko", you will witness real Sumo trainers in their true practice conditions, for an intimate and authentic experience.
Enter the intimacy of the Sumo stables
 Sumo stables are their training grounds. The sand arena is the place where the fight takes place, but the stables are also the place where the Sumo wrestlers live. There are about 54 stables in Japan, all run by "oyakata" or former Sumo wrestlers who now coach young Sumo wrestlers. The stable routine is strictly regulated, and the Sumo wrestlers get up at 5am, train for 2 or 3 hours, and then have "chanko-nabe" (a kind of highly nutritional and calorific stew) for breakfast.
Training to push the limits
 During training, the movements of the Sumo wrestlers can sometimes be somewhat surprising, since it's not at all similar to, for example, football training. In fact, in order to strengthen the muscles involved in wrestling, and at the same time to make them more flexible, Sumo wrestlers practice very specific exercises: the shiko (where they raise one of their feet in the air and then put it back down on the ground, in order to strengthen the muscle structure of their legs), the teppo (which consists of moving forward by pushing back an imaginary opponent alternately with the right and left arms), or the matawari (the big splits). 
Respect for Sumo customs
During training, the Sumo wrestlers are not allowed to interact with each other as tensions will run high. During the 1 to 2-hour training observation, spectators will be requested to respect this atmosphere of concentration and not talk, eat or drink, or take pictures with flash. Indeed, the Sumo invite us to share this important moment of their day, and we thank them by respecting their customs. 
Schedules are subject to change. As training operates on an irregular schedule, if there is no training on the date requested, we will contact you to propose an alternative date or to refund you in full if no date is convenient for you.
The stable is located about 1 hour from the west side of Tokyo, and 40 min from the east side of Tokyo.Children are allowed to train, but we will ask you to leave if they have difficulty staying quiet or following the rules.Cancellation policy:
Up to 7 days before: 0%.
Between 7 days and 4 days before: 50%.
After 3 days: 100%.
Location
---