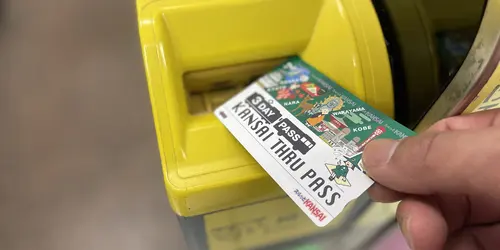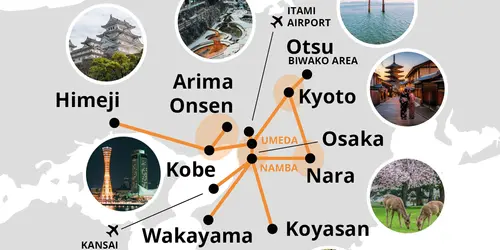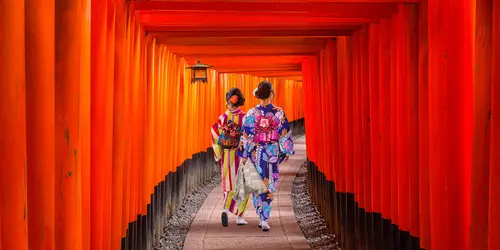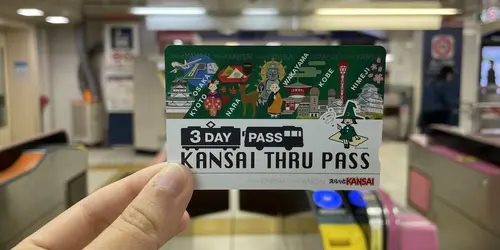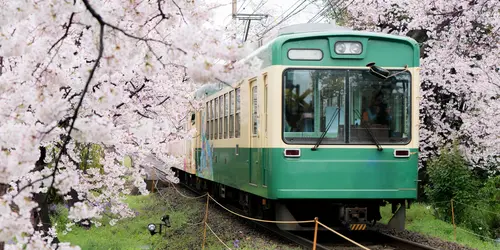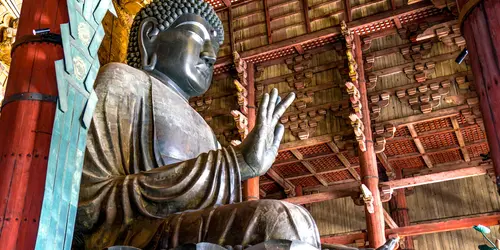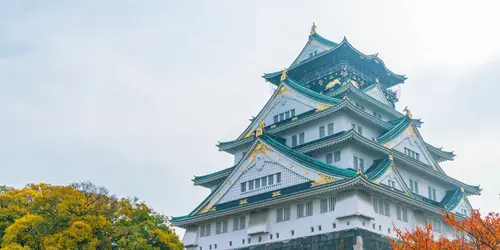 Kansai Thru Pass
This Kyoto Nara Osaka 3 Day Transport Pass is called "Kansai Thru Pass".
---
Why buy Kyoto-Nara-Osaka Transportation pass?
3 days unlimited rides in Kyoto, Osaka, Nara, Kobe, Himeji, Koyasan…
Valid for all regional trains (except for JR), subways and buses
No wasting time in a line to get a ticket!
For immediate use (No need to exchange vouchers!)
With benefits at about 260 facilities!
---
Where can I use my Kansai Thru Pass?
   To travel everywhere in Kansai region
The pass, called "Kansai Thru Pass", can be used in most of the railways of Kyoto, Osaka, Nara, Kobe, Koyasan, and Himeji areas including Kansai airport.
Therefore with this pass, you can use around 80% of the whole transportation in the Kyoto, Osaka, Nara region.
But it cannot be used on JR lines and Shinkansen which are not the majority of transportation in the Kansai area.
Example of useful transportation including in your pass:
Kyoto station/ Kyoto city center <-> Kintetsu Nara station (closer station to Nara park than JR Nara station)  -  50 minutes.
All the buses and subway in Kyoto and Osaka.
Kyoto city center <-> Osaka Umeda/Osaka city center -  45 min
Osaka <-> Kobe city  -  30 min
Osaka <-> Koyasan  -  2h30 min
Osaka <-> Kansai Airport  -  50 min 
And many more destinations in Kansai
   To get discounts on visits
You can receive preferential treatment at nearly 260 facilities including museums, hot spring spas, restaurants and cafes, amusement facilities, temples and shrines throughout Kansai region.
For example, you can get benefits at Osaka Castle, many shrines in Nara... For more details, please check FAQ  "Where can I get additional benefits with the pass?" !
---
How do I buy/use my Kansai Thru Pass?
Delivery to your home before leaving for Japan.
Delivery within 5 working days.
If you would like delivery to your hotel in Japan, this is possible on request by e-mail (contact@japan-experience.com). It is necessary to have your hotel reservation number and to be sure that your stay will take place within the next few days; to avoid any refusal of receipt by the hotel reception.
You can also buy and collect your Kansai Thru Pass directly from one of our branches (Paris, Madrid, London and Berlin), without booking it online first.
The Kansai Thru Passes currently being sent out have an expiry date of May 31, 2024.
Conditions of purchase / cancellation
Japanese residents are not allowed to purchase this pass.
There is a Kansai Thru Pass for children from 6 to 11 years old but Japan Experience does not sell it. The only alternative is to buy an adult Kansai Thru Pass for your children.
Once sent to the address you provided when you purchased it, if you decide not to use it, you can return it to us. We will refund 85% of the purchase price. Shipping costs cannot be refunded.
The Kansai Thru Pass can be used directly at the entrance gates of trains, subways or buses. No need to redeem a voucher/coupon beforehand.
The Kansai Thru Pass is undated and after the first postmark is valid for 3 days, consecutive or not. Each time the pass is cancelled for the first time, the same day is counted as used (1 day, not 24 hours).
Once the pass is used up, it cannot be reloaded like the Suica card. Therefore, for more than three days, you must purchase two or more passes and use them consecutively. You can buy up to 3 passes for one person.
The pass cannot be used on JR lines. Kansai Area Pass and Kansai Wide Area Pass would be more appropriate, even though JR lines do not form the majority of the rail lines in this region.
On Nankai and Kintetsu limited express trains and Keihan premium coaches, a surcharge must be paid on the train. On the other hand, there is no extra charge for Limited Express trains of other companies (Hankyu, Keihan...)
For trips to Koya San, the Kansai Thru Pass is more convenient than the Koya San World Heritage Pass. We explain you why in the "FAQ" section
For travel between Osaka and Kansai Airport (KIX), please refer to the same "FAQ" section below.