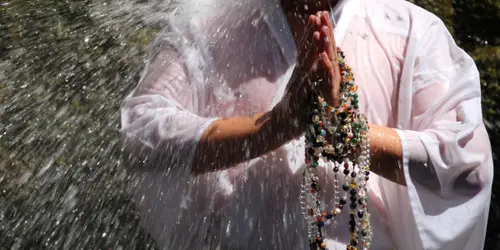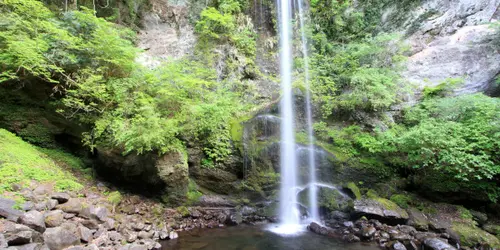 Takigyo, the waterfall ritual
A thousand-year-old Buddhist practice, the waterfall ritual purifies souls, warding off bad luck and bringing the gods of nature closer together.
An extreme form of meditation
Takigyo (pronounced takiguio) is a form of meditation, but instead of sitting in a temple, you are under a waterfall where water, usually very cold, falls on you. This practice is used to test your limits, your mental and physical strength, and to rediscover yourself in extreme conditions.
Although the moment when you slip under the cold water is far from pleasant in itself, people who have experienced it all attest to feeling refreshed, more serene, distanced from the small problems of everyday life, and with a renewed energy.
The waterfall ritual
Takigyo is an ancient practice. For a long time, it was reserved for ascetics, Buddhist monks, Shinto priests or Yamabushi (mountain monks). Although recently popularised among non-practising people, the ritual persists, and takigyo is practised with a series of gestures and customs. There is a prayer before entering the waterfall, and wearing white clothes (in this case, "karate-gi") as a symbol of purity.
Let's take this opportunity to remind you that the Japanese are not bigoted when it comes to religion, and that Shinto or Buddhist religious practices are open to all, whether atheists, agnostics or practitioners of another religion, as they are more a matter of custom or life experience than a sign of religious belonging.
A serene moment in the heart of nature
The name of the waterfall where you will experience takigyo, Yuhi no Taki, means "the sunset waterfall", because of its beautiful sunset. The waterfall is located deep in the mountains around Hakone National Park (known for its hot springs), between Odawara and Mount Fuji. You can experience the takigyo in the middle of the wilderness.
Near the waterfall is an altar dedicated to the unchanging god Fudo-Myo and Amida Nyorai, god of infinite light. The waterfall, whose walls were created from lava, provides a continuous flow of water all year round.
For all and accessible from Tokyo
The meeting point is at Shin-Matsuda station, about 1 hour and 20 minutes from Shinjuku station on the Odakyu line. Then you will take the car with the organisers and the other participants for 20 minutes to eventually reach the waterfall.
The activity is open to everyone, men, and women of all ages, but please make sure that you are in good health and that your body can handle the cold water. Please do not drink alcohol the day before, and for women, make sure you are not pregnant.
What to bring:
Vest, tank top, or swimming costume to wear under the karate-gi
2 towels
Waterproof shoes that you will keep on your feet under the waterfall (avoid sandals, you need closed shoes that hold your feet).
Guarantee:
As places are limited, especially in high season, we reserve the right to offer you another date if the one you have requested is not available. If we are unable to meet your request, we will cancel your order and refund you in full.
Location
---
Takigyo, the waterfall ritual
$73 per person