Book your Regional Japan Rail Pass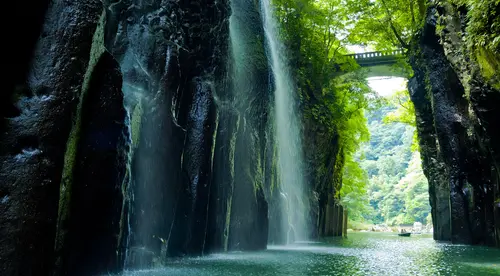 Order your Regional Pass
Edit
Kyushu Pass
ALL KYUSHU BUS & FERRY PASS
---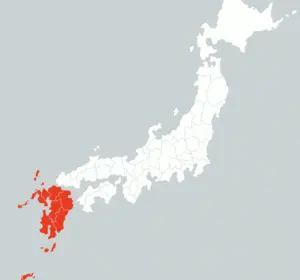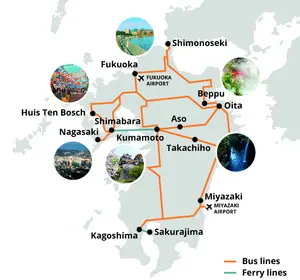 Why this Pass?
●Unlimited bus & ferry rides in all Kyushu area consecutive 4 days
●Visit most of the main tourist spots (Fukuoka Tenjin, Nagasaki, Beppu onsen, Takachiho, Beppu onsen, Sakurajima, Mt Aso area ) in Kyushu and in the Shimonoseki area!
●Online advance booking is available. (Main intercity bus routes) 
(This pass is also called SUNQ Pass)
Where can I use this pass?
This pass is available on all Kyushu area and some Shimonoseki area buses and ferries.
The main available highway bus routes are as follows.
Fukuoka <-> Nagasaki,Sasebo(Huis ten boss)
Fukuoka<->Kumamoto<->Mt.Aso area
Fukuoka <-> Takachiho 
Fukuoka<->Beppu Onsen, Yuhuin
Fukuoka<->Kagoshima<->Sakurajima (with Ferry)
Miyazaki,Nobeoka<->Takachiho
Kagoshima<->Sakurajima
Access buses from the city to Fukuoka Airport and other airports
In addition, the pass can be used on city buses in Fukuoka City, Nagasaki City, etc. (no reservation required)
---
Terms of use 
Your pass pass (e-voucher with QR code) will be delivered by Email within 5 working days after your booking. It is important to check your spam mailbox in case your pass falls into it.
If you want it before as you will need to use it before 5 working days, do not hesitate to contact us.
Exchange your e-voucher for a ticket at the following locations If you wish to start using your pass on a different date, please inform the staff at the counter.
Tenjin Express Bus Terminal (3F, 2-1-1 Tenjin, Chuo-ku, Fukuoka) opening hour :5:15-23:00
Hakata Bus Terminal (3F, 2-1 Hakata Station Chuo-gai, Hakata-ku, Fukuoka) opening hour : 5:30-23:45
Fukuoka Airport Bus Terminal (International Terminal) (739 Aoki, Hakata-ku, Fukuoka) opening hour : 6:20-22:00
The validity period of your e-voucher is 3 months. Please have a look at your e-voucher.
You may redeem your voucher for a pass at any time during the validity period. (You do not need to redeem your pass on the date of participation indicated on the voucher.)
Some express buses require reservations to secure a seat, while others allow passengers to sit freely in empty seats. Once you have decided on your destination, please check if the bus on the route requires a reservation. Please click on the link for details: http://www.sunqpass.jp/english/yoyaku/ 
Please check here if you need to make a reservation.
 [Telephone reservation] 
Kyushu Express Bus Reservation Center +81-92-734-2727 8:00-19:00 Japan time (All year round) 
If you are using the Kyushu crossing bus, please get in touch with the Kumamoto Express Bus Reservation Center. +81-96-354-4845 Japan time 8:00-18:00
If you are using the B&S Miyazaki bus, please get in touch with the JR Kyushu Reservation Center. +81-92-643-8541 Japan time 9:00-18:00
 [Online reservation]
 Reservations can be made from "@bus de" https://www.atbus-de.com/
(Be sure to select "pay on site" when you choose the payment method)
[Bus terminal ticket office]
Booking available at each bus terminal ticket office.
On the day of bus use, present your SUNQ Pass to the ticket counter staff at the ticket office, giving the phone number registered at the time of reservation. You will be issued a seat ticket for your pass.
Before exchanging your voucher and the expiration date, you can cancel your order with a 15% cancellation fee.
No refunds for passes will be accepted after the pass has been redeemed and after the voucher expiration date.