Book your Regional Japan Rail Pass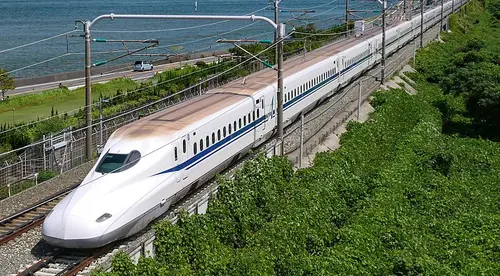 Order your Regional Pass
Edit
Kansai Pass
Kansai Hiroshima JR Pass
---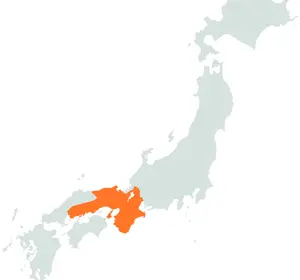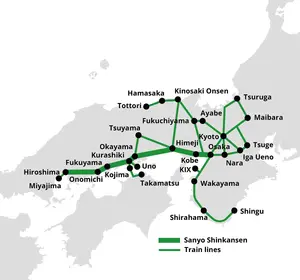 Why buy the Kansai Hiroshima JR Pass?
● Complete access to the Kansai (Kyoto, Osaka and Nara) and Hiroshima area with unlimited rides on the Sanyo Shinkansen (Shin-Osaka<->Hiroshima) for 5 days!
● Convenient travel to and from Kyoto from Kansai International airport (KIX) with the Haruka Airport Express!
● Visit Kyoto, Nara, Osaka, Himeji, Hiroshima and Miyajima (including ferry Miyajimaguchi⇔Miyajima) with the Kansai Hiroshima JR Pass.
Rideable trains with Kansai Hiroshima JR pass:
Bullet Train "SANYO SHINKANSEN" (Shin-Osaka⇔Hiroshima) (reserved seating available). (The Shinkansen Kyoto <-> Shin-Osaka cannot be used with this pass. You need to board a local train to go from Kyoto station to Shin-Osaka (25 minutes regularity every 10 minutes) and change train in Shin-Osaka to board the Shinkansen Shin-Osaka -> Hiroshima.)
The pass can be used to ride the "Hello Kitty Shinkansen".
Express Trains (HARUKA, KUROSHIO, THUNDERBIRD, KOUNOTORI, SUPER HAKUTO (Kyoto⇔Kamigori), etc.) (available for the reserved seats ticket). * An additional fee is required for traveling on SUPER HAKUTO (Kamigori⇔Tottori) and SUPER INABA (Kamigori⇔Tottori)
Special Rapid Services, Rapid Services, and Local trains on JR-WEST Conventional lines
JR WEST MIYAJIMA FERRY (Miyajimaguchi⇔Miyajima)
· This pass is valid on WEST JAPAN JR BUS route buses within the valid area. This pass cannot be used on expressway buses.
* These trains below cannot be used with this pass.
Bullet Train "SANYO SHINKANSEN" (Hakata⇔Hiroshima)
Bullet Train "TOKAIDO SHINKANSEN" (Shin-Osaka⇔Tokyo)
Bullet Train "KYUSHU SHINKANSEN" (Hakata⇔Kagoshima-Chuo)
The Special Rapid "A Seat" paid seating service
How Can I use Kansai Hiroshima JR Pass?
Once the pass is purchased, you will receive an e-voucher within 5 business days to your registered Email.
Please exchange your e-voucher to receive the physical ticket at one of the locations below. Your voucher can be exchanged within 3 months of receving the e-voucher.
(You will need to present your passport )
Kyoto station ticket office  6:30-21:00
NTA TiS Kyoto Branch   10:00-12:00 13:00-16:00
Shin-Osaka station    6:00-22:00
Travel service center Shin-Osaka 8:00-22:00
Osaka station 6:00-22:00
Kansai airport station 5:30-23:00
NTA Tis Osaka branch Weekdays 11:00-18:00 Saturdays and Holidays 11:00-17:30
Sannomiya station 6:00-22:00
NTA TiS Sannomiya branch Weekdays 11:00-18:00 Saturdays and Holidays 11:00-17:30
Nara station 8:00-20:00
Okayama Station 8:00-20:00
Hiroshima station 5:30-23:00
While exchanging, you can decide an activation date from the same exchange date and maximum 1 month after exchange.
How can I reserve a seat?
You can board any train without booking a seat, including Shinkansen (via the "non-reserved" seat cars). 
However, if you wish to reserve a seat, this can be done at a green ticket-vending machine or a station ticket office AFTER exchanging the e-voucher for the pass.
Up to 6 seat reservations can be done per pass. After 6 total seat reservations have been made, pass users will be required to use non-reserved seating options. 
From 1st of October 2023, 6 seat reservations will be lifted up. Unlimited seat reservations will be adopted. 
---
Cancellation policy
This product is not refundable.
Cannot be cancelled or amended.
The Kyoto, Osaka, Kobe, Kurashiki and Hiroshima regions
The Kansai Hiroshima Pass allows you to travel with ease among some of Japan's most sought-after destinations: Kyoto, Osaka, Kobe, Himeji, Kurashiki, and Hiroshima. It includes the use of the Sanyo Shinkansen, the high-speed line that connects Shin-Osaka to Hakata, passing through Okayama, Hiroshima, and Kokura, and it grants access to the Nozomi and Mizuho Shinkansen trains, which are normally off-limits with the Japan Rail Pass. Each of the areas covered by the pass offers a unique and different experience, from the cultural richness of Kyoto to the urban dynamism of Osaka, to the historical beauty of Hiroshima.
Kyoto, located in the Kansai region, is known for its many Buddhist temples, gardens, imperial palaces, Shinto shrines, and traditional tea houses. It's a city that breathes history and culture, with famous sites such as the golden temple of Kinkaku-ji and Fushimi Inari Taisha with its thousands of torii gates.
Osaka, the second-largest metropolis in Japan after Tokyo, is renowned for its modern food culture and bustling nightlife. The Dotonbori district is particularly popular for its restaurants and neon signs, while Osaka Castle offers a glimpse into the city's history.
Kobe, a cosmopolitan port city nestled between the sea and mountains, is famous for Kobe beef, sake breweries, and its Chinatown district, while Himeji Castle is a UNESCO World Heritage site, an architectural masterpiece from Japan's feudal era.
Kurashiki, with its Bikan historical quarter, transports visitors back to the Edo period with its merchant houses and picturesque canals.
Lastly, Hiroshima, a city that bears the heavy scars of its past, offers visitors the opportunity to reflect on the consequences of war. The Hiroshima Peace Memorial Park, Atomic Bomb Dome, and Peace Memorial Museum are poignant sites not to be missed.
With the Kansai Hiroshima Pass, you have the freedom to explore these five destinations. Here is our suggested itinerary to follow with this pass.
---
Step 1: Kyoto
Begin your adventure in Kyoto, Japan's ancient imperial capital, a treasure trove of cultural and historical delights. Visit the majestic golden temple of Kinkaku-ji with its stunning reflective pond. Make a detour to the Silver Pavilion, Ginkaku-ji, known for its sublime Zen rock and sand garden. Take a stroll along the Philosopher's Path, lined with hundreds of cherry trees, and if you're lucky to visit during sakura season, you'll find yourself in a tunnel of pink blossoms.
Finally, don't miss a visit to the Gion district, where you may spot geishas heading to their evening appointments. It's also a great place to sample kaiseki cuisine, a traditional form of Japanese meal that consists of multiple small dishes delicately prepared.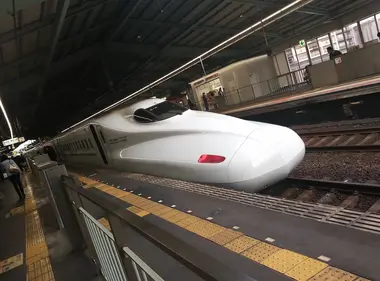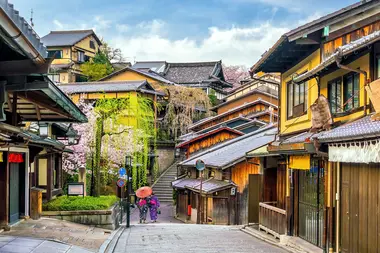 Step 2: Osaka
From Kyoto, take the JR Shin-kaisoku train to Osaka, a bustling metropolis known for its vibrant food culture. Soak up the atmosphere by wandering through the lively streets of Dotonbori, with its giant advertising signs and restaurants serving a variety of local dishes like takoyaki (octopus balls) and okonomiyaki (savory pancakes).
Don't miss a visit to Osaka Castle, a major historic monument offering a fascinating insight into Japanese history. The vast gardens surrounding the castle are particularly beautiful during sakura season, when cherry blossoms add a splash of color. Also, explore Osaka's Kaiyukan Aquarium, one of the largest and most impressive in the world, where you can get up close with a wide variety of marine creatures, from whale sharks to penguins.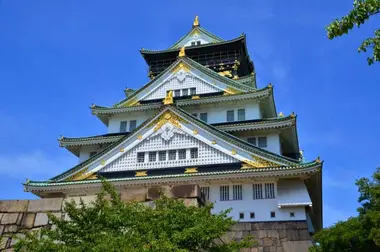 Step 3: Kobe/Himeji
Your next stop is either Kobe or Himeji, two distinct cities each with much to offer. Kobe, with its international atmosphere, is famous for its world-renowned beef. Treat yourself to a memorable meal at one of the many restaurants specializing in Kobe beef, and be sure to visit the Hakutsuru Sake Museum to learn more about the production process of this traditional Japanese alcoholic beverage. Mount Rokko offers stunning views over Kobe city and Osaka Bay, especially at night when the city lights up.
If you opt for Himeji, your primary destination will be Himeji Castle, often considered the most spectacular of Japan's twelve original castles still standing. Nicknamed the "White Heron" due to its striking white exterior, this UNESCO World Heritage site is a remarkable example of 17th-century Japanese castle architecture. Take a stroll through the castle gardens, full of cherry trees, for a particularly memorable experience during sakura season.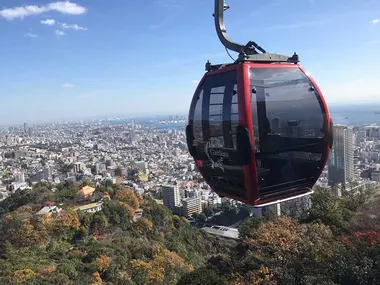 Step 4: Kurashiki
Located in Okayama Prefecture, the city of Kurashiki is a historical gem. The Bikan district is the main attraction, with its willow-lined canals, cobblestone streets, and traditional white-walled, black-tiled warehouses dating back to the Edo period. These warehouses have been converted into a variety of museums, shops, and cafes.
Don't miss the Ohara Art Museum, founded in 1930, which is Japan's first museum of Western art. Its collection features works by European masters such as El Greco, Matisse, Gauguin, and Renoir, as well as famous Japanese artists. For a more modern experience, the Okayama Prefecture Contemporary Art Museum, also located in Kurashiki, offers a variety of temporary and permanent exhibitions featuring works by contemporary artists from around the world.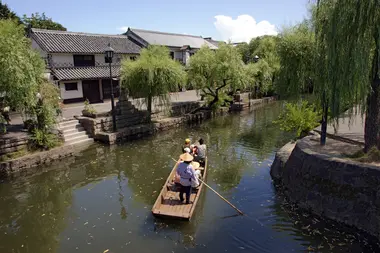 Step 5: Hiroshima and Miyajima
Conclude your journey with a visit to Hiroshima, a city that was gracefully and determinedly rebuilt after the tragic atomic bombing in 1945. Visit the Peace Memorial Park and Peace Memorial Museum to understand the impact of this event and the city's dedication to promoting peace.
Then, take a ferry to the island of Miyajima, also known as Itsukushima. Marvel at the grand red torii gate of Itsukushima Shrine, which appears to float at high tide. Explore the island, with its peaceful temples, hiking trails, and local population of deer. Don't forget to try the local okonomiyaki, a type of savory pancake topped with various ingredients, before concluding your journey through Kansai and Hiroshima.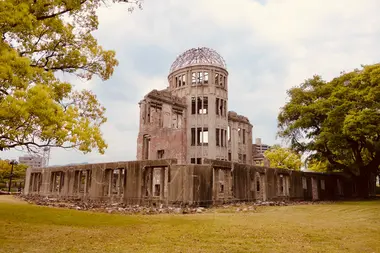 More information about Kansai Hiroshima Pass
Terms of use
The voucher is valid for 5 consecutive days.
Seats can be redeemed a maximum of 6 times. After these 6 total seat reservations have been made, passs users will be limited to non-reserved seating. 
※If the number of rides exceeds the number of reserved seats, the original ticket can be used to board the unreserved train directly, including Shinkansen.