Book your Regional Japan Rail Pass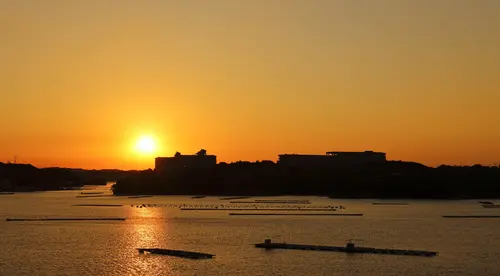 Order your Regional Pass
Edit
Kansai Pass
Kintetsu Rail Pass 5 days plus
---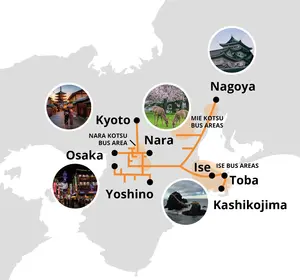 Why Kintetsu 5 day Pass plus?
● Cover Kyoto <-> Nara; Osaka <-> Nara; Kyoto/Osaka/Nagoya <-> Ise/Toba and Kashikojima; Osaka <-> Yoshino and all buses in Nara, Ise and Toba areas. 
● You do not need to buy a ticket each time with google map to take a train, reduce your stress with this pass!
● Easy planning to visit the famous Kyoto Kinkaku-ji, Osaka castle, Nara deer park, Ise Jingu Grand Shrine, Toba Pearl Island, Aichi Ghibli park and Suzuka circuit (F1 Japan Grand prix circuit) with this pass!
Why Japan Experience recommends Kintetsu 5 day Pass plus: 
Kintetsu railways is the best way (better than JR) to link Kansai (Kyoto, Osaka and Nagoya) with Nara, Ise and Toba. In addition this pass includes buses in Ise and Toba areas, to reach the most famous touristic places far from train stations : like Ise Jingu grand Shrine or the Married Couple Rocks Meoto Iwa.
---
Terms of use
After your order, we are going to send you the e-voucher by Email within 5 business days.If you want it before as you will need to use it before 5 working days, do not hesitate to contact us.
Please visit the following Kintetsu station offices next to the ticket machine below and exchange your voucher (No need to be printed out, show it on the phone) to get a physical ticket! 
All offices are open from the 1st train to the last train everyday.
Kyoto : Kyoto station
Osaka :

Osaka-Namba station
Osaka-Uehommachi station
Osaka-Abenobashi station

Nara : Kintetsu-Nara station
Nagoya : Kintetsu-Nagoya station
Mie prefecture ; Tsu station
N.B: To board a Limited Express train, a Limited Express ticket is required in addition to KINTETSU RAIL PASS. Kintetsu Limited Express tickets can be purchased at a Limited Express ticket counter marked with station. Shimakaze special trains, Aoniyoshi and Hinotori can be boarded with a third special ticket, with pre-booking.
Who is eligible for this pass?
To use this pass you must be a foreign tourist visiting Japan from abroad for sightseeing, under the entry status of temporary visitor.
Therefore, Japanese passport holders nor foreign residents in Japan cannot use this pass. Your passport and visa stamp on it will be controlled at the time of voucher exchange. If your passport is a Japanese one or if you entered Japan without temporary visitor status (meaning if you are not a tourist but a long-term resident), you will not be able to exchange your voucher for the real pass and Japan experience will not be able to refund it.
Cancellation policy
Only unredeemed tickets within the validity period can be canceled. However, after the reservation is confirmed, it cannot be canceled after 23:59 local time one day before the participation date (the date selected at the time of reservation).