Access from Japan's Major Airports
Travel within Japan - Arrival in Japan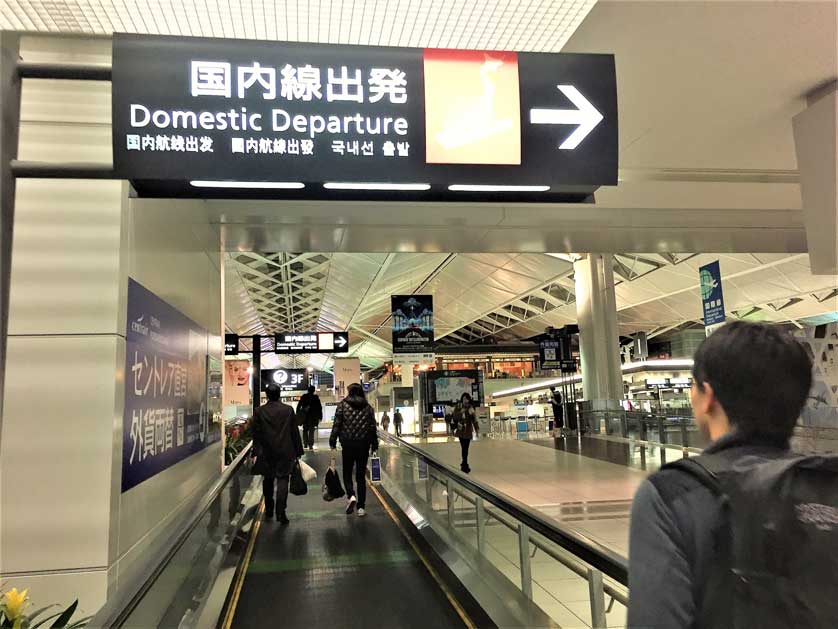 After a mindnumbingly long flight to Japan, a long trek into the city may yet await you depending on which airport you land at. Japan is densely populated, and on top of that commercial flights must compete with US military planes for air space. As a result, airports are often built far away from city centers, either in rural areas or even on man-made islands.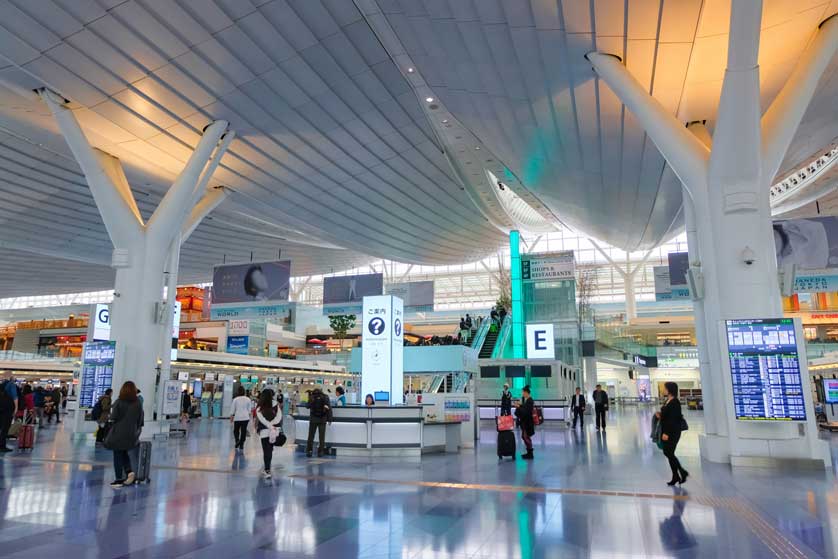 Haneda Airport, Tokyo.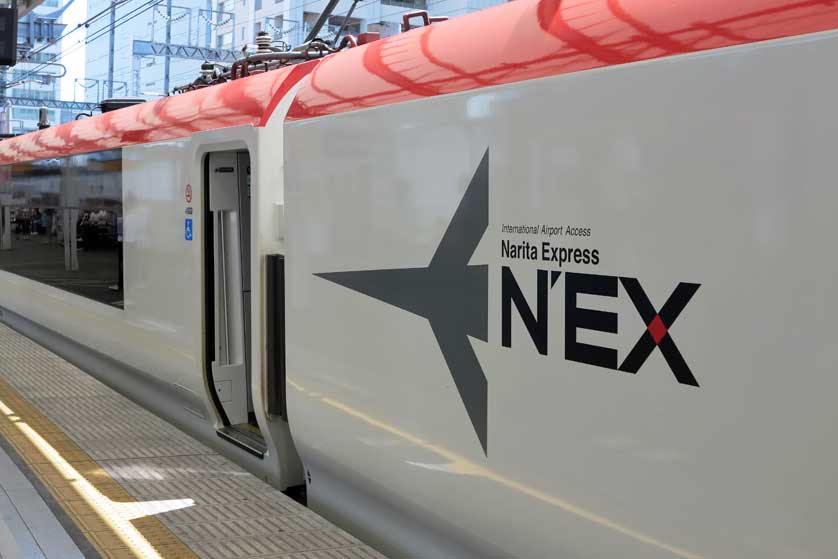 Narita Express train at Musashi-Kosugi Station
The train is usually the best option for getting into to Tokyo, Nagoya, Osaka, or Kyoto. It avoids traffic and is usually punctual. Taxis can be expensive. For options from Narita, Haneda, Chubu, and Kansai, read on.
Narita International Airport (Tokyo) (NRT)
Narita was once a small isolated farming village 66 km (41 miles) from Tokyo (and the site of violent resistance by farmers to the airport, which lasted decades and only recently abated). Urban development is encroaching ever deeper into rural areas, but the 66km trip into Tokyo from Narita International Airport (NRT) is still something of a journey through the countryside.
Rail from Narita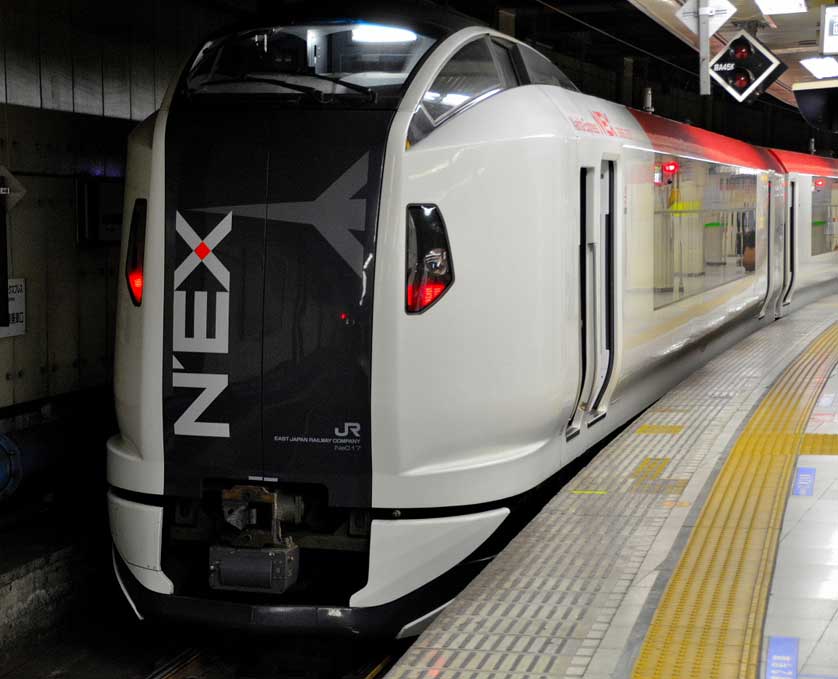 Japan Rail (JR) from Narita
JR Narita Express (NEX) goes to
Ordinary JR Rapid trains go into Tokyo on the Sobu/Narita line (80 min, 1,323 yen).
N'EX Tokyo Round Trip Ticket
The N'EX Tokyo Round Trip Ticket (for non-Japanese passport holders) offers a round trip from Narita Airport to Tokyo Station for 4,000 yen for travel in an ordinary car of the Narita Express train reserved seat (not Green Car). The N'EX Tokyo Round Trip Ticket is valid for 14 days.
N'EX Tokyo Round Trip Ticket can be purchased from the JR East Travel Service Centers and from JR Ticket Offices (Midori-no-madoguchi) at Narita Airport Terminals 1 and 2·3.
The normal fare from Narita Airport to Tokyo Station is 3,020 yen.
The "NEX Tokyo Direct Ticket" was discontinued in March 2015.
Ordinary fares to Tokyo are 3,020 yen, Shinagawa, Shibuya, Shinjuku, Ikebukuro 3,190 yen, Omiya 3,840 yen, Yokohama 4,290 yen and Ofuna 4,620 yen.
This one-day ticket is available only to non-Japanese and only at Narita Airport. You must show your passport to qualify.
For Japan Rail Pass holders
If you have already purchased a Japan Rail Pass in your home country, exchange it for a rail pass at the JR View Plaza Travel Service Center, or the normal JR ticket counter if View Plaza is closed). The Narita Express is free with a Japan Rail pass. Also, you can make any ongoing JR reservations right here.
Keisei Electric Railway from Narita
The Keisei Railway runs two kinds of train into Tokyo from Narita Airport: the Skyliner and the Access Express.
Keisei Skyliner
The Keisei Skyliner Airport Express runs on the Narita Rapid Railway Access Line and covers the 51.4km route in just 36 minutes (2,470 yen). 54 Sky Access trains run daily.
Keisei's ordinary limited express will get you there in 75-80 minutes (1,030 yen). You can use a pre-paid Suica card on this train.
The Keisei line connects with the JR line at Nippori and Ueno stations. The changeover to the JR Yamanote line is easier at Nippori as you do not have to leave the station. Changing over at Ueno means exiting the station and crossing the road. However, if you are taking a shinkansen (bullet train), change at Ueno.
Keisei Skyliner & Tokyo Subway Ticket
The Keisei Skyliner & Tokyo Subway Ticket is a package sold by Keisei offering a discounted combination of a one-way or return Keisei ticket between Narita and Nippori plus a 1-, 2- or 3-day Tokyo subway pass. Prices range between 2,800 yen (saving 670 yen) and 5,400 yen (saving 2,540 yen).
Keisei Access Express
The Keisei Access Express runs between Narita Airport and, "officially," Higashi-Ginza, but staying on the train will take you all the way to Haneda Airport running on the Toei Asakusa subway line. Take the Access Express, if you want to go directly to Asakusa (75 min, 1,290 yen) or Ginza (Higashi Ginza station, 90 min, 1,160 yen) or Haneda (100 min, 3,800 yen).
Keisei Train Timetable and other boarding information
Bus from Narita
There are many bus routes in to Tokyo. Fares begin at 1,200 yen. Except at rush hour, the journey to most points in Tokyo should take about 90 minutes. If you are booked into a fairly major hotel, this can be the most convenient and hassle-free door-to-door option. Also, bus is the easiest way to transfer to Haneda Airport.
Narita Airport Limousine Bus Timetable
Click here for Keisei bus routes and information. (The Terminal 1 and Terminal 2 at the top refer to the terminals of Narita International Airport).
Keisei Bus Timetable
NRT Tourist Information Centers
Narita International Airport
Tel: 0476 34 6251
Narita International Airport
Narita International Airport Terminal 1
Tel: 0476 33 1630
JR Narita International Airport Station
Narita International Airport Terminal 2
Tel: 0476 34 6008
JR Narita International Airport Terminal 2 Station
Narita City Tourist Information Office
Tel: 0476 24 3198
JR Narita Station (NB, not to be confused with JR Narita International Airport Station!)
Narita Airport Transfer shuttle service to/from Tokyo
Tokyo International Airport (Haneda) (HND)
Commonly known as 'Haneda', Tokyo International Airport (HND) in Tokyo's Ota ward is one of the busiest airports in the world with links to multiple airports domestic and international.
Tokyo International Airport adjoins Tokyo Bay in the south-east of the city and is readily accessible from most parts of Tokyo.
Rail from Haneda
You can take either the Keihin Kyuko (i.e. Express) Railway or the Tokyo Monorail. The Keihin Kyuko will get you to Shinagawa Station on the Japan Rail Yamanote Loop Line (20 min, 400 yen) or Yokohama Station (25 min, 450 yen).
Keihin Site
The Tokyo Monorail goes to Hamamatsucho, which is on the Yamanote Loop Line (20 min, 470 yen).
Tokyo Monorail Site
Bus from Haneda
Depending on your arrival time, a bus ride can be very slow. Try to avoid buses during morning and evening rush hours. However, if you are booked in to a well-known hotel in Tokyo, a bus may well be the most efficient and hassle-free door-to-door way to go.
Haneda Bus Timetable
HND Tourist Information Center
Tokyo Tourist Information Center
Tel: 03 5757 9345
Tokyo International (Haneda) Airport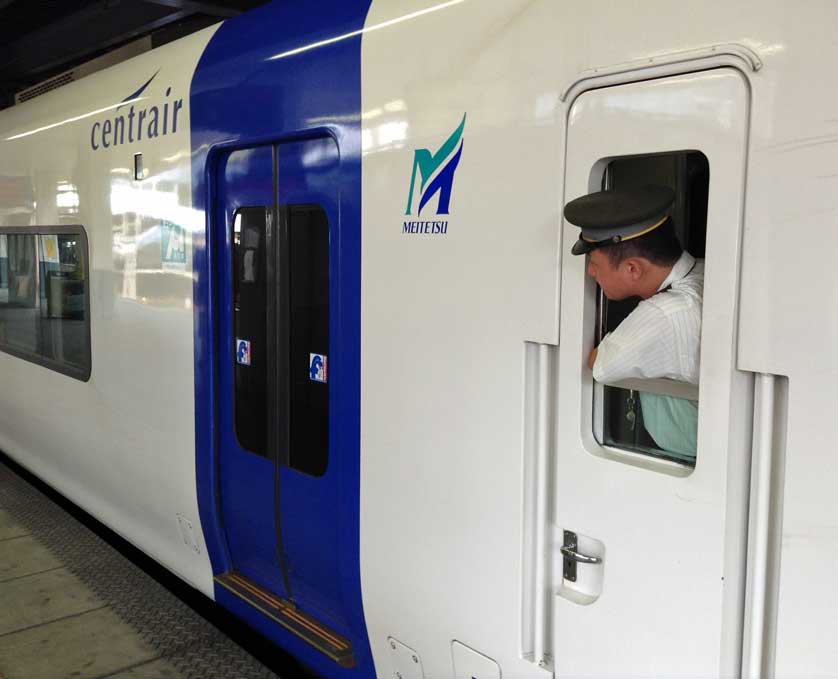 Meitetsu Airport Rapid Limited Express "μ-SKY" at Chubu International Airport south of Nagoya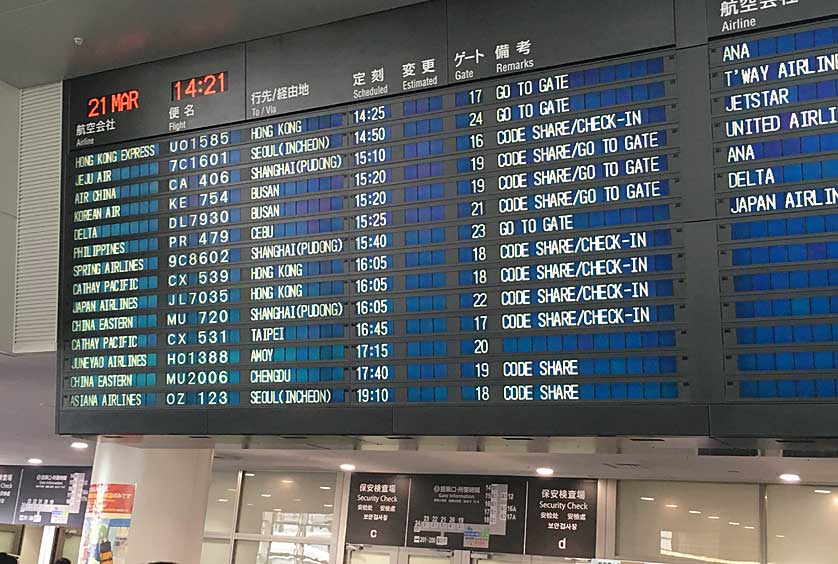 Chubu International Airport Departures Board
Chubu Centrair International Airport (Nagoya) (NGO)
Chubu (i.e. 'Central Japan') Centrair International Airport opened in 2005. Built on an artificial island, it is only about 30 minutes by express train from Nagoya.
All transport out of the airport leaves from the Access Plaza. Luggage trolleys can be taken all the way to your transportation.
Rail from Centrair
Rail transport out of Centrair is by Nagoya Railroad Co., AKA Meitetsu, on the Meitetsu Airport Line.
The Rapid Limited Express Train takes 28 minutes to Nagoya Station (820 yen). Change here for the JR Tokaido shinkansen (bullet train) line, the ordinary JR line, the Kintetsu line, the Aonami line, or the subway.
The Rapid Limited Express Train is all KY ( = 'mu'), i.e. first-class reserved-seat cars (wheelchair friendly), while the Limited Express has both KY and ordinary cars. KY cars require a 350 yen surcharge.
Rapid Express and Express trains are also available for the same price, but make more stops.
Bus from Centrair
The bus to Nagoya Station takes 55 minutes and costs 1,200 yen.
Centrair Bus Timetable
High Speed Boats
There are 15 boats a day between Centrair and Tsu (Nagisamachi) in Mie Prefecture. The first boat is at 7 am with the last sailing at 10 pm. The fare is 2,470 yen and the journey takes 45 minutes. There are also bus connections from Tsu to both Ise Jingu and Toba with the 11 am and 4 pm High Speed boats from Centrair. In the opposite direct buses leave Toba at 9.55 am and 2.40 pm calling at Iseshi Station at 10.25 am and 3.25 pm for the journey to Tsu and connections with the boats to Centrair. The journey to Toba takes 2 hours 50 minutes and costs 3,200 yen for adults.
Chubu International Airport High Sped Boats Departures
Kansai International Airport (KIX) (Osaka-Kyoto-Kobe-Nara)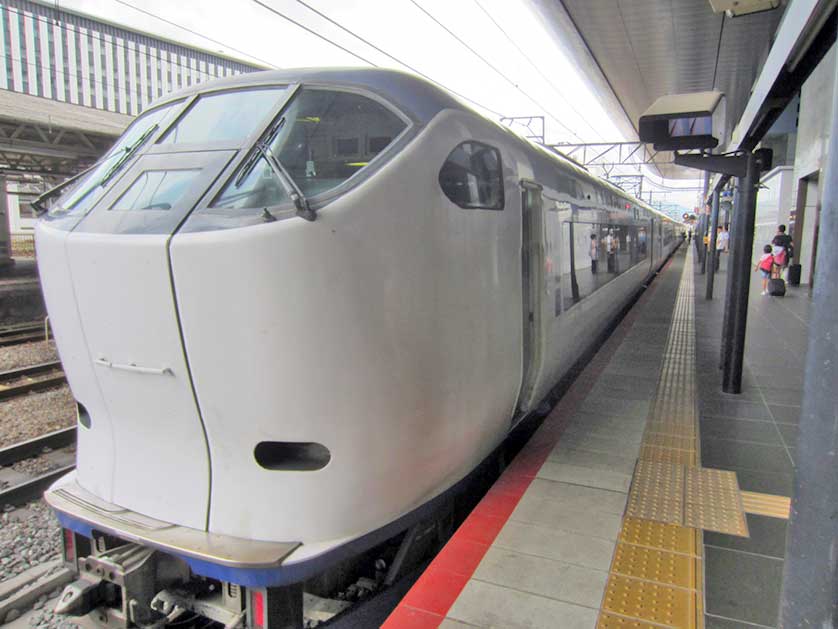 Built, as with Centrair, on a man-made island, Kansai International Airport is an engineering marvel set in Osaka Bay. The trip from the Renzo Piano-designed airport - the most stylish in Japan - to Osaka takes less than 45 minutes. Kobe is accessible by high speed ferry. Kyoto takes 73 minutes.
Rail from Kansai
Japan Rail (JR) from Kansai
The JR Rapid Service (AKA Kanku-kaisoku), while the less convenient of the two Japan Rail train options, is the cheaper. It goes to Tennoji Station (43 min, 1,030 yen), and then follows the JR Osaka Loop Line to Osaka Station City (63 min from KIX) and finally Kyobashi (72 min, 1,160 yen). Trains depart about every 20 minutes. Often standing room only.
To get to the Shin-Osaka shinkansen (bullet train) station, you will have to change to the JR Kyoto line and go one stop north to JR Shin-Osaka station.
The JR West Haruka limited express runs along the same tracks as the JR Rapid Service, but more quickly. It goes from KIX to
Tennoji (29 minutes, 1,760 yen)
Shin-Osaka (45 min, 2,470 yen)
Kyoto (73 min, 2,980 yen).
Trains leave approximately every half hour. Certain trains may stops at additional stations, and some may go on to Maibara.
While somewhat more expensive than the Kansai Airport Limited Express described above, the Haruka is the recommended means of travel for those going to Kyoto. It also has the advantage of connecting directly with the shinkansen (bullet train) at Shin-Osaka.
JR Timetable
Nankai Railways from Kansai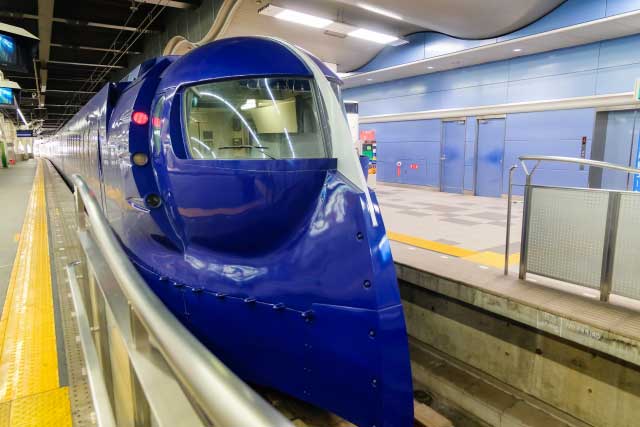 Nankai rapi:t train
Visitors heading directly for the center of Osaka are advised to use Nankai Railways.
rapi:t is Nankai Railway's equivalent of JR's Haruka. It goes from KIX to Namba (33 min, 1,390 yen).
However there are two kinds of rapi:t: the rapi:t α and the rapi:t β, rapi:t α being the faster.
rapi:t α after leaving KIX stops at Rinku Town, Izumi-sano, Tengachaya, Shin-Imamiya, then Namba.
rapi:t β after leaving KIX stops at Rinku Town, Izumi-sano, Kishiwada, Sakai, Tengachaya, Shin-Imamiya, then Namba.
Nankai Railways also operates Airport Express trains to Namba (75 min, 890 yen) and regular local trains (90 min, 890 yen).
No English language timetable available.
Bus from Kansai
Airport Limousine Buses leave from in front of the arrivals hall (1F). If you are booked in to a major hotel in Umeda, bus is probably the most efficient, hassle-free option, taking about 60 minutes and costing about 1,300 yen.
Bus is also recommended for going to Kobe (60 min, 1,800 yen), and especially for transferring to Osaka's Itami Airport (70 min, 1,700 yen).
Kansai Intl Airport Bus Timetable
High Speed Ferry from Kansai
Boats leave for Kobe every 45 minutes (30 min, 1,500 yen).
Ferries used to leave once every two hours to Sumoto on Awaji Island (50 min, 2,500 yen) but this service was discontinued in 2007.
Kansai Intl Airport Ferry Schedule
KIX Tourist Information Center
Osaka Kansai Airport
Tel: 0724 56 6025
Osaka Kansai Airport
Train Schedules
For train schedules and routes throughout Japan. Hyperdia
Travel within Japan: view access routes and fares from Japan's major airports to urban areas - Narita, Haneda, Kansai International and Chubu Airports.
All the themes of the city