Japan Festivals - January
January Japan Festivals 1月の祭り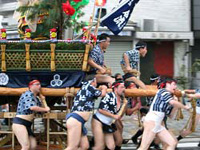 Japan has an abundance of local festivals - matsuri - connected with shrines and temples throughout the country. Most festivals in Japan are held on an annual basis on a particular set date. Japan's festivals often celebrate the changing of the seasons, special historical events or are connected with fertility or prayers to the gods for good health.
Most festivals in Japan are colorful, lively and joyous affairs often involving a procession with participants in period dress or happi coats carrying through the streets a mikoshi - a special, decorated palaquin containing the local Shinto kami (gods). Many festivals in Japan may also involve large, decorated floats (such as the famous Gion Matsuri in Kyoto), exhibitions of martial arts such as archery and horse-riding, music, dancing and copious quantities of food and drink served up from yatai, or street stalls.
JapanVisitor's listing of festivals in Japan is categorized by month. If you know of a Japanese festival not listed here or if you believe any of the information here is inaccurate please contact us. Check dates and times with your local Japan tourist office for confirmation before attending a festival.
Summer music festivals in Japan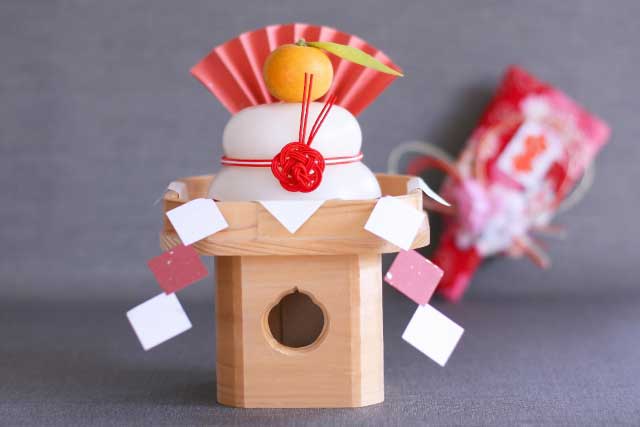 January Japan Festivals
O-shogatsu
1-3 January
Nationwide
Shinto shrines around Japan hold New Year (o-shogatsu) festivals where visitors come to pray for good fortune and good health for the coming year. Similarly in Japanese Buddhist temples, visitors come to mark the changing of the year. particularly popular shrines at New year include Meiji Shrine in Tokyo, Atsuta Shrine in Nagoya and Yasaka Shrine in Kyoto.
Horan Enya
1 January
Bungo Takada City, Oita Prefecture
Decorated boats are rowed out into the harbor by young men who offer a prayer for safety at sea and large catches. At this point men from both sides of the shore dive into the sea and swim to the opposite shore.
Nishikata Mizukake Festival
1 January
Nishikata, Miharu-machi, Tamura-gun, Fukushima Prefecture
1 January
An ancient local community rite where, after praying at the local Shiogama Shrine, young men head to a nearby well where they splash each other with buckets of (freezing cold!) water. About 20 minutes drive east from Koriyama Station on the Tohoku Shinkansen line.
Tokiwa Hachimangu Toshina Hono
1 January
Tokiwa Hachimangu Shrine, Fujisaki-machi, Minamitsugaru-gun, Aomori Prefecture
A New Year morning festival with an over 350-year history where a line of men wearing nothing but loincloths in midwinter bear on their shoulders a massive 4.4 meter long, 2.3 meter thick "year-rope" (toshina) weighing over 400 kg to the local Tokiwa Hachimangu Shrine, chanting "Saigi, saigi, dohkoh saigi!" as a prayer for safety and plenty throughout the coming year. Accompanied by a nabe stew competition among local shops.
Dainichi-do Bugaku
2 January
Kazuno, Akita Prefecture
A series of 11 traditional bugaku dances held at the venerable Dainichi-do shrine. Though its origins are unclear, the festival is said to be associated with the restoration of the shrine in 718.
Amamehagi
2-6 January
Suzu, Wajima and Monzen, Noto Peninsula, Ishikawa Prefecture
Amamehagi, also known as namahage, visit the houses of young children in order to warn them not be lazy in the new year.
Hakozakigu Tamaseseri
3 January
Hakozaki-gu Shrine, Fukuoka
Two groups of semi-naked young men take part in a vigorous struggle to catch a sacred ball which is said to bring good luck to the winning team in the coming year.
Daruma Matsuri
3 January
Kita-in Temple, Kawagoe, Saitama
Daruma dolls are sold as good luck charms to help wishes come true at the Daruma Matsuri at Kita-in Temple in Kawagoe, Saitama Prefecture. Old daruma dolls are also collected to be burnt.
Joma Shinji Festival
5 January
Tsurugaoka Hachimangu Shrine, Kamakura
The Joma Shinji matsuri in Kamakura sees participants dressed as samurai warriors shoot arrows at a 60 cm target, with the Chinese character for oni written on the back. Each successful shot drives away the devils.
Shorin-zan Daruma-ichi
6-7 January
Hanadaka-machi, Takasaki, Gunma Prefecture
Thousands gather throughout the day and the night to pray for good luck and to buy daruma dolls for the coming year. The first and largest daruma festival in Japan.
Nanokado Hadaka-mairi
7 January
Yanaizu, Fukushima Prefecture
Unusual naked festival known throughout Japan in which young townsmen dressed only in loincloths (fundoshi) rush to climb a rope to the ceiling of Nanokado temple to capture a holy charm.
Usokae Onisube
7 January
Dazaifu Tenmangu, Dazaifu, Fukuoka Prefecture
In the evening, visitors gather around a dying bonfire at this shrine in Dazaifu near Fukuoka to exchange carved wooden usokae (bullfinches), hoping to end up with one of the gilt wooden carvings circulated by disguised shrine officials. The intent is to exhange 'lies for truth' since uso also means 'lie'.
Coming of Age Day is on or around January 15
Tamataregu Oniyo
7 January
Kurume, Fukuoka Prefecture
Spectacular fire festival in which six huge torches weighing two tonnes each are held aloft with poles by 300 loincloth clad men who proceed to carry them around the temple seven times.
Dondo Yaki
8 January
Torigoe Jinja, Daitoku, Tokyo
Mochi (rice cakes) are toasted over fires of burning New Year (o-shogatsu) decorations.
Katsube no Himatsuri
2nd Saturday in January
Katsube, Shiga Prefecture
Large feather duster shaped torches (over 20ft long) are set alight by loincloth-wearing local men. In the intense heat, they spin round energetically in groups in front of a crowd of onlookers.
Hatsu-ichi
9 January
Maebashi, Gunma Prefecture
This event has its roots in an ancient raw silk market that took place twice a month. Now it is an annual daruma market where you can also see lion dances, mikoshi and Karyu drumming.
Kyoto Ebisu Matsuri
8-12 January
Ebisu Shrine, Kyoto
Festival dedicated to Ebisu, the god of business and prosperity at Ebisu Jinja in Kyoto. Rice cakes distributed to participants plus kagura and bugaku (court music) dancing.
Nishinomiya Ebisu Matsuri
9-11 January
Nishinomiya Shrine, Hyogo Prefecture
Festival dedicated to Ebisu, the god of business and prosperity. The largest of its kind in the Kansai area and dating back to the Edo Period. Crowds race to be the first to smash open a barrel of sake which is served to everyone. Usually won by a fleet-footed student who claims the title of fuku-otoko or Lucky Man.
Toka Ebisu
9-11 January
Imamiya Ebisu Shrine, Osaka
Three-day festival dedicated to Ebisu, the god of business and prosperity at Imamiya Ebisu Shrine in Osaka. Features a procession of women in colorful kimono carried on floats through the main streets.
Hatsuichi
10 January
Yamagata, Yamagata Prefecture
Famous market dating back to the Edo Period (1603-1867). Sells food, furnishings and other goods at low prices.
Sagicho
11 January
Oiso, Naka-gun, Kanagawa Prefecture
The ritual burning of shogatsu decorations and charms and amulets from the previous year. Eating dumplings toasted over the fire is said to bring good luck.
Daikoku Festival
13 January
Kanda Myojin Shrine, Tokyo
A purification ceremony at Kanda Myojin Shrine in Chiyoda-ku, Tokyo. Men and women in loincloths or white gowns pour icy water over themselves between 10-10.30am. Access: Kanda Myojin Shrine is a short walk from Ochanomizu Station on the JR Chuo Line, Sobu Line or Marunouchi Subway Line.
Dondo-sai
14 January
Osaki Hachiman Jinja, Sendai, Miyagi
Ritual burning of shogatsu (New Year) decorations featuring a small naked festival at Osaki Hachiman Jinja in Sendai.
Niino no Yukimatsuri
14 January
Izu shrine, Niino, Nagano Prefecture
Offerings of snow are made to the gods as a prayer for good crops in the coming year. Traditional dances are performed through the night.
Hadaka Odori
14 January
Hokaiji Temple, Kyoto, Kyoto Prefecture
Two groups of bare-chested youths push each other shouting "chorai, chorai" (Mercy on me Buddha) to pray for prosperity and good harvests.
Doya Doya
14 January
Shitenno-ji Temple, Osaka
Two groups of loincloth-wearing men confront each other and struggle energetically for the possession of a sacred amulet.
Yaya matsuri
15 January
Amarume-machi, Yamagata Prefecture
Boys aged 6-14 wearing only grass skirts gather at Yawata Shrine in order to be doused with cold water. They then parade around the neighborhood before returning the shrine to pray for good health.
Toshi-ya
2nd Monday in January
Sanjusangen-do Temple, Kyoto
Coinciding with Coming of Age Day, over 1,000 archers in traditional dress line up to shoot arrows at a distant target (120m) along the length of the famous Sanjusangendo Temple. The festival dates back to 1606 when a samurai shot 51 arrows in record time along the temple veranda.
Chakkirako
15 January
Kainan Jinja, Miura, Kanagawa Prefecture
Ten or more elegantly dressed young girls perform traditional dances holding chakkirako, a ceremonial instrument consisting of bells and paper pennants with a wooden handle.
Ebisu Daikoku Tsunahiki
15 January
Suruga, Fukui Prefecture
The two gods of prosperity, Ebisu and Daikoku, are pitted against each other as teams representing each take part in a tug-of-war. As Ebisu traditionally holds a fish, a win for his team is said to mean good catches at sea. A win for Daikoku is said to bring good harvests.
Nozawa Dosojin Himatsuri
15 January
Nozawa Onsen, Nagano Prefecture
A famous fire festival in which a 65ft shrine built by 25 and 42-year-old men (considered unlucky ages in Japan) is burned as a ritual of purification that prepares the people for the coming year. Later, after heavy drinking of sake, the 25-year-olds, armed with pine branches, defend the shrine from attack by the older men who wield torches lit from the sacred bonfire.
Wakakusayama Yamayaki
15 January
Wakakusayama, Nara Prefecture
Every year, 33 hectares of turf on the slopes of Wakakusayama (also known as Mikasayama) is burned in a brief but spectacular blaze that seems to engulf the whole mountain.
Matobakai
15 January
Kumamoto
Naked festival in which loincloth-wearing men, battle for possession of an archery target in a throng that starts in the town of Kumamoto, moves on to the coast and ends up in the sea.
Ume Matsuri
15 January - 12 March
Atami Baien, Atami, Shizuoka Prefecture
All manner of ume (plum) related goods on offer and a range of entertainments to celebrate the plum blossoms at one of the most famous plum-viewing spots in Japan.
Hetomato
16 January
Fukue, Nagasaki Prefecture
Richly-varied festival opening with sumo-wrestling at Shirahama Shrine followed by hanetsuki, a traditional game played at shogatsu, kemari, a football like game played in ceremonial dress, a tug of war involving semi-naked men with their bodies painted entirely black and a giant straw sandal (358kg) being paraded around town.
Tokuwa no Tenjinsai
late January
Higashi-yamanashi-gun, Yamanashi Prefecture
Mikoshi parade in honor of the Heian Period (794-1192) nobleman Sugawara no Michizane who is revered as Tenjin, god of scholarship and learning.
Jyogyodo Hatsuka Yasai
20 January
Motsu-ji Temple, Hiraizumi-cho, Iwate Prefecture
Naked festival in which loincloth-wearing men march in line following a torch bearer in front. On reaching Motsu-ji Temple, they battle for possession of sacred charms.
Tenmangu Kowakamai
20 January
Setaka, Fukuoka Prefecture
Performances of the oldest style of bugaku in Japan. The dances performed here are said to be the forerunners of later styles.
Shiwasu Matsuri
20 January - 20 February
Mikado Jinja, Nango, Miyazaki Prefecture
Celebrates the area's history as the site to where Korean nobles of the kingdom of Paekche fled after their defeat in battle in the 7th century. Features a re-enactment of the meeting between the Paekche king and his son as well as traditional dances.
Taikan Misogi
3 days around 20 January
Kasuga Jinja, Hofu, Yamaguchi Prefecture
Held on what is decreed to be the coldest day of the year. Participants soak themselves in a bath of cold water before hot drinks and porridge. Said to ward off colds in the coming year.
Sugamo Togenuki Jizo Taisai
24 January
Kogan-ji Temple, Toyoshima-ku, Tokyo
Major festival of Kogan-ji Temple at which around twenty priests read over the 'Sutra of Great Wisdom' while the temple and its surrounds throng with street stalls and visitors.
Usokae Shinji
24-25 January
Kameido Tenjin Shrine, Koto-ku, Tokyo
Visitors come to swap year-old bullfinch carvings for new ones. Uso means both 'bullfinch' and 'lie' and the exchange symbolises exchanging the bad luck of the year gone by with the good luck of the coming year.
Sounkyo Ice Festival
29 January - 5 March
Sounkyo Onsen, Hokkaido
Snow and ice sculptures including tunnels and domes join the natural spectacle of a frozen waterfall for this winter extravaganza in Sounkyo Onsen. Colored lights and fireworks add to the magic in the evenings.
DISCLAIMER Festivals may be cancelled or postponed without much warning. Check with your local tourist office for confirmation.
New Year (o-shogatsu) Festival at a Japanese Shrine
Japan festivals and Japanese matsuri. A monthly calendar of information on festivals (matsuri) in Japan: January.
All the themes of the city