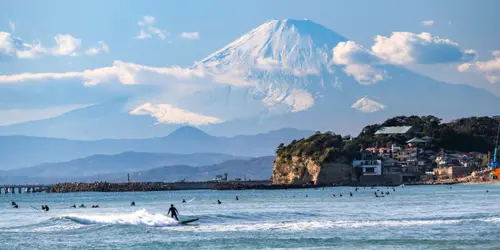 Surfing on Tokyo's beaches
People don't necessarily associate Japan with the sea, the beach and maritime leisure activities. But this isn't the case! Kamakura, an hour from Tokyo, is the best spot for surfing while admiring Mount Fuji in the background.
Surfing is very popular with Japanese people
Living in Tokyo is a bit like living in San Francisco or Barcelona. It is close to both the sea and the mountains.
About an hour from Tokyo, you can find the city of Kamakura, known for its Zen temples, resort atmosphere, and... surfers! Though it is not a well-known fact, the Japanese love surfing and practice it a lot. And how could it be any other way when you live on an island where the sea is everywhere, with about 30,000 kilometres of coastline (which puts Japan in the 6ᵉ rank of countries with the longest coastline in the world).
Incidentally, during the Tokyo Olympic Games in the summer of 2021, surfing appeared for the first time as an Olympic discipline, showing the world how Japan's sea is suited to the sport.
Kamakura one of the best places to surf, about 1 hour from Tokyo
Kamakura is a popular spot for Tokyo surfers because of its proximity to the metropolis, and its waves are easy to surf for both experienced surfers and beginners.
But it's the setting that makes it so appealing. What could be a more extraordinary experience than surfing on a clear day while looking at Enoshima Island on one side and Mount Fuji in the distance on the other.
A fun, accessible activity for lovers of the sea
The lesson is designed for beginners. Your instructor speaks English and the lesson takes place in a very friendly atmosphere (but with good advice).
Even if you have never surfed before, or are still too unsure surfing alone in an unfamiliar sea, this activity is for you.
Perfect to combine with a visit to the city of Kamakura, for a culture/nature excursion at the gateway to Tokyo.
What to take along:
- bathing towel
- beach sandals (for use to the beach)
- sun block (hat if you are sensitive to the sun)
- change of clothes
- swimsuit
- a bottle of water/drink (during summer)
- your surf board and wetsuits if you have them
Location
---
Surfing on Tokyo's beaches
$72 per person