Cherry Blossom Hanami
Seasons In Japan: Japan in Spring: read where to see cherry blossoms (sakura) throughout Japan plus links to winter, spring, summer and autumn events.
Cherry Blossom Viewing: Heavy Petal Parties: Cherry Blossoms in Japan 桜
Sian Thatcher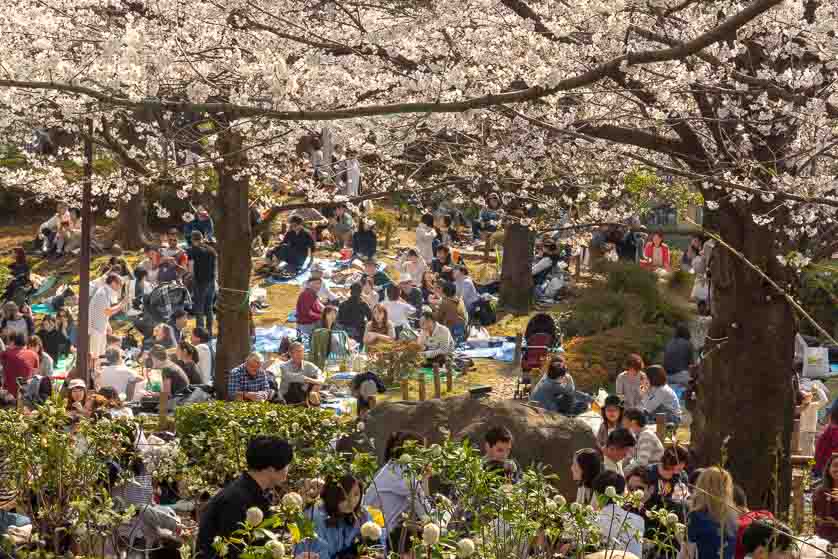 Hanami blossom viewing in Sumida Park, Tokyo
A new beginning
You know what time of year it is when the beer cans turn pink, there are strange weather forecasts on TV and train stations are covered with pictures of flowers. It's hanami season.
Hanami season in March and April is, for many Japanese, the best time of year. This is when the cherry blossom trees all over Japan come in to bloom for between seven and 10 days and people hold outdoor parties to view them. The name says it all - hana means "flower" and mi is "looking".
This is a great time of year to visit Japan as the weather is perfect: pleasantly warm before the onset of sweltering summer, and everybody is in a party frame of mind.
The advent of the blossoms not only heralds the end of a harsh winter but also the beginning of another school year and a new fiscal year for businesses, so hanami is like a party to celebrate a new beginning.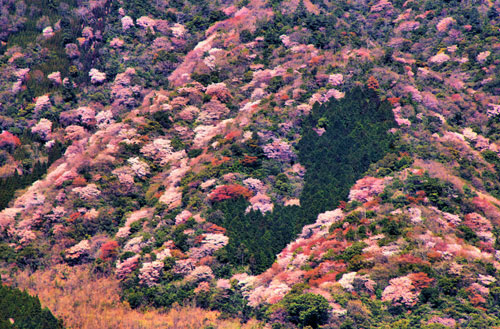 Mountain sakura - yamazakura - in Kyushu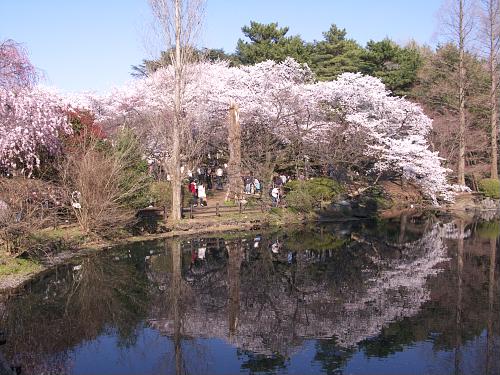 Cherry blossom on Nakanoike Pond, Shinjuku Gyoen, Tokyo
Spring respite
Spring is a very busy period. Accounts have to be finalized, reports finished, and karoshi (death by overwork) is said to peak in March. Deadlines, school graduation ceremonies, government transfers - and then, in April, come the cherry blossoms like a breath of fresh air. This marks the nation's change of focus from hard working to hard playing. Impressive quantities of sake are drunk, food is barbecued and songs are sung.
The fleeting beauty of the cherry blossoms is symbolic to the Japanese. They liken the petals to the life of the samurai: a brief explosion of color, bright for the duration of their short life, before they wither and die. They represent the brevity of life and the frailty of existence, and this is celebrated by getting roaring drunk on copious amounts of sake.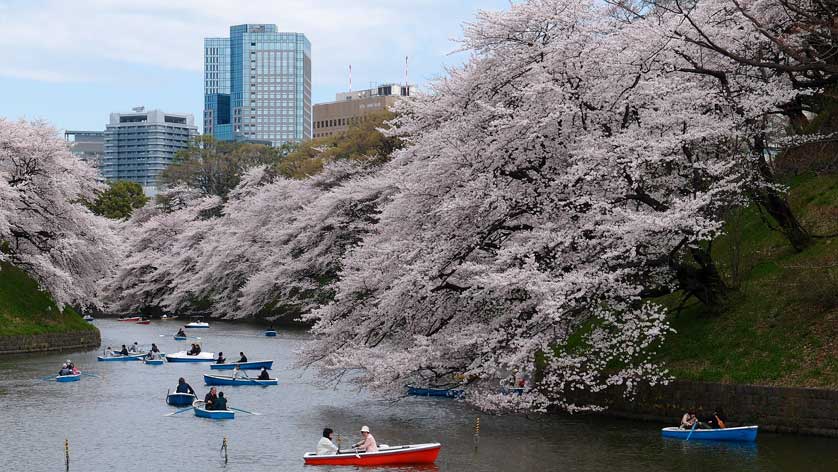 Roots of hanami
The first hanami took place in the seventh century. Originally a religious rite, it was held on a particular day and the coming harvest was forecasted from the condition of the cherry blossoms. The full blooms were symbolic of a full and bountiful harvest of rice, which the upper classes would celebrate by drinking and eating under the trees.
Short plays were performed and women wore brightly colored kimonos or happi coats. It was not until the end of the seventeenth century that hanami became popular among the working classes. The parties have changed little since then and are much like a big picnic.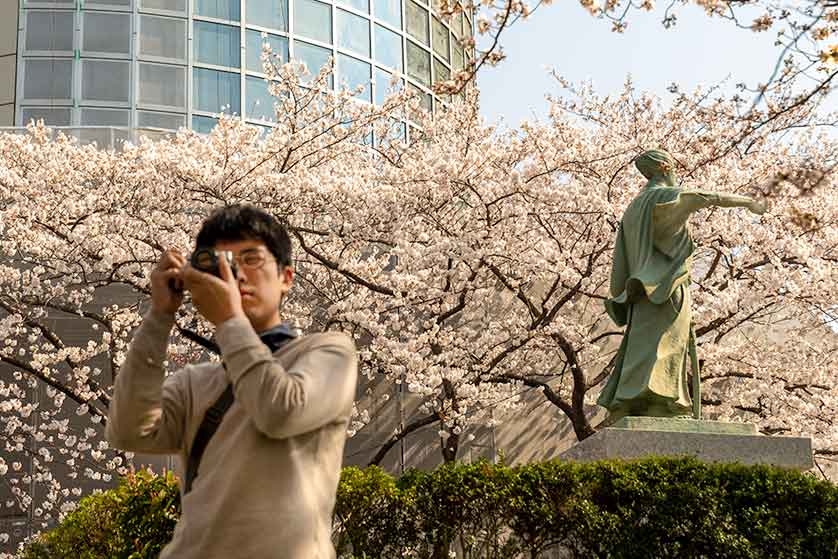 Photographing sakura in Sumida ward, Tokyo.
Hanami food
Revellers take along food, host a barbecue or buy food from stalls that line the paths. One popular snack is dango, a chewy treat made from rice flour. Another is sakura mochi, a rice cake filled with red kidney-bean paste and wrapped in a salt-preserved cherry blossom leaf.
Families and workmates gather under the tees. They sing, drink, eat and talk until late in the evening, when lanterns light the parks and couples step out.
Hanami - a cultural theme
Cherry blossoms, or sakura, have captured the imagination of the Japanese and appear frequently in everyday life. There is a Sakura Bank, and when naming a child, the Japanese often incorporate the character for sakura in the name. The word itself even serves as a not-uncommon girl's name. The cherry tree motif graces the back of 100 yen coins, and the first song many Japanese children learn is called "Sakura, sakura".
Hanami now has huge commercial appeal. In mid-March an abundance of themed chocolate, beer and clothing hits the shops. You would be lucky to find a product that has not re-branded itself for the fleeting period. All the shops turn pink.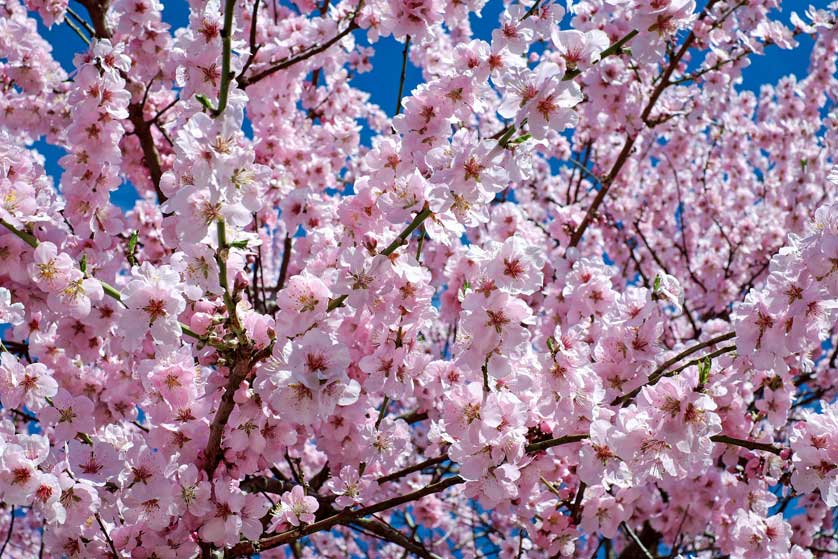 Hanami fever
The state of the cherry blossoms is also revealed to millions through the media. There are "sakura forecasts" with pink dots covering maps of Japan on television and in the daily newspapers. This is followed by information on how to find the best displays, the areas where the season has finished and where it is just beginning. Hanami parties are planned around these reports. A sort of "sakura fever" grips the nation for the duration of the fragile blossom's life.
Some fanatics flock from one side of the country to the other to find the perfect show of blossoms and the ultimate hanami. Almost like cherry blossom groupies, they stalk the season further north until the final petals have fallen, withered and disappeared.
In popular areas renowned for their displays, things have been known to get a little competitive. Some groups send out scouts ahead of the party to secure the best spots in the best parks, in much the same way as people reserve the best sun loungers by a hotel pool.
If you do visit Japan in March or April, try to find out the best places to go for a hanami party while you are there. Hanami is one of the rare occasions the Japanese let their hair down in public. Be in on it!
Cherry blossom in Nagoya
hanami - Best Cherry Blossom Viewing Places To Visit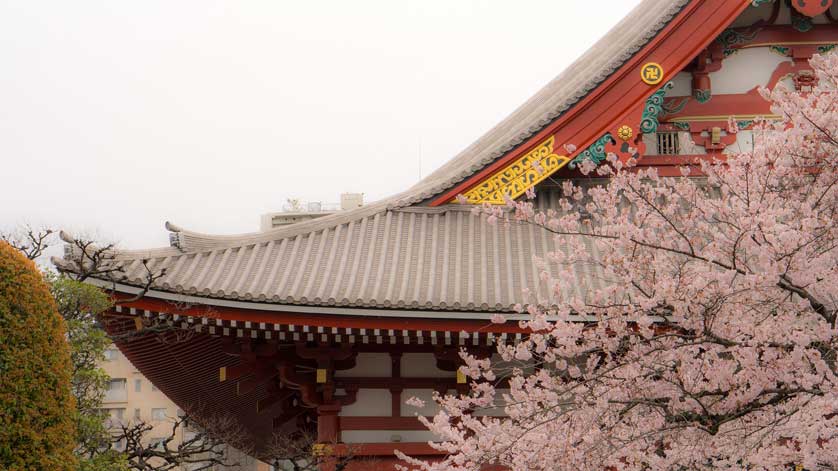 Tokyo
Ueno Park
A few steps from Ueno Station (Shinobazu Exit)
There are more than one thousand cherry trees in Ueno Park along the street that leads from the Saigo statue towards the National Museum and around Shinobazu Pond.
Sumida Park
East of Asakusa along the Sumida River
Sumida Park stretches for about one kilometer along both sides of the Sumida River, and features hundreds of cherry trees.
See a listing of the best cherry blossom viewing spots in Tokyo.
Kyoto
Maruyama Koen
Downtown Maruyama Park and nearby Yasaka Shrine are Kyoto's most famous hanami locations along with Hirano Jinja in the north west.
Ninnaji Temple
Ninnaji Temple is an ancient temple in western Kyoto famed for late blossoming 'Omuro Zakura'.
Hirano Jinja
Hirano Jinja is a small shrine in north western Kyoto near Kinkakuji Temple ten minutes walk from Kitano Hakubaicho station.
See a listing of the best cherry blossom viewing spots in Kyoto.
Osaka
Osaka Mint (Zouheikyoku)
120 varieties of cherry trees open to the public for one week along the banks of the Yodo River, a 15 minute-walk from Kyobashi, Sakuranomiya, Temmabashi, Minamimorimachi, Osakajokitazume, Temmangu or Temmabashi stations.
Nagoya
Nagoya Castle is well known for its cherry blossom along with Tsurumai Koen and Heiwa Koen, which has the most cherry trees in the city.
Any Public Park in Japan!
No matter where you are in Japan, you would be hard pressed to find a park that wasn't planted with at least one row of cherry trees for the hanami season.
List of parks and gardens in Japan
Other Japan Articles By Sian Thatcher
Sex Museums
Rice in Japan
Blood Types in Japan
Spring in Japan
Karaoke
Tokyo under the cherry blossoms
All the themes of the city