Miko Shrine Maidens
Nowadays Miko are basically assistants to priests, but in former times they were among the most powerful religious, and hence political, figures in Japan.
Miko Shrine Maidens 巫女
Jake Davies
On a visit to any of the major Shinto shrines you will be sure to see a least one young woman wearing red hakama (long divided trousers) or a red skirt, along with a white blouse or jacket and with her hair tied back with a decorative clasp of some kind. She will be a miko, commonly translated as "shrine maiden" and not to be confused with a priestess.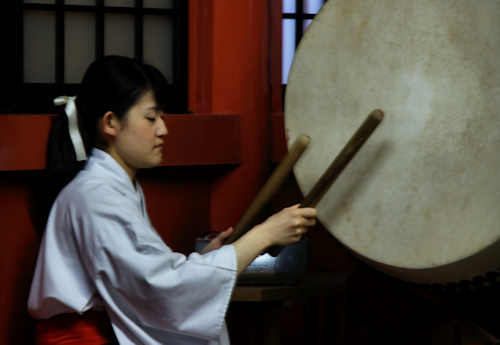 Miko playing a taiko in a ceremony at the Toshogu Shrine in Hiroshima
Priestesses exist in Shinto, but they are not so common, though the Shinto sects seem to have a higher percentage than the mainstream shrines. If you arrive at the shrine early in the morning you may find miko cleaning the shrine grounds. The most common place to see them is in the shrine "shop" where amulets and such can be purchased. You may see them assisting priests during ceremonies such as o-harae (purification), and if you are lucky you may see them performing a ritual dance called miko mai.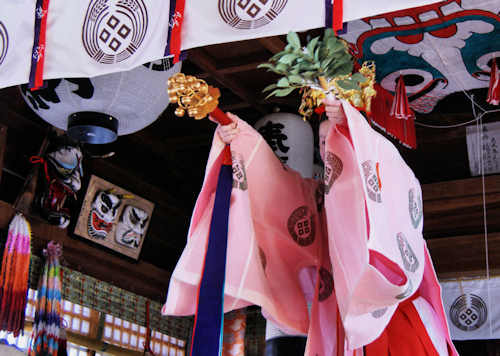 A single miko performing miko mai, or miko kagura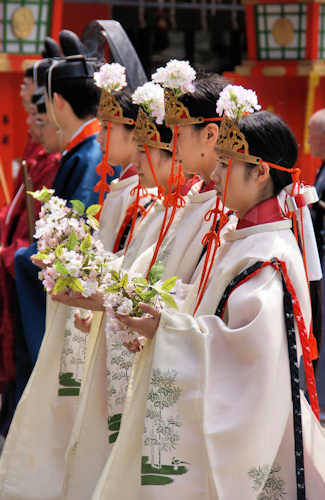 A group of miko in ceremonial dress at a major festival

History of Miko
Nowadays Miko are basically assistants to priests, but in former times they were among the most powerful religious, and hence political, figures in Japan. The first written records of Japan, Chinese chronicles from the 3rd Century, write of a "Himiko" who was a shaman "Queen" of Japan, but historians continue to argue about exactly who she was.
Later in the first Japanese chronicles of the 7th century, an Empress Jingu is written about as a shamaness and military ruler, though most historians consider her mythical. Later, more historical accounts mention a priestess of Usa Shrine in Usa in Kyushu leading an army to subdue tribes in the south, so its seems that women occupied positions of power in the religious and political sphere in ancient Japan, based upon their ability to receive instructions and messages from the gods.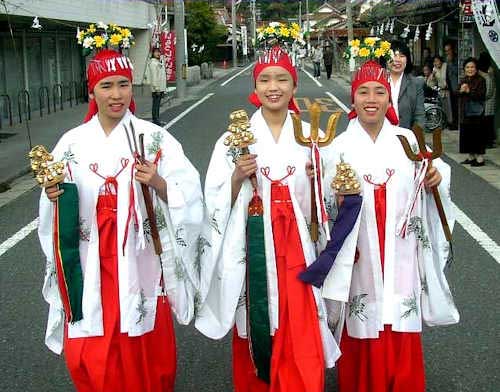 Three young miko in a procession following a festival in a small village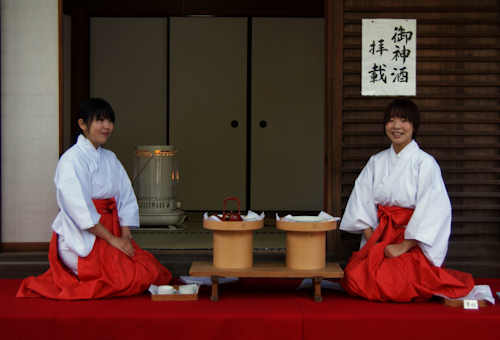 A pair of miko serving o-miki, sacred sake, during the New Year at a shrine in Kyoto
However it seems that the influence of Buddhism and Confucianism led to females spiritual power being superceded by males, and their shamanic functions came to be controlled by male priests and shamans.
Between ancient times when it would appear that miko were very powerful, and contemporary times when in reality miko are little more than assistants to mostly male priests, miko took on many roles and forms varying by time and place.
A well known example was the imperial tradition of sending a princess to serve the imperial ancestor Amaterasu, the Goddess of the Sun, at her shrine in Ise. The chosen princess would spend a full three years secluded at Nonomiya Shrine in Arashiyama in Kyoto undergoing purification before being sent to Ise.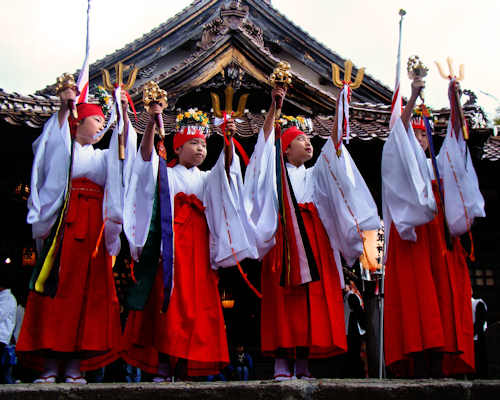 Four young miko performing miko mai at an small shrine's annual festival
Purity is extremely important in Shinto, and for many types of miko sexual purity was essential, so in many miko traditions it was necessary that they were virgins. As with most things in Japan however, there were exceptions. Lafcadio Hearn reported that in the Izumo region the role of miko was passed down from mother to daughter, and during the Edo Period a common type of miko were "wives" of yamabushi, the itinerant holy men who travelled the countryside performing healing ceremonies, exorcisms etc.
A famous instance of this kind of miko concerns a poor farm woman named Nakaya ma Miki who called a yamabushi to her home for exorcisms for her sick family. The miko that normally partnered with the yamabushi was unable to make it so Miki stood in for her in the ritual. During her trance she received messages from kami, but the messages continued after the yamabushi had left and she went on to found Tenrikyo, one of the so-called New Religions, now with over 2 million members worldwide.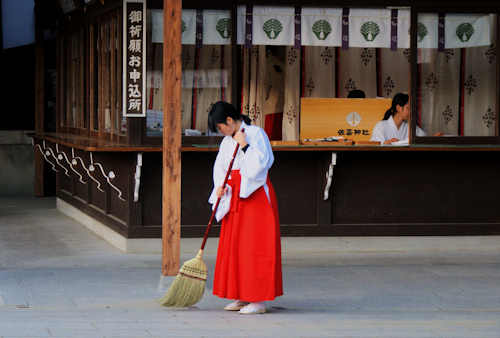 Cleaning the shrine grounds and working in the shrine shop are two of the main activities for contemporary miko
Miko Today
The miko of today have little in common with the powerful, shamanic, miko of yesteryear. The stipulation of being a virgin seems to be no longer required, though it seems that being unmarried is still a necessity.
They are mainly found in the day to day running of larger shrines, cleaning the grounds, doing office work, selling in the shrine shop, etc but they do, to varying degrees, assist the priests in ceremonial and ritual situations.
There are three main types found nowadays. The first are full time shrine employees, obviously only found at larger shrines that have permanent staff. Their duties will also include helping with rituals and often performing the miko mai dance, sometimes called miko kagura.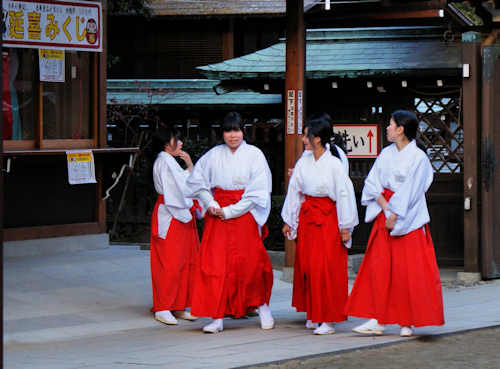 A group of temporary miko hired for the New Year Period at a shrine in Saga City, Kyushu
The second type of miko you might encounter are temporary miko, often university students, hired for a short period of time, usually the New Year when a shrine will typically receive more visitors than all the days of rest of the year put together, although major festivals are another event that may require their hiring. They will have received some training but do not take part in ceremonies.
The third and final type are very young girls, often Elementary School age, who will perform miko mai at a village shrine's annual matsuri. Typically they will practise the dance in the months leading up to festival, but next year other girls from the community will be chosen.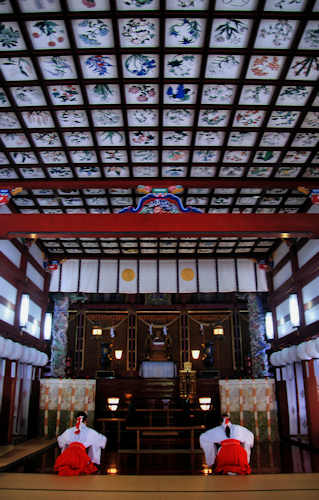 A pair of miko practise miko mai for a performance later that night at a festival

All the themes of the city