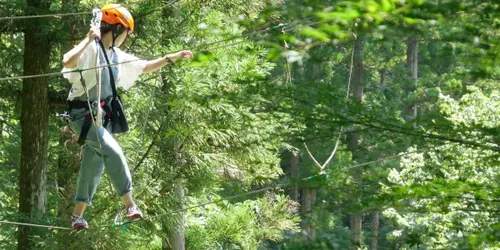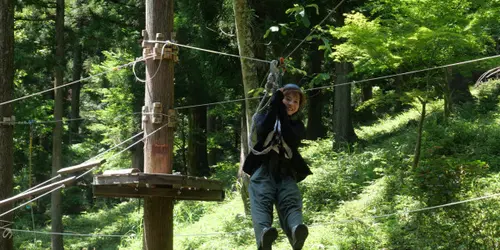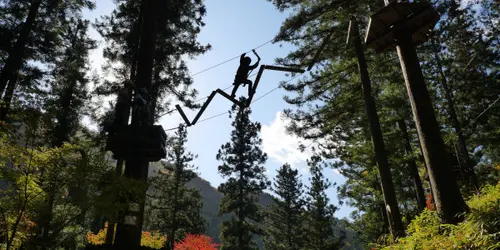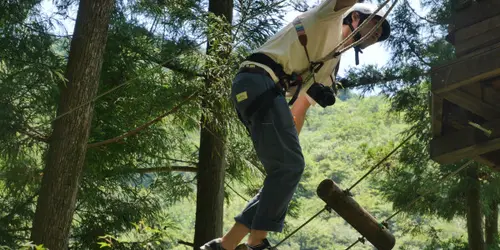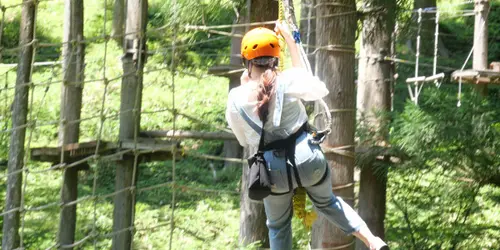 Forest high ropes in the Japanese mountains
Explore the forests of the Hida region in a unique manner with this forest high ropes activity. An activity for the whole family.
In the heart of the Japanese mountains in the Hida region
The Hida region, north of Gifu, the central mountain region of Japan, is known for its wilderness, primary forests and unspoilt countryside. It includes the town of Takayama, the village of Shirakawago (listed as a UNESCO World Heritage Site for its thatched houses where silk was produced), and the Gero Hot Springs.
Maze Village
"Maze Village is surrounded by a forest of centuries-old cedar trees which are used for carpentry. The Mazegawa River flows through the valley and is renowned by fishermen from all over the world for its ""ayu"" fishing. It is in this idyllic Japanese hinterland, between the traditional and the majestic nature, that you can spend some time in the opposite of urban Japan.
Make the most of your time before or after your activity to explore Maze Village, enjoy its onsen, or taste the seasonal dishes (e.g. ayu fish caught in the river during the summer months) and many other things that your host Gwenn will be able to advise you on. "
Forest high ropes, an outdoor activity for the whole family
Immerse yourself completely in this wonderful, unique forest in Japan with the forest high ropes. The park has 30 areas for adults, with zip lines, suspension bridges and other facilities. Children from 90 to 125 cm can try out the "Chibikko" area, specially designed for them.
This is an activity for young and old alike and will give you a breath of fresh air, and also a little bit of cool air if you come to Japan in summer. 
Practical information
Activity runs from March to November
In case your group is equal to 4 or more people, we can provide a pick-up service option from Hida-Hagiwara station to the activity location. Please be sure to be at the station 1 hour before the activity starts.Your host Gwenn will pick you up in a minibus and contact you to inform you about the best train routes and times according to your departure location.We kindly ask groups of 3 or fewer people to reach the activity location on their own. 
Children under 12 years old must be accompanied by an adult. For the adult course, you must be over 1.30 m tall and weigh less than 110 kg. For the children's course, you must be over 3 years old and between 90 cm and 1.25 m.
Come with sports shoes and comfortable clothes for the activity.
The activity will not be cancelled if it rains, except in exceptional conditions, in which case you will be contacted beforehand.
The activity is a group activity and the other participants will be Japanese or foreigners.
Location
---
Forest high ropes in the Japanese mountains
$34 per person