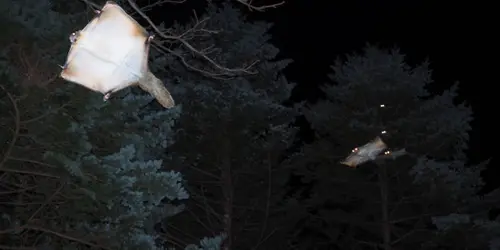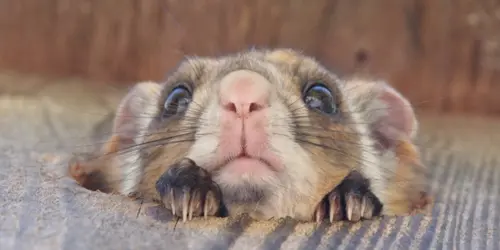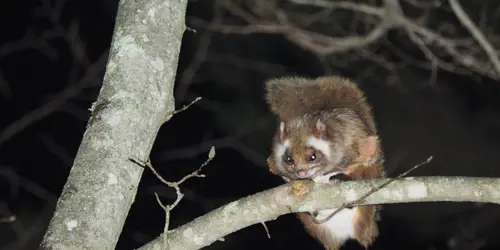 Flying Squirrel Watching Tour
The Japanese giant flying squirrels, or "musasabi", are a species endemic to the Japanese mountains. On this activity, you will have the chance to observe them soaring and learn all about this unusual little rodent.
The giant flying squirrels of Japan
Spoiler alert! flying squirrels don't have wings. Instead, they "glide" from tree to tree, thanks to a membrane that they extend between their front and back legs. Nocturnal mammals and strictly tree-dwellers, they move through the trees at night, gliding from branch to branch in search of food.
This tour, which began in 1995, is the first ever in Japan to focus on the Japanese giant flying squirrel, or "musasabi" in Japanese. They are an endemic species and inhabit a mixed terrain of hill and mountain forests.While the flying squirrel species are mostly found in North America, the "giant" ones are only found in Asia. They reach up to 50 cm in length, not including the tail, and can soar an average of 50 m, with record jumps of 150 m. 
There is a 90% chance of seeing them
While seeing Japan's giant flying squirrels is not guaranteed, it is very likely that it will happen. Indeed, this tour led by a Japanese wildlife specialist operates according to the hours when the squirrels come out. Here, humans must work around the animals' schedules. Your guide will first tell you about their environment and way of life, then armed with binoculars, you will go into the forest as night falls.
The first step is to stop by a squirrel's nest and watch through a camera installed in the nest as they prepare for their nightly outing. Then, as darkness sets in, you can watch the squirrels glide silently out of the nest and set off on their nocturnal adventures. 
An association recognised for animal conservation and eco-tourism
Your guide is not only a tourist guide, but also a member of an organisation for the preservation of wildlife in Japan. This is an association that works in particular for the protection of the Asian black bear. In Japan, there are many provinces where human settlements overlap with bear habitats, causing conflicts.
The association works to preserve a peaceful coexistence between humans and bears, and thanks to its innovative methods, received in 2018 the Responsible Tourism Award at the "Tourism Expo Japan", in collaboration with the World Tourism Organization. If you would like to participate in other types of animal watching specific to Japan (bears, eagles, Japanese sarees, etc...), do not hesitate to contact us to let us know.
Must be 4 years or older.
Children under 12 years of age should be accompanied by an adult.
Free for 5 years old.
The temperature can be below zero in early spring and late fall. Please prepare warm clothing beforehand.
Cancellation policy:
Up to 7 days before: 0%
Between 7 days before and 5:00 p.m. the previous day: 50%
After 5:00 p.m. the previous day and same day: 100%
Location
---
Flying Squirrel Watching Tour
$24 per person