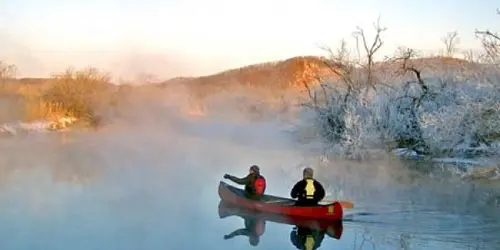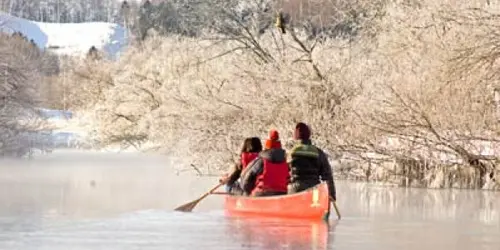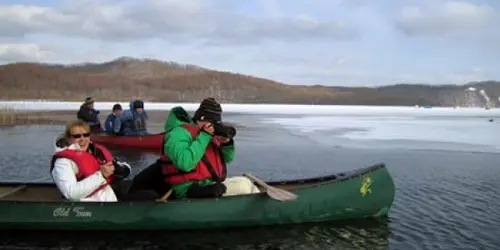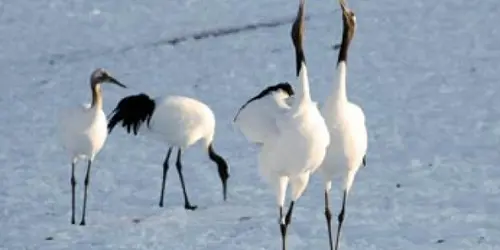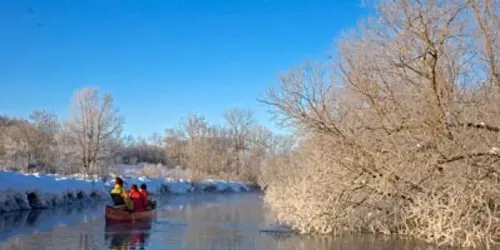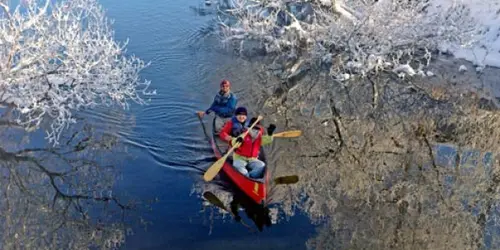 Canoeing through the Kushiro marsh in winter
Cruise along the Kushiro River in a canoe and see the frozen nature and wildlife that inhabit it.
The Kushiro Marshes
The Kushiro Marshes are the largest in Japan. They form 2,680 km of wetlands, and are a must if you visit Hokkaido's northern island. Established as a national park in 1987, birdwatchers from all over the world come here to see the Japanese cranes, a species once thought to be extinct, but which has survived thanks to conservation efforts.
But the Kushiro Marshes are not just home to the Japanese crane. 2,000 species of animals, including the famous white-tailed sea eagles and sika deer, also live here. The best way to explore the marshes is by canoe 
The best way to explore the marshes is by canoe
Since the marsh is not easily accessible by car or even by foot, the best way to explore the marshes is by canoeing down the centre of the Kushiro River. What's more, the animals come to drink or catch fish at the edge of this river.
Your local guide will tell you all about the area, the formation of the swamp, the rhythm of the seasons, the ecosystem.
Since the current carries you gently downstream, the experience is not very physically demanding and can be enjoyed by all. 
The beauty of the Kushiro River in winter
In winter, the marsh becomes covered with snow, and if you are lucky with the weather, the vegetation is often covered with a thin layer of frost, which gives the impression of being in a crystal world.
With this 1.5 hour trip in a small canoe for 2 people, plus a guide, you can enjoy a front row seat for a moment of harmony with the compelling nature of the Kushiro Marshes.
Please note
The activity will not be cancelled in case of rain, unless the water levels in the Kushiro River have reached certain levels, or the Kushiro Meteorological Agency has declared a state of alert.
The tour takes place in Kushiro Marshes National Park. Please respect the fauna and flora. When coming into contact with animals, please do not make any big gestures or raise your voice, and no flash photography is permitted.
Please also be aware that encounters with wildlife during the activity are not 100% guaranteed.
Your personal items (phones, cameras, etc.) are your responsibility.
Location
---
Canoeing through the Kushiro marsh in winter
$92 per person