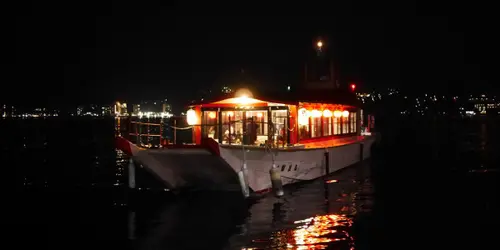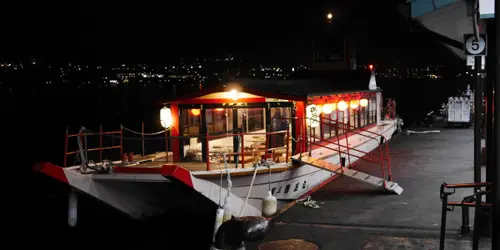 Miyajima Light-Up Cruise
The Miyajima Light-Up Cruise is the perfect evening activity if you are staying in Miyajima and want to enjoy the beauty of the shrine island.
A cruise to capture the beauty of Miyajima by night
This cruise takes you off Miyajima Island at night to enjoy the beauty of the illuminations. The Miyajima Torii (the gateway to the shrine), which stands majestically in the middle of the water, also called the "floating torii", has become a symbolic image of Japan.
On this cruise, you will see the torii, if the tide allows, and the Itsukushima temple illuminated, and if the night is clear, the silhouette of the mountain in the centre of Miyajima Island. 
Miyajima, the island sanctuary
Miyajima, or "Shrine Island", is an island off the city of Hiroshima which is so beautiful that in the Edo period, Shunsai Hayashi, a Confucian scholar, chose it to be one of Japan's three most beautiful landscapes, the Nihon Sankei.
Its real name is Itsukushima, and the island is home to the Ituskushima Shrine, a rare example of a shrine built on stilts, completely covered in vermilion (in Japanese shu-iro, the colour representative of Japan and with the particularity of expelling evil).
Ideal for an evening spent in Miyajima
On board, during the 10-minute cruise, you will be taught about the island, the temple, and their history.
This cruise is the perfect way to spend an evening in Miyajima.
Departure is from Miyajima's 3rd pier 6 times a day after 5:00 pm.
Choose your schedule and enjoy the scenery.
Location
---
Miyajima Light-Up Cruise
$12 per person