Discover the Welcome Suica and Pasmo Passport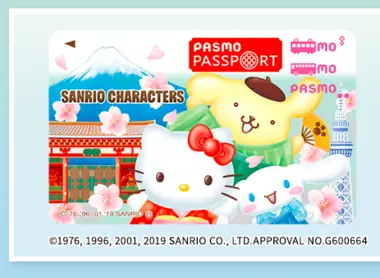 Transport cards for visitors to Japan
Specially designed for tourists, discover the "Welcome Suica" and "Pasmo Passport" transport cards! Available from September 1st 2019 in airports and major railway stations throughout Tokyo.
Suica and Pasmo cards
Having a Suica card or a Pasmo card is essential during a trip to Japan! But although they are very useful for tourists, these cards were created primarily for users living in Japan who take public transport daily. This will soon change with the new "Welcome Suica" and "Pasmo Passport" cards!
These cards will be available from 1 September 2019, and offer many benefits to visitors staying for just a few weeks in the country.
Sold in addition to the current Suica and Pasmo cards, these new cards have a fixed validity period and no deposit is required. They are designed for short-term use and are intended for tourists.
Welcome Suica
Like an ordinary Suica card, the Welcome Suica can be used as a means of payment for subway and bus, but also in some shops, konbini and vending machines. This saves you from having to carry a lot of cash on you.
The main difference, apart from the adorable design, is that you aren't required to pay the 500 yen deposit fee for the IC card itself. There is, however, no refund of the remaining balance possible, so you have to be careful when putting money on it, and only add credit that you're sure you will use.
The card is only valid for 28 days.
Purchase price (charge included): 1,000 yen, 2,000 yen, 3,000 yen, 4,000 yen, 5,000 yen or 10,000 yen (between 9 and 90 USD).
Where to buy the Welcome Suica card? You can buy it at JR EAST Travel Service Centers, from Tokyo airports and major train stations, as well as at Narita Airport. And soon, at Japan Experience!
Pasmo Passport
The new Pasmo card aimed at tourists, called the Pasmo Passport, is very similar to the Welcome Suica. The way it works is identical.
Where to buy the Pasmo Passport? You can buy it at Narita Airport or Haneda Airport. And soon, at Japan Experience!
Comments
Réponse à Tileenvadrouille In Love with the city always.