Book your Regional Japan Rail Pass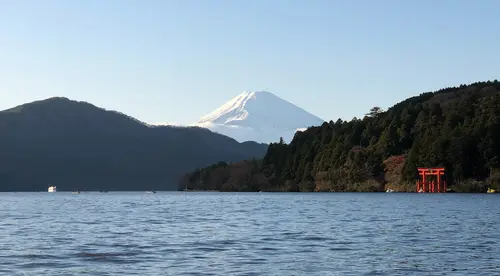 Economic and simple

Unlimited travel
Order your Regional Pass
Edit
East Pass
HAKONE FREE PASS
---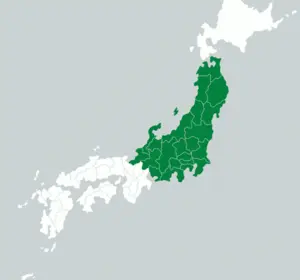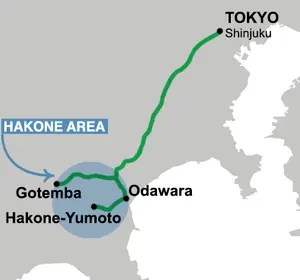 The Hakone Free Pass is a discounted excursion ticket between Shinjuku Station and Hakone-Yumoto Station, and offers unlimited coverage of Hakone's popular sightseeing spots. With the Hakone Free Pass, try the famous hot spring (onsen) resort at the foot of Mount Fuji from Tokyo, and enjoy unlimited travel while saving money. What would often be a trip out for a day from Tokyo can now be a multi-day excursion to enjoy. 
Two passes : one valid for 2 days and the other one for 3 days.
The Hakone Free Pass allows you to get on and off the local transport within Hakone, Kanagawa and discount admission to various attractions. 
The Hakone Region 
Hakone in Kanagawa is one of Japan's most famous hot spring (onsen) areas, rich with unspoiled nature and within easy traveling distance of Tokyo, Hakone is one of the favorite destinations of Kanto residents. Escape from the capital, see ancient craters, view the scenery of rolling mountains, an almost mythical lake, and finally, relax in onsen that have existed since the dawn of time.
Hakone in Kanagawa Prefecture is located 50 miles (80 km) away from Tokyo and lies in an extinct volcano crater in a mountain range. Historically it was a resting place for those making the trip between Kyoto and Tokyo. It is one of the most popular tourist destinations in the Kanto region, offering fantastic views of Mount Fuji, beautiful Lake Ashi and home to numerous ryokan and hot springs amongst other things. Hakone and its picturesque view of Mount Fuji are a worthwhile trip for anyone who wishes to enjoy some of the best things that the country has to offer all in one location. 
---
How to get around Hakone
To trek out to Hakone, take the "Limited Express Romance Car Super Hakone" train, operated by the Odakyu Railway Company, from Shinjuku Station in Tokyo to Hakone-Yumoto Station in 80 minutes. 
From Hakone-Yumoto, take the Hakone Tozan train to Gora. The journey takes 35 minutes and winds through the wooded valley, crossing bridges and tunnels and stops at small stations.
Hakone Tozan operates a large amount of transportation throughout the area, including the Tozan Hakone Cable Car and Hakone Tozan Bus. All of these are accessible by the Hakone Free Pass to explore the region.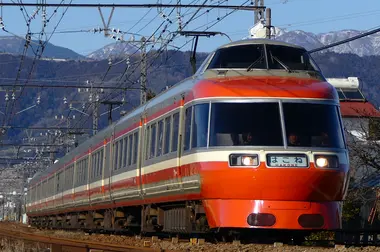 ---
The attractions of Hakone
Flower lovers ought to go to the Gora-Koen park. There is also Hakone Art Museum where one can enjoy a treasured collection of ceramics. 
On a cloudy day, Owakudani takes on an apocalyptic atmosphere. Several hiking trails are a delight for walkers as the emanation of volcanic gazes has led to their partial or total closure. You can simply go your way, still by funicular, to Togendai, on the northern shores of Lake Ashi (Ashino-ko in Japanese). 
---
An iconic lake and view of Mount Fuji
The shores of the lake are a call to rest and this long morning walk is certain to whet your appetite. The Togendai View restaurant offers simple dishes at reasonable prices and is renowned for its view. Or, you could have a bento box lunch by the water. The boat ride on Lake Ashi offers one of Hakone's most stunning sights: the image of Mount Fuji reflected in its waters.
Lake Ashi itself hosts a number of fun attractions and activities.  Boating is also a popular activity with a number of ships servicing travelers and the general public. Above, the Hakone Ropeway operates, giving a gorgeous view of the nature below as well as the looming scene of Mount Fuji. This is one of the most quintessential spots for sightseeing in the entire Hakone area and should not be missed.
Also able to be done on Lake Ashi is a lake cruise, where you can also admire another iconic sight of Hakone, that of the vermilion torii of the Hakone-jinja shrine emerging from the waters. The half-hour cruise takes you to the south shore, to Hakone-machi or Moto-Hakone, the two large towns bordering the lake.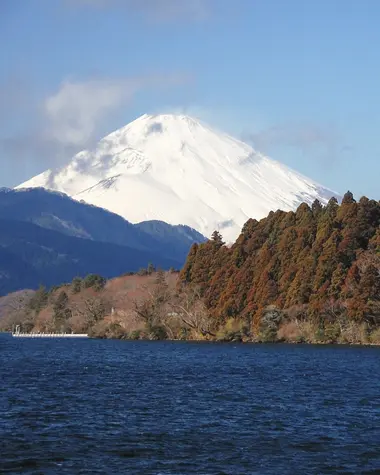 ---
An epicenter of art and culture
The museum options in Hakone are one of the most notable things about the area. The Hakone Art Museum is a very well-regarded museum and is frequented from travelers from both within the country and abroad.
Narukawa Art Museum on the shores of Lake Ashi is of major note as it is equally lauded for its architecture as it is for the treasures on the inside. The museum attractions often find themselves around Odawara, like the Okada Art Museum, a private museum spanning five floors that has an impressive selection of Asian Art amongst other things on display. It is the most spacious of the museums in Hakone.
The Hakone Open Air Museum displays noteworthy artwork that seamlessly flows with the backdrop of the area. One can occupy their whole day at one of the many museums in Hakone, so this is an essential trip for those who enjoy art and culture.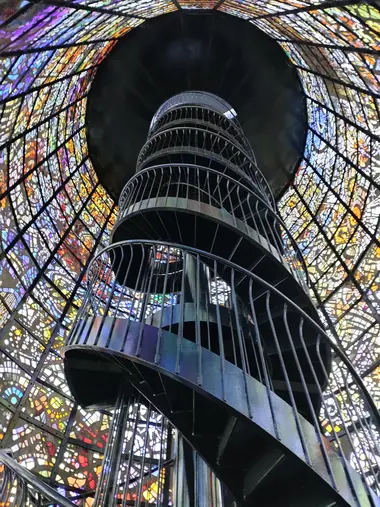 ---
Odawara: Stepping into history
Centering around the area of Odawara in Hakone, one can visit the famous Odawara Castle as it looms over the public park beneath it. Odawara is also home to the Kanagawa Prefectural Museum of Natural History, a must-do trip for the whole family. 
Just as varies as the museum selection is that of the beautiful parks to be visited in the nature-rich area of Hakone. Onshi-Hakone Park is peppered with beautiful flower fields and rolling scenery. Kamigawara Park in the center of Hakone is the perfect locale for a leisurely walk during the cherry blossom season in Spring. Finally, Hakone Yasuragi-no-mori Park offers spectacular views of the blue waters of Lake Ashi and the surrounding mountains. 
End your forest walk in Moto-Hakone Park with a trip to the Hakone-jinja Shinto shrine, perched on top of a green hill. Relax in the hot springs or extend the trip and go down to a ryokan, a traditional inn, to spend the night away from the hustle and bustle of the capital.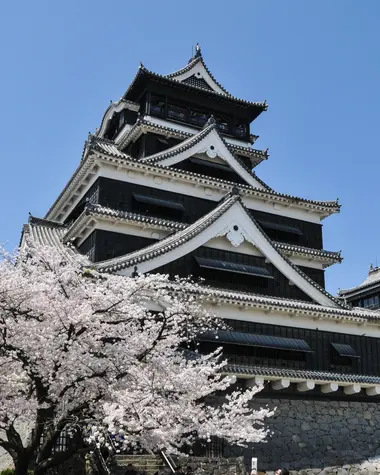 ---
Conditions of the Hakone Free Pass 
Delivery time
Your Hakone Free Pass (e-voucher with QR code) will be delivered to the email used for booking 5 working days after your booking. It is important to check your spam mailbox in case your Hakone Free Pass falls into it.
If you want it before as you will need to use it before 5 working days, do not hesitate to contact us.
Exchange 
The e-voucher, that you will receive by email, is to be exchanged exclusively at the Odakyu Shinjuku counter and at the Odakyu Tourist Information Center (Odawara Station):
-Odakyu Sightseeing Service Center, Shinjuku West
Location:B1 floor, Odakyu Line Shinjuku Station West Exit
Hours of operation:: 08:00-16:00
Telephone number:+81-3-5909-0211
-Odakyu Sightseeing Service Center, Odawara
Location:Outside the ticket gate of Odakyu Line and Hakone Tozan Train in Odawara station
Hours of operation:: 08:30-16:30
Telephone number:+81-465-20-2266
(Business hours may be changed, please check again before visiting.
https://www.odakyu.jp/english/support/center/)
Validity 
The pass is valid for two or three days (depending on the pass you select). It includes a round trip ticket on the Odakyu Line (from the departure station to Shinjuku) plus unlimited rides on different transportation modes in Hakone (additional fares are required for Limited Express "Romancecar" trains). 
Rides on seven modes of transportation including : 
Hakone Tozan Train
Hakone Tozan Cable Car
Hakone Tozan Bus (designated area in Hakone)
Hakone Ropeway
Hakone Sightseeing Cruise Odakyu Hakone Highway Bus (designated area in Hakone)
Numazu Tozan Tokai Bus (designated area in Hakone).
When using your "Hakone Free Pass", you benefit from special offers and discounts at over fifty facilities around Hakone including Hot springs and spas, Art museums and other museums, Places of historic interest, Botanical gardens and parks, Amusement and sports facilities, Restaurants and shops. For more information, please check the Hakone Free Pass website here (http://www.odakyu.jp/english/deels/freepass/hakone/), under the Discount tab.
Seat Reservations 
You cannot make seat reservations until you have exchanged the Pass.
In addition to the Hakone Free Pass, a limited express surcharge is required to ride the Odakyu Romance car. 
Cancellation 
Cancellation is not accepted after your order.
---