Book your Regional Japan Rail Pass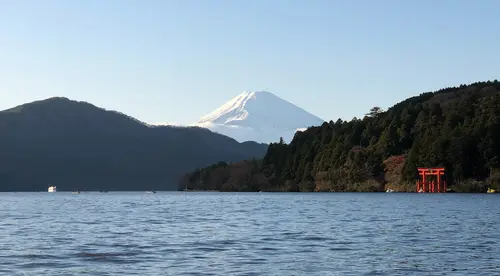 Economic and simple

Unlimited travel
Order your Regional Pass
Edit
East Pass
HAKONE FREE PASS
---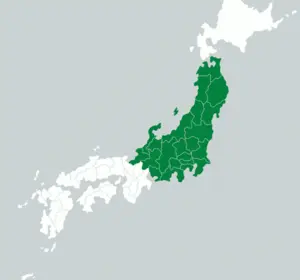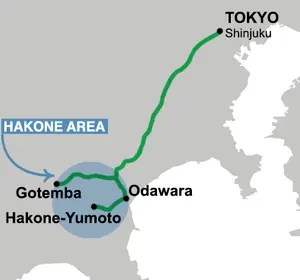 The Hakone Free Pass is a discounted excursion ticket between Shinjuku and Hakone-Yumoto, valid for 2 days and offers full coverage of Hakone's popular sightseeing spots. With the Hakone Free Pass, try the famous hot spring (onsen) resort at the foot of Mount Fuji from Tokyo, and enjoy unlimited travel for two days while saving money.
Hakone Free Pass allows you to get on and off the local transport within Hakone and discount admission to various attractions in the area.
With Hakone Free Pass, you can use eight different transport types in the area, including the train Hakone Tozan Line and the Hakone Ropeway, the boat Hakone Sightseeing Cruise, and the different buses, allowing you to explore Hakone as you like. Enjoy your trip to Hakone with the convenient and economical Hakone Free Pass.
Japan Experience started selling the Hakone Free Pass from May 30th, 2017, making it available for purchase for the first time outside of Asia.
A child price (6 to 11 years of age) is available for the Hakone Free Pass. Valid for two consecutive days from Shinjuku (Tokyo), the Hakone Free Pass is sold for 6,100 yen (around $45) for adults and 1,000 yen (around $8) for children from 6 to 11 years old. Access to trains is free for accompanied infants aged 5 years or under.
The Hakone Region 
Hakone is one of Japan's most famous hot spring (onsen) areas, rich with unspoiled nature and within easy traveling distance of Tokyo. Hakone is one of the favorite destinations of Tokyoites. Escape from the capital, visit ancient craters, mountains, an almost mythical lake, sanctuaries and finally, relax in hot springs (onsen) known since the dawn of time.
Hakone in Kanagawa Prefecture is located 50 miles (80 km) away from Tokyo and lies in an extinct volcano crater in a mountain range. Historically it was a resting place for those making the journey between Kyoto and Tokyo. It is one of the most popular tourist destinations in the Kanto region, offering fantastic views of Mt Fuji, beautiful Lake Ashi and home to numerous ryokan and hot springs.
---
How to get to & around Hakone ?
To visit Hakone, take the "Limited Express Romance Car Super Hakone" train, operated by the Odakyu Railway Company's, from Shinjuku Station in Tokyo to Hakone-Yumoto Station in 80 minutes. 
From Hakone-Yumoto, take the Hakone Tozan train to Gora. The journey takes 35 minutes and winds through the wooded valley, crossing bridges and tunnels and stops at small stations from another time. 
The end of the path is not without interest: flower lovers will visit the Gora-Koen park and those of art, Hakone Art Museum where one can admire, among other things, an important collection of ceramics. Then, this time, the cable car replaces the train to reach Mount Sounzan (10 minutes journey). From there, take a cable car up to Owakudani, a volcanic valley whose sulfur fumes suffuse the air. You can taste the famed black eggs cooked in sulfur-laden water.
On a cloudy day, Owakudani takes on an apocalyptic atmosphere. Several hiking trails are a delight for walkers as the emanation of volcanic gazes has led to their partial or total closure. You can simply go your way, still by funicular, to Togendai, on the northern shores of Lake Ashi (Ashino-ko in Japanese). If you are lucky and you are visiting Hakone during a sunny day, the view from the ropeway is breathtaking. 
The Hakone Free Pass is an excellent and affordable way to discover the area. 
---
Places to visit in Hakone
The shores of the lake are a call to rest and this long morning walk will certainly whet your appetite. The Togendai View restaurant offers simple dishes at reasonable prices and is renowned for its view of the lake. Or, you could have a bento box lunch by the water. The boat ride on Lake Ashi offers one of Hakone's most stunning sights: the image of Mount Fuji reflected in its waters.
From the cruise, you can also admire another iconic sight of Hakone, that of the vermilion torii of the Hakone-jinja shrine emerging from the waters. The half-hour cruise, will take you to the south shore, to Hakone-machi or Moto-Hakone, the two large towns bordering the lake. We advise you to disembark at Hakone-machi and take the path that leads to Moto-Hakone. The walk of about half an hour is a delight.
If you are interested in history, take a tour of the "Hakone Check Point", a faithful recreation of the checkpoint (Hakone Sekisho) that existed in the time of Edo (1603-1867), when Hakone was a strategic point on the Tôkaidô road, which linked Edo (old name of Tokyo) to Kyoto, as all those who passed were subject to inspection.
End your forest walk in Moto-Hakone with a visit to the Hakone-jinja Shinto shrine, perched on top of a green hill. It is then time to take the bus to Hakone-Yumoto and meet the "Limited Express Romance Super Hakone" train bound for Shinjuku. But you may prefer to relax first in a onsen that have made and still make Hakone a special place, or extend the trip and go down to a ryokan, a traditional inn, to spend the night away from the hustle and bustle of the capital.
---
Conditions of the Hakone Free Pass 
Exchange 
The e-voucher, that you will receive by email, is to be exchanged exclusively at the Odakyu Shinjuku counter and at the Odakyu Tourist Information Center (Odawara Station):
Odakyu Sightseeing Service Center Shinjuku  Station West Exit, 1-1-3 Nishi Shinjuku, Shinjuku-Ku, Tokyo 1st Floor (Ground floor)
Tel: +81-3-5909-0211; E-mail
Business hours: 08:00 - 16:00
Odakyu Tourist Information Center (Odawara Station) - 1 Chome-1-9 Sakaecho, Odawara, Kanagawa 250-0011, Japan - Across from the Odakyu Line ticket vending machines in Odawara Station
Tel: +81-465-20-2266; E-mail
Business hours: 08:00 - 16:30
Validity 
The pass is valid for two days. It includes a round trip ticket on the Odakyu Line (from the departure station to Shinjuku) plus unlimited rides on different transportation modes in Hakone (additional fares are required for Limited Express "Romancecar" trains). 
Rides on seven modes of transportation including : 
Hakone Tozan Train
Hakone Tozan Cable Car
Hakone Tozan Bus (designated area in Hakone)
Hakone Ropeway
Hakone Sightseeing Cruise Odakyu Hakone Highway Bus (designated area in Hakone)
Numazu Tozan Tokai Bus (designated area in Hakone).
When using your "Hakone Free Pass", you benefit from special offers and discounts at over fifty facilities around Hakone including Hot springs and spas, Art museums and other museums, Places of historic interest, Botanical gardens and parks, Amusement and sports facilities, Restaurants and shops. For more information, please check the Hakone Free Pass website here (http://www.odakyu.jp/english/deels/freepass/hakone/), under the Discount tab.
Seat Reservations 
You cannot make seat reservations until you have exchanged the Pass.
In addition to the Hakone Free Pass, a limited express surcharge is required to ride the Odakyu Romance car. 
Cancellation 
If you wish to cancel your order, please post back the Hakone Free Pass vouchers.
Refunds will be made after due reception of the vouchers.
The cancellation fee is 15% of the booking amount.
---