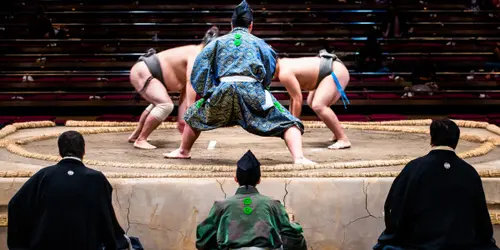 Fukuoka Sumo Tournament (November)
Sumo, that sacred sport, which seems to come straight out of the ancient Japanese legends. What if you could see a tournament in the southern city of Fukuoka?
The Sumotori, Japanese Stadium Gods
Amusing or terrifying, but always mysterious, sumo wrestling is fascinating. Japanese wrestling, or sumotori, is a sport that has its roots in religion, but is still very much alive today, watched on TV and in stadiums, and followed closely by male and female fans alike. What one goes to see at a sumo tournament is not only these giants clashing on their earthen arena, but one also goes for the atmosphere of the place, the shouts of encouragement from the audience, the referee's costume, the rituals of the rikishi(another name for Sumo) who are focusing before the fight, etc...
Attend a Sumo tournament in Fukuoka
The city of Fukuoka is known as the main city of Kyushu, but also especially for its delicious food that everyone agrees on, and its good atmosphere. The Kokusai Centre is the venue for the annual Sumo tournaments in November.
Location
---
Fukuoka Sumo Tournament (November)
41,38 €