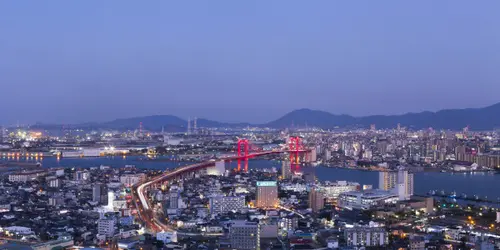 Fukuoka Discovery, full day
The city of ramen and matsuri, Fukuoka is the vibrant hub of Kyushu.
Fukuoka, Kyushu's flagship city
Fukuoka is becoming a must-see city in the archipelago. Its enthusiastic dynamism attracts many new visitors each year from all over the world. A city to discover and visit with no hesitation, especially during the matsuri (traditional festivals) Dontaku, in early May, and Yamakasa in July. 
A flexible, personalised guided tour
Your guide will meet you in the Seiryu park at the foot of the lighthouse, at 9am to start the guided tour, which will last about 8 hours. Travel will be by public transport You will also have lunch with your guide in a restaurant along the way, recommended by them, according to your preferences.
As part of our discovery days, your guide will prepare the best itinerary for you, although we also offer the possibility of contacting your guide beforehand if you have specific requests (dietary restrictions, parts of the programme you would like to discuss, etc.).
Not included in the offer:
- Transport - Lunch - Paid admissions
Cancellation policy:
Up to 7 days before: 0%
Between 7 days before and 5:00 p.m.the previous day: 50%
After 5:00 p.m.the previous day and same day: 100%
Location
---
Fukuoka Discovery, full day