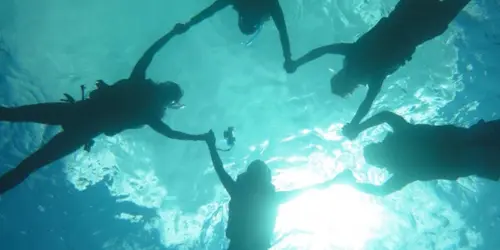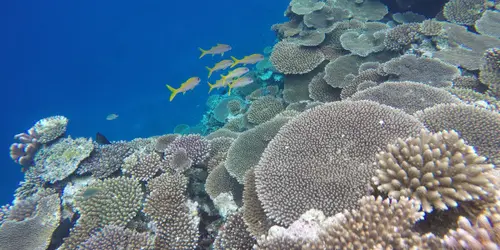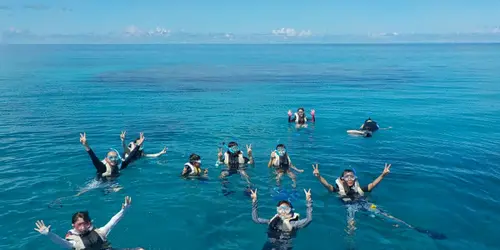 Snorkeling at Ishigaki Phantom Island
Snorkel to encounter life in the coral reefs in the sea around Iriomote Island. An unforgettable nature experience.
Discovering the best snorkeling spots in the Yaeyama Archipelago, South of Okinawa
Okinawa is one of the best snorkel spots, not only in Japan, but in Asia. And the Yaeyama Archipelago, which includes Ishigaki Island, is famous for its turquoise blue waters filled with amazing aquatic creatures. The coral reefs that surround Ishigaki and the other Yaeyama islands are renowned for their beauty, as well as the range and quantity of fish and other marine life that call them home and depend on the coral and its fellow inhabitants for survival.
Meet at 8:20am or 13:20 at Hirata Tourism for check in and embark on a cruise to the Phantom Island, a beach in the middle of the sea. With this snorkeling experience, you can easily explore the corals without having to be licensed and without heavy diving equipment.
Manta rays, corals and other snorkeling treasures
Did you know that the sea around Japan is home to a multitude of marine animals, each more extraordinary than the last. You may be able to see some manta rays as the tour will take you on the spot of several routes they have to take to pass through the area.
The trip will attempt to catch them at an appropriate time, (you will stay here in the spot for about 30 minutes). In addition, the tour will take you to other key spots depending on the season and weather conditions, where you will be able to snorkel for 40 minutes to an hour.
The Phantom Island, a beach in the middle of the sea
During this day, for about 3 hours, you will not only look for the best locations to see various types of coral and subtropical fish, but it will also stop at Maboroshi no Shima, a tiny coral island ashore Ishigaki Island that takes the shape of a beach appearing and then vanishing in response to tides. From here you can enjoy a beautiful view with a full 360 degrees of blue water around you. An unforgettable experience. 
The tour occurs twice a day, and starts at 8:20 or 13:20 at Hirata Tourism in Ishigaki port, depending on the time you have chosen. 
There you will receive complete instructions and the necessary equipment (wetsuits, snorkels, face masks, scuba, etc.).
Practical information
This is a physical activity, but one that is accessible to all. But you must:
- be between 3 and 60 years old
- be in good physical condition
- wear a life jacket during the tour, or you cannot join the tour.
- be able to swim, as snorkeling is done in waters where you will not have touch on the ground (previous snorkeling experience is recommended)
- not be pregnant in the case of women
Bring towels and a change of clothes. Wear your swimming costume under your clothes.
Included in the tour 
Boat tour
Necessary gear hire
Optional underwater camera  (Please bring your own micro SD card, or you can purchase one to the activity company)
* The activity may be cancelled if the minimum number of people is not reached, or if the weather conditions are unfavorable. In case of cancellation, you will be notified 2 days before.
Location
---
Snorkeling at Ishigaki Phantom Island
$69 per person