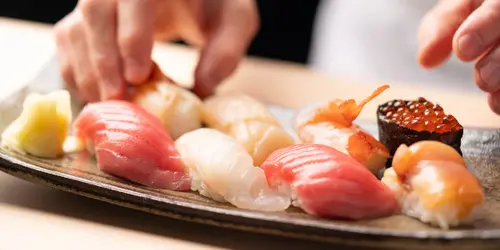 Sushi Workshop
Don't pass through Tokyo without learning the secrets of the world's favourite food: sushi. A fun cooking class to learn the local recipes.
Tokyo, the sushi capital
Japanese cuisine is synonymous with sushi. And when you say Tokyo, you mean the world's gastronomic capital, with the highest number of Michelin-starred restaurants in the world, as well as Tsukiji, the largest fish market in the world.
In short, it would be considered a crime to pass through Tokyo without taking an interest in the fantastic food that is sushi.
An authentic and easy sushi course
You will learn all about sushi in this workshop: how to prepare the rice, how to choose and season the ingredients, the different types of sushi (nigiri, maki, inari, roll, etc.).
With your friendly and competent instructors, you will also learn some basic principles of Japanese cuisine, such as the use of "dashi" broth and the preparation of miso soup.
On the menu:
Rolled Egg
Sushi Rice
Inari Sushi
Tuna Roll
Cucumber Roll
California Roll
Nigiri Sushi
Miso Soup
At the end of the workshop, you can try what you have cooked. If you are vegetarian, please contact us, as meat can be replaced by other ingredients. Please also let us know if you can have the dashi broth.
Location
---
Sushi Workshop
$75 per person