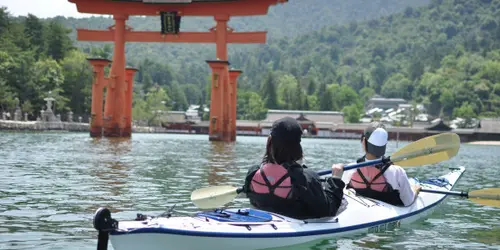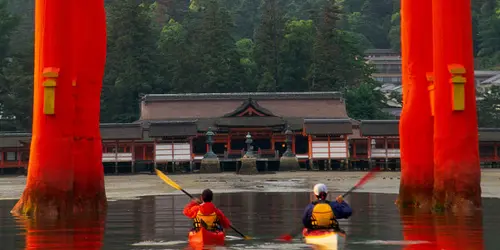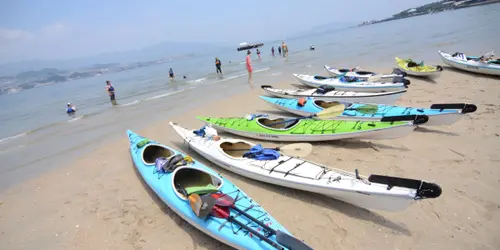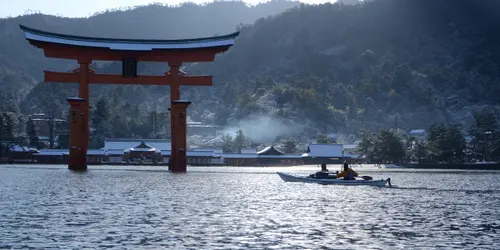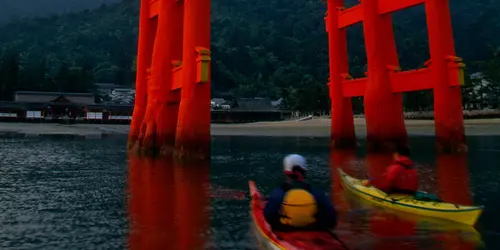 Kayaking off Miyajima, full day
A sea kayak trip around the sanctuary island, Miyajima
Miyajima, the sanctuary island
An island off the coast of the city of Hiroshima so beautiful that in the Edo period, Shunsai Hayashi, a Confucian scholar, designated it as one of the three most beautiful landscapes in Japan, the "Nihon Sankei". This island is Miyajima, or "the sanctuary island". Its real name is Itsukushima, and the island is home to the Ituskushima shrine, a rare example of a shrine built on stilts, all in vermilion (in Japanese 'shu-iro', the colour representative of Japan and which has the special quality of expelling evil), and thus the gateway, the well-known Miyajima Torii, stands proudly and imposingly, with its feet in the water, at the entrance to the sacred island. 
Visit Miyajima by kayak from the sea
Imagine seeing this magnificent scenery from the sea, and being able to row up to the shrine and wade under the famous Torii. This is the special experience we will provide you with on this kayak tour.
Outdoor activity with a professional guide
Meet in the early morning to set sail from the Hiroshima coast and glide down to Miyajima. With the full day trip, you will also have the opportunity to land on the uninhabited islands around Miyajima and enjoy the beauty of the Seto Inland Sea.
Around noon, you will get off on Miyajima island and have 1:30 hour of free time to walk around and have lunch. You will then paddle your way back to your departure point.
The customer should bring the following:
Please come prepared with waterproof clothing and shoes, as well as a towel, sun cream, hat, sunglasses, and a change of clothes for after the activity. You can bring your own lunch, or eat in a restaurant in Miyajima Island.
Please arrive at the meeting point 15 minutes before the activity.
Included in the offer:
Kayak and equipment rental, insurance
Cancellation policy:
Until 7 days before: 0%.
Between 7 days before and 17:00 the day before: 50%.
After 17:00 the previous day or the same day: 100%.
Location
---
Kayaking off Miyajima, full day
$107 per person