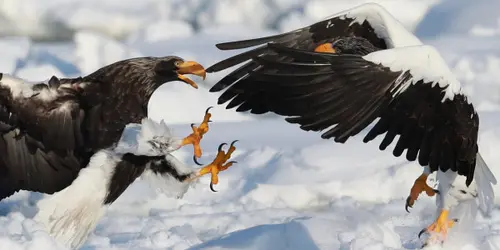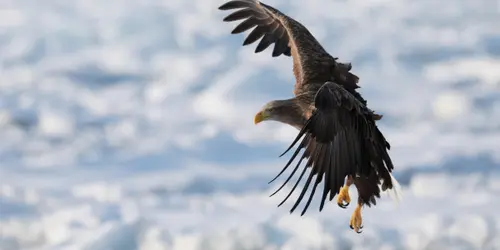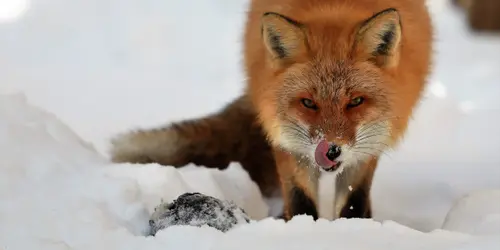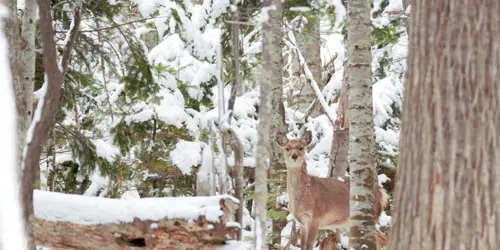 Eagles and Wild Life Watching in Shiretoko
Shiretoko is a wild peninsula with extraordinary wildlife. In winter, discover it with a guide who works for animal conservation in Japan.
The Steller's Sea Eagles
Steller's Sea Eagle are magnificent eagles known for their large size and wingspan, which can reach 2 metres. The Steller's Sea Eagle is a species associated with aquatic environments (sea coasts, large rivers, lakes, etc.), either inland or by the sea. The distribution range of the eagle extends from Greenland to northern Europe and Siberia to Japan. In Shiretoko, the white-tailed eagle and the emperor eagle, one of the largest known raptors, can be seen. 
The Shiretoko Peninsula, one of Japan's wildest landscapes
The Shiretoko Peninsula, which stretches northeast of Hokkaido towards the Sea of Okhotsk, is both a protected natural park and a UNESCO World Heritage Site. The word sir-etok in the Ainu language means "the end of the earth", and it is indeed a place where wilderness and wildlife seem to predominate over human activity. This activity, which leads you along the tracks of the region's animals, will allow you to meet the incredible wildlife of northern Japan. Apart from the eagles, you may have the chance to see Ezo Sika deer, Ezo red foxes, sea lions or seals on the ice drift
An association recognised for animal conservation and eco-tourism
Your guide is not only a tourist guide, but also a member of an organisation for the preservation of wildlife in Japan. This is an association that works in particular for the protection of the Asian black bear. In Japan, there are many provinces where human settlements overlap with bear habitats, causing conflicts. This is the case of Shiretoko, known to have one of the highest densities of brown bears in the world. The association strives for the peaceful coexistence of humans and bears and thanks to its innovative methods was awarded the Responsible Tourism Award at the Tourism Expo Japan in 2018, in collaboration with the World Tourism Organisation. 
Practical advice
This activity is available from January to March.
We watch wildlife from the inside of our vehicles; however, we sometimes get off the vehicles to observe them. Please prepare comfortable and warm clothing.
Head: Woolen hat, neck-warmer
Tops: Waterproof jacket (or ski jacket), fleece jacket, sweater and long sleeve shirts.
Bottoms: Waterproof overtrousers (or ski trousers). It is strongly recommended to wear thick fabric trousers or tights underneath.
Shoes: Warm winter boots
Others: Gloves, sunglasses or goggles are useful, bottle of water
* We will pick you up about 20 minutes before the tour starts at your accommodation or the road station Utoro Shirietoku.
* Although there is a high probability, please note that encounters with wildlife are not 100% guaranteed. It gets difficult to find the eagles in late March as they migrate to the further north.
Customers must be 4 years or older.
Cancellation policy:
Up to 7 days before: 0%
Between 7 days before and 5:00 p.m. the previous day: 50%
After 5:00 p.m. the previous day and same day: 100%
Location
---
Eagles and Wild Life Watching in Shiretoko
$25 per person