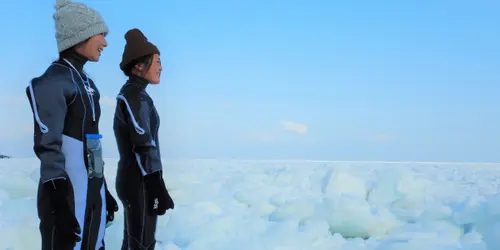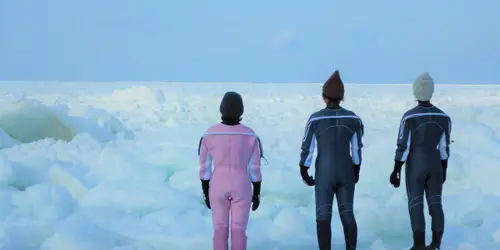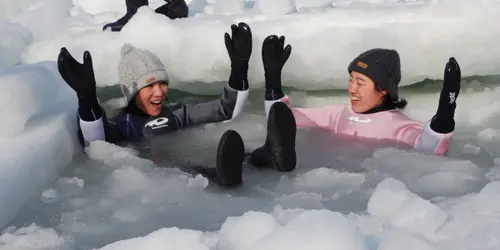 Ice Drift Walk in Shiretoko
In the north-east of the island of Hokkaido, you can find a wild peninsula where ice drifts arrive on the coast in winter. With a guide, and dressed in a wet suit, take a walk on this paradise of drifting ice.
Ice drifts in Japan
You never thought you'd come to Japan and see landscapes worthy of Canada or Greenland, but during the winter months on the northeastern tip of Hokkaido, Shiretoko, the ice drifts slowly slide south and settle on the coast.
Despite being geographically located in the temperate region, Shiretoko, a peninsula that juts out into the southern end of the Sea of Okhotsk, is actually in the southernmost (lowest latitude) seasonal pack ice zone in the world. Shiretoko Province is also a prime example of how marine and terrestrial ecosystems interact, both greatly influenced by seasonal sea ice formation, and was added to the UNESCO World Heritage List in 2005 as a natural site. 
An astonishing ice landscape
For this activity, you will walk on the ice drifts wearing dry suits that will keep you dry and warm. Thanks to the dry suits, you will be able to dive into the water without risking hypothermia, even for the most sensitive, and of course your specialised guide is present to ensure your safety. The ice that floats on the sea takes on pale blue colours and glows softly in the sun, all around you.
You will be able to admire a landscape like nothing you have ever seen before, and have a truly unique experience. You can also see the wildlife that comes with the annual arrival of the ice drifts. If you're lucky, you may see eagles (Shiretoko's big eagles) or sea butterflies. This is a unique, unforgettable activity that only takes place for one and a half months of the year, in the coldest part of winter when the ice drift is stable. 
An association recognised for animal conservation and eco-tourism
Your guide is not only a tourist guide, but also a member of an organisation for the preservation of wildlife in Japan. This is an association that works in particular for the protection of the Asian black bear. In Japan, there are many provinces where human settlements overlap with bear habitats, causing conflicts. This is the case of Shiretoko, known to have one of the highest densities of brown bears in the world.
The association strives for the peaceful coexistence of humans and bears and thanks to its innovative methods was awarded the Responsible Tourism Award at the Tourism Expo Japan in 2018, in collaboration with the World Tourism Organisation. 
Conditions of participation
You need to meet all the requirements below.
- 6 years or older.
- Height:140cm-185cm
- Weight: up to 70kg (Women)/up to 85kg(Men)
- Must be able to follow our instructions and take self-safety-control.
This tour requires physical strength equivalent to that of hiking. In addition, this tour is intended for "persons who can take care of themselves" on ice. There is always a risk of falling or injuring due to stepping through the ice or slipping on ice, so please participate with that in mind, within your skill level, especially elderly guests.
Although you will wear dry suits with great heat retention during the tour, please note that the apparent temperature on ice may reach -20 degrees, and you may come in contact with the freezing water. In particular, if you have a serious illness such as heart disease, please get written consent from your doctor before participating.
We will pick you up about 20 minutes before the tour starts at your accommodation or the road station Utoro Shirietoko.
What to wear for this activity
- a fleece, or sweater
- a woolen hat
- thermal inner layer (long sleeves)
- long / thick socks (Shoes are integrated in with the dry suits)
*Due to the dry suits' sealing properties around the neck, pease refrain from wearing hooded items and thick turtlenecks.
*Please refrain from wearing long-haired fleece and down jackets as there is a risk of it getting caught and damaged. Please remove all watches and accessories as they may be lost during the tour, or damage the dry suits.
Similarly, in order to prevent damage to the dry suits, please cut your nails in advance.
Please note that luggage cannot be stored.
We will pick you up about 20 minutes before the tour starts at your accommodation or the road station Utoro Shirietoku. We may not be able to make the agreed pick-up time due to other guests' situations.
In addition, if the weather or drift ice conditions suddenly change during the tour, please understand that we may decide to cancel the tour with safety in mind.
Cancellation policy:
Up to 7 days before:0%
Between 7 days before and 5:00 p.m. the previous day: 50%
After 5:00 p.m. the previous day and same day: 100%
Location
---
Ice Drift Walk in Shiretoko
$44 per person